There are motorcycles and then there are motorcycles – and then there's the GS.
Over the years our teams have ridden and used many a motorcycle but when it was time to choose our first ever 'project motorcycle' for Image Drivers ( India ), …it had to be the BMW R1250GS.
Watch the Project Teaser!
We pulled out all the stops when it came to Nipun Srivastava's beloved new steed. We called in trained technicians from multiple mechanical disciplines to lend a hand with our build. This build was to be an intense one as the challenge before us was not just to outfit the motorcycle from start to finish, within 24 hours, we were to do it with an entire camera crew from @thenirvanateam pointing their lenses at the motorcycle and all the parts we had got for it!
It had to be the GS.
Everything had to happen like clockwork and right from the start, it didn't. Early, on the morning of the BMW build, we got to the workshop at 5am, hoping to start by 6 but guess what, the shutters to the shop had jammed shut and refused to open. It took us the better part of an hour to figure out how to jimmy open the damn thing. We got it done, eventually.
Getting ready to load up!
Inside our workshop for the day, the boys from thenirvanateam got to doing what they do best, setting up all the motorcycle, camera and tooling gear required for the marathon assembly and video shoot which was about to start.
Here's a list of stuff that we planned to get on the bike that day:
Lower Crash Guards

Sump Guard/Bash Plate

Front axle Slider

Side Stand Foot Enlarger

Windscreen Reinforcement

Brake cylinder Guard, Rear

Rear brake Reservoir Guard

EVO Tank Ring

Daypack Tank Bag

Gear Shift Lever

Denali Light Mount

Denali D4 V2 TriOptic – Wiring and Install

Upper Crash Bars

Rear Slider For Drive Shaft

Aero ABS Pannier System

Adventure Rack for Top Case

Adapter Plate for Top Case

Urban ABS Top Case
Each of these parts was handpicked by Nipun and provided by SW-Motech, Denali Electronics and the heros behind making our vision for the GS possible, the folks at BIG BAD BIKES India!
We caught the bull by its horns and started off with mounting the biggies – the lower crash bars and sump guard from SW-Motech. Then came the quickies – the front axel slider, quick lock tank ring and the side stand enlarger, then came the trickies – the windscreen reinforcements and wire routing for the LEDs.
Lower Crash Bars, Sump Guard, Windscreen Reinforcements, Axle Sliders & Side Stand Enlarger.
(Click on an image to see it up close)
Along the way, the brake cylinder and reservoir guards were also bolted on in quick succession. Fairly easy stuff.
Then came the gear shift lever from SW-Motech, which required rider input from Nipun Srivastava, who came in all decked up with his new KLIM gear, ready to show off for the cameras! (Watch the video at the bottom to check it out!)
Lunch for the team was a quick 'Vada Pav', which is basically an Indian veggie burger with a potato patty – our go-to snack during builds like these and while on rides.
Brake Reservoir Guard, Gear Shift Lever & Brake Cylinder Guard.
After lunch, as the lights came on again and the cameras fired up, came the job of figuring out how to mount the dutiful Denali D4 LED lights. The directions in the box are a boon but the lights were to go on in unison with the DataDim Module from Denali and also the Denali Light Mount for the R1250GS, which was to replace the crossmember on the upper crash bars from SW-Motech (phew! Just saying it out loud is a feat!), the 3-position-switch was also to be connected as we were not using the Can-Smart Controller. Not to forget the routing of wires all the way under the fuel tank cowl, making its way to the under-seat battery.
This part of the installation took time as so many bits were involved, however it was a fairly straightforward process, with a little back and forth on the routing of wires and ideal placement of the D4 light pods. We would also add a couple of S4 light pods with the help of 'splitters' (also provided by Denali) a few days later, so the time the boys took painstakingly snaking the wiring through, helped us bolt the S4s on in a jiffy!
Denali D4 V2 TriOptics all lit up with the new Denali S4s in tandem.
Finally then, as the Sun went under, came the luggage systems. Nipun had chosen the stunning new Aero ABS semi rigid panniers for his steed, an unconventional choice for the GS, but he swears by them as he'd been using the earlier version of the same boxes for years on his Kawasaki Versys 650, check out the Kwacker here: Sport Tourer for the Soul.
The Aero ABS panniers mount onto the new PRO Side Carriers from SW-Motech, even with the boxes off the bike, the PRO carriers look quite smart, giving the motorcycle a real rugged look.
The stunning Aero ABS Side-Pannier System from SW-Motech!
After the panniers, the Adventure Rack went on, with the adapter plate for the Urban ABS TopCase. This took surprisingly long as we found ourselves completely flummoxed by the adapter plate and its mountings atop the Adventure rack. Looking back, it was probably the non-stop 15 hours of standing and continuous working on the motorcycle that had taken its toll on the team, we stopped. We pulled out all product literature and read through the mounting sequence line by line. Our lead technician finally figured it out as the clock struck 11pm (remember, we started this gig at 6am).
And then the Top Case went on as easy as butter melting on toast. Check it out below!
The Adventure Rack & Urban ABS Top Case in action.
Finally, our list was complete and we rechecked every part installed on the motorcycle one last time and that was it.
PRO TIP: If, ever, like us, you are crazy enough to attempt installing so many parts on a GS all at once, take it from us, install the Tank Bag and Tank Ring absolutely at the end. We spent a lot of time installing the tank ring and then repeatedly taking it off to access the space under the fuel tank cowl.
The Daypack Tank Bag from SW-Motech.
Trust us, it sounds way less intense than it really was. Multiple takes and retakes for the video crew, actually trying to figure out how to mount the parts without losing any bits and bobs in the process. Bagging and tagging each bit to come off the stock bike, behind the scenes – it had all been a true marathon. But we delivered on our promise and Nipun got to ride his steed home that night, fully loaded.
Wondering how it all turned out?
Check out the short video below to catch the full reveal and see how @thenirvanateam went about their job.
Over 20 hours of painstaking work, showcased in just 4 minutes, enjoy!
Do share this post with your buddies and feel free to comment and join the conversation!
---
Motorcycle built by The Nirvana Team. Accessories provided by SW-MOTECH & DENALI Electronics. Project supported by BIG BAD BIKES.
---
---
……..Ah, Kerala.
Just the thought of traveling through this South Indian State conjures up images of stunning backwaters, epic roads, coconut palms, fabulous food, mind blowing beaches and well, tropical beauty at its best!
Photographer Nipun Srivastava took a week-long motorcycle ride with the Kawasaki Versys 650, riding through Goa, Karnataka and finally spending some time among the lagoons of Northern Kerala.
Feast   your   eyes !
Malabar Calling – A stunning Kettuvalam Houseboat at cruise on a typical lagoon.
"These refreshing vistas are what greeted me as I took a stop at Bekal, in Northern Kerala. After having ridden my steed (the Kawasaki Versys 650) through Goa, then Mangalore (Karnataka) and finally into Kerala, I was happy to have covered over a thousand kilometers. What's more is that I was now well and truly in Malabar Country. A place known for its food, culture, temples, forts, beaches, resort hotels and of course – the serene backwaters of the Arabian Sea.

Backwater Sunset!
A sunset cruise over the (yet) noncommercial backwaters of Nileshwar is so nourishing for the soul, one needs to experience it to believe it. A two day drive or ride from Mumbai or Pune or a day's hop from Bangalore, Nileshwar is your surest way of sampling the Kettuvalam houseboats and Kerala Culture whilst being spared the madness of usual Kerala hot spots which are known to be overflowing with tourists at most times.

As one rides up to the backwaters over idyllic little bridges and through lush coconut groves, you come across a dozen or so houseboat operators dotted along the inner waters of Nileshwar and around.

Queen of the water!
Take your pick, most these boats are similar in look and feel, however we suggest you pick Lotus Houseboats or Bekal Ripples as your cruise of choice. Their vessels are good and make for a better nautical experience.
The boats have onboard kitchens, bedrooms with air-conditioning and open dining spaces fit for a family, couples or even a group of friends. Prices range from $50 to $1000 depending on the length of your cruise.
Cruise choices range from six-hour day cruises to short two-hour sunset cruises and you can even stay aboard these vessels overnight as they make their way, at leisure, from Nileshwar to Valliaparamba.
Sunset Hues – Serene waters of the Kerala Lagoons.
When you ride hard, you must eat well. In this part of India, food is sublime. From seafood to the choicest meats, even vegetarian selections, prepared with tongue tingling spices fit for royalty – it's a real treat here!
Pardon my lack of Instagram professionalism as I conveniently excused myself from shooting images of my food. In the moment, I preferred pouncing on the plates over pulling out the lenses 😀
Instead, here's a look at where we stayed.

Taj Bekal Resort and Spa – epic accommodation!
Kerala is home to some of the most idyllic Hotel Resorts and Spa Retreats in India. Taj Bekal, our anchor-point on this motorcycle ride, was the perfect home away from home.
Genuinely, what a place to spend the better part of a week. Taking a stroll under lush coconut palms, spending an afternoon at Asia's largest Spa (really!), taking a moonlit raft ride on the (in-premises) river, sampling food at all four restaurants, spending time at the beach and in the fabulously put together rooms – we did everything this place had to offer. 

Taj Bekal Beachfront!
At Taj Bekal, I've stumbled upon my new stress-buster getaway itinerary: Take a flight to Mangalore, get the hotel to drive me to Bekal, spend three blissful nights here and then take a flight back to the grind!
Just being at Bekal eases the senses, surrounds you with soothing shades of green and blue as the sea breeze and brown sand take turns tickling you head to toe. It really is my go-to beach holiday now!

Bekal – Stress buster of sorts!
Now then, with the Arabian Sea and the leisurely Lagoons of Bekal behind me, I was in the mood for some good motorcycling. I now set my target as Chikmagalur, in Karnataka.
After what I had just experienced in Kerala, I didn't expect too much to see on my way inland. Boy was I wrong, motorcycling in India is truly something to write home about!
Riding away from the coast and into the Western Ghat Mountain range in South Western India, I was left dumbfounded by what I saw on my way.

Zipping through the Western Ghats on the

Kawasaki Versys 650

!
Kudremukh National Park, this is a protected part of the Western Ghat Mountain range in the state of Karnataka, India.
With just a single, exquisitely laid, super smooth and curvaceous road cutting through, Kudremukh has to be one of the most heavenly roads to ride on in India.

Kudremukh Peak & National Park visible in the distance, as seen from Mullayangiri.
Crossing over the Western Ghat Mountains, the roads now cut through lush Tea Gardens and Coffee plantations. The weather was now noticeably cooler and the roads were empty as can be!
The smooth hum of my motorcycle was the perfect companion as we took turn after turn into the overwhelming green surrounds of District Chikmagalur.

Lush Plantations of Chikmagalur!
Chikmagalur is the birthplace of coffee in India. Legend has it that a Sufi Saint on his way back from pilgrimage to Mecca, carried a few raw coffee beans as he transited through Yemen. 
Those few beans are what started it all, as far as Coffee plantation in this region goes. Fascinating!

Approaching Chikmagalur!
As you climb down from the Western Ghat Mountains, you hit Chikmagalur Town in the foothills. It's almost as if Chikmagalur is cradled by the mighty Ghats, sitting pretty at a height of 3500 ft.
I made my way through the town, on one side was the semi-urban hustle and on the other, the mammoth mountain of Mullayangiri – the highest mountain peak in the state of Karnataka (6000 ft).
Riding to the top of Mullayangiri was my next target. It had been a while since I had ridden a motorcycle above 5000 ft in Nepal and Ladakh. I wondered how far up the mountain one could reach with the Versys 650.

On top of the world!! (Well, just Karnataka really.)
The Kawasaki Versys 650

– Atop Mullayanagiri – The Highest Mountain Peak of Karnataka, India.
Getting to the top of this mountain was relatively easy. Although the extremely narrow road with tight hairpins and vehicles moving in both directions really got the blood flowing!
Just a couple clicks short of the top, the road vanishes completely. Hereon only 4×4 jeeps hired by tourist groups take on the last little bit of the climb as it is completely off-road. Well, Jeeps and motorcycles 😉
There should be a paved road all the way soon enough but for now, it was a two kilometer long off road track with steep fall-offs on one side and the mountain on the other! Like I said, it got the blood flowing 😛

Road to Mullayanagiri!
From the thick sea breeze at Bekal to the thin air atop Karnataka's highest peak, this had been a journey of sorts. The number of different terrains I had seen on this short 2000 kilometer ride was really something.
As I rode back towards Chikmagalur town, I loaded up on the famed filter coffee and bought myself a couple kilos of beans. You need to try the blends from here, you'll forget about the crap we drink in our cities!
I really do mean that. At the Estate run shops in Chikmagalur, you can get customized coffee blends as per your preferences. Might I add, buying freshly blended Coffee here is extremely affordable.

Homeward Bound!
Charged up on coffee, it was time to head home.
What a journey it had been – seven days, over two thousand kilometers, great food, stunning scenery, fabulous roads and so much coffee. This trip ended up being everything I'd imagined it would be and more.

Safe to say, I'm already planning another trip down South. There's just so much more to see and experience in South India!
Until next time, I'm Nipun Srivastava, Vrooming off!"
---
Wow, we at The Nirvana Team can't wait to see where Nipun head's next and which vehicle he chooses!
We thank Taj Hotels for their exceptional support and impeccable service along the way, their Hotels and Resorts make the perfect pit stops for motorcycle touring in South India.
The Kawasaki India Versys 650 performed like a total champ on this journey, as expected. Great performance on and off the road, fully loaded and even two-up. An absolute value for money motorcycle for India!
Do tell us what you think of this photo-story by Photographer Nipun Srivastava, would you like to see more stories like this in the future? Comment down below!
Follow @Thenirvanateam on Instagram, Facebook and Twitter!
---
---
There are machines and there are machines. Some make you gasp in awe, some make you swoon with envy and then those which just steal your heart.
We were invited on-board the first ever track day of this track ready DUCATI PANIGALE V4, piloted by (Owner) Ashutosh Mahadik and boy, what a pleasure it was for our boys to be there in the thick of it with our favorite rider, going toe for toe in the blistering heat, humidity and uncertain weather!
The Ducati Panigale V4 speeds out of the first curve at Buddh International Circuit in India!
'A new opera.' That's how Ducati opens its marketing pitch for the Panigale V4. With the Akrapovic full-system performance exhaust on this particular unit, there sure were a whole new set of notes ringing around the Buddh International Circuit! Spine tingling sound is one thing, the 1 to 1 power to weight ratio has this machine belting out over 225 BHP! To see this symphony in motion is to see the pinnacle of the Ducati Design team's strongest performance yet. 
Symphony in motion!
"The beauty of this machine is in its handling.
Leave alone its 1103cc motor churning out 226hp! The counter rotating crankshaft gives such brilliant, planted feedback to the rider; it's unbelievable! Kudos to Ducati for having broken all bounds in engineering and literally hitting the ball out of the park against its competition!"
That's what owner, Ashutosh has to say about the motorcycle after his first few track sessions.
Ashutosh, taking all the V4 has to give!
The new range toppers for Ducati's supersport line of motorcycles, the Panigale V4, V4S and the V4 Speciale replace the older Panigale 1299.
They say it's the closest you can get to a Moto GP motorcycle for your money. Well, from the track-side production pillboxes on the Buddh International Circuit, we could only nod in agreement as we saw the V4 zip by with its Akras screaming in automotive ecstasy.

Screaming Akras!
"The Italians consistently create designs which make my heart sing, whether it is their supersports, scramblers or even the multistradas. They know exactly how to take a great design and elevate it to the next level. Every. Single. Time.
No other brand has me looking at their new launches with so much attention. I saw the Desert Sled – fell in love, saw the 959 – fell in love and now this sublime piece of V4 candy. Ducatis always have me swooning."
Such a stunner – the new V4!
Safe to say, lead photographer Nipun Srivastava's heart strings are being tugged by these stunning Ducatis left, right and center! New stablemate soon? 😉
Ducati reigns on the BIC!
Great aesthetics aside, the mechanical aspects of this Ducati and its power-plant are equally overwhelming, here's a list of features on what Ducati calls the
DESMOSEDICI STRADALE ENGINE (pronounced: dez-mo-see-dee-chee)
Twin Pulse Firing Order | Rearward Rotating Crankshaft | A New Desmodromic System | Variable Intake System | A GP Derived Intake/Combustion Chamber
Impressed yet?
Well, here's wishing Ashutosh a million more miles on his wheels! Cheers to your spirit man!
---
The Nirvana Team & www.theroadtonirvana.com, now offer bespoke photo/video-sessions at the BIC for enthusiasts looking to create a portfolio of their Racing Lifestyle at the Buddh International Circuit.
These photo-sessions include: 1. A rider profile 2. A motorcycle profile 3. Track riding images 4. Specific images requested by riders (e.g Knee/Elbow Down, Body Position images) 5. Racing Lifestyle Images.
Photography packages start at INR 49,000/- per head* (inclusive of GST) for a two day session at the BIC. (Maximum 4 riders/drivers per track day)
Video packages start at INR 75,000/- per head* (inclusive of GST) for a two day session at the BIC. (One rider/Driver per track day only)
---
Be the star of your own story!
---
Email us on hotshots@theroadtonirvana.com for enquiries.
---
---
Earlier this year, our lead – Nipun Srivastava hit the Buddh International Circuit race track (with his lenses) and he says he fell in love with the Ducati 959 Panigale. With the attention that motorcycle got from his camera, it isn't hard to believe!
Queen of the pits! The Ducati 959 Panigale oozes sex appeal!
Say hello also to the rider in the saddle – Ronak Gupta. On his second time at the BIC, Ronak shaved over 20 seconds off his initial lap timings around the track!
Ronak, taming the Ducati on the track!
The Buddh International Circuit race track has become very popular with riders who like to stretch the muscles of their super-sport beasts in a safe and well organized manner. The BIC track (located in Greater Noida), is the only one of its kind in India and now hosts track days open to all on a regular basis.
Full safety gear is a must for riders looking to push limits of their machines here.
Hell for leather!
This race track offers riders the perfect opportunity to hone their high speed motorcycling skills. Riders are seen coming in from all over the country with their motorcycles for the track days held here most often on weekends.
Ronak gets his knee down!
Nipun, our lead, made some new friends here while shooting on the track. Here are also some photos of a Yamaha R1 and a Kawasaki ZX10R.
Whacking open the throttle just as they get out of Turn-1 at the BIC!
Riders are seen pushing their motorcycles to the absolute limits of performance and technique here. Time after time, they correct their body positions, race lines and chisel off seconds from their overall lap times. It's all very exhilarating stuff!
Leaning into the chicane!
The motorcycles are also well taken care of at BIC, safe parking is offered to riders for their machines. Space for riders to spread out and take a breather after completing hot laps is available just next to the pits.
The Kawasaki ZX10R commands the pit at sundown.
For advanced and new riders alike, training here is known to be extremely beneficial for enhancement of their motoring skills.
There are various training schools which also offer training to enthusiasts for taking the track on in a safe and responsible manner.
In it to win it!
The Nirvana Team & http://www.theroadtonirvana.com, now offer bespoke photo/video-sessions at the BIC for enthusiasts looking to create a portfolio of their Racing Lifestyle at the Buddh International Circuit.
These photo-sessions include: 1. A rider profile 2. A motorcycle profile 3. Track riding images 4. Specific images requested by riders (e.g Knee/Elbow Down, Body Position images) 5. Racing Lifestyle Images.
Book your Racing Lifestyle Sessions with us! Email us – hotshots@theroadtonirvana.com!
DUCATI – Racing Lifestyle
Photography packages start at INR 49,000/- per head* (inclusive of GST) for a two day session at the BIC. (Maximum 4 riders/drivers per track day)
Video packages start at INR 75,000/- per head* (inclusive of GST) for a two day session at the BIC. (One rider/Driver per track day only)
Be the star of your own story!
*T&Cs apply.
---
Twenty motorcycles were on their way to us while we huddled and belted out one concept after another, tailored to each individual product according to its placement on the Indian market. We at TheNirvanaTeam never shy away from challenges. Whether it be taking the right risks to get our clients the visuals they deserve or going beyond the boundary set by industries in exploring unique creative possibilities, whatever it may be – we are ready.
On Two Wheels with Hero MotoCorp!
The worlds largest two wheeler manufacturer told us they wanted our boys and girls to design and execute productions for each and every product they made. Every single two wheeler in their portfolio, yes. Let that sink in.
We've shot everything from supercars to superbikes but the sheer scale of this photo-shoot was a force to be reckoned with. All the while, our team maintained constant cohesion with our client and with Dir. Nipun Srivastava in the lead, we were soon ready for the mammoth photo-shoot as the motorcycles arrived at our studio in Pune. Bear in mind, this was not to be a simple exercise executed within the comfortable surrounds of our studio. This was to be a fully location based exercise with a unique location chosen for each two wheeled product that we were about to shoot.
As it often happens, all the planning in the world can still not prepare one for the challenges the proverbial open road holds. In early February of 2017, after a solid two months of rock solid planning, scouting and resource allocation we had already endured some serious challenges, unexpected hurdles and managed to swiftly accommodate any new changes that were expected of us professionally.
Demonetization in India had come and gone, moreover, pollution norms in the country were set to change. Our photo-shoot, its time-line and most of our planning were thrown out of whack right when we thought we were ready to start production! In the face of mounting logistical odds, professional challenges and uncertain production dynamics, our team's unwavering resolve and sheer dedication to our work really shone. TheNirvanaTeam was up to every task, surmounted every challenge small or big with an extremely lean production team to produce the results you will now be able to see here and probably have seen on Hero MotoCorp's Social Media Channels in the recent past.
Here's a look at some of the images we produced and also how Hero MotoCorp used images produced on this mammoth Photo-shoot.
Enjoy!
Starting off! We hit the beach in our signature Nirvana style! Shooting the Splendor Pro Classic for Hero was a lot of fun as we got onto the beach waaay to early and spent our time dodging the tide again and again! Trying various points of views, playing with ample natural light, et al!
Finally, a little after sunset, we had all our shots!
We took the Achiever 150 up a winding road early on the morning of the shoot. Freakish cold, smooth roads, whistling winds and a mind blowing Sunrise made for the perfect set of pictures for this motorcycle from Hero MotoCorp!
The Achiever 150 by The Nirvana Team
Hitting the highway with the Xtreme Sports motorcycle was a little tricky as our timing had to be just right. We needed perfect light on the road that ran through a narrow gorge, traffic had to be managed and the photography had to be executed – all in tandem! We did it!
The Xtreme Sports by TheNirvanaTeam
While shooting the Splendor Pro, we head across a whole riverbed! Took the vehicle through a lot of dust and grime to reach our little oasis that was chosen for the shoot this evening. Our boys spent a lot of time cleaning the vehicle and only then were we ready to shoot! She looks as striking as ever! All that pain and hard work coupled with being on location finally paid off with perfect lighting. Who needs composites? :-p
Splendor Pro by TheNirvanaTeam
On the Hero Pleasure, a surprisingly zippy little scooter, we found ourselves at a unique location. An unmarked patch of undulating roads, smooth as butter, surrounded with burned down dry grass on either side of the road welcomed us with the sun setting just behind giving us perfect light. And then we got a shot that was just right!
The Hero Pleasure by TheNirvanaTeam
For the Splendor iSmart 110, we drove through a wooded forest extremely early on the morning of our shoot. Prepping the bike in the nick of time, just before the sun shone through the leafless trees in the background, we got our shot on this day. One of our absolute favourites, this!
Splendor iSmart 110 by TheNirvanaTeam
The Hero Hunk was taken off road and onto a rocky outcrop atop a small mountain range. We had a tough time finding the right location for this one before the final shoot, as we wanted a rugged feel and perfect sunlight gracing the image. A few faintly visible mountains in the background help complete the look we envisioned for this motorcycle!
Hunk by TheNirvanaTeam
Can a scooter go off the road? Sure it can! The massively powerful Maestro Edge had no issue swiftly mounting a grassy hillock in the southern part of District Lavasa. What a photogenic scooter, this! We had a ball looking at the results from this photo-shoot.
Maestro Edge by TheNirvanaTeam
With the Karizma we head a little further up the west coast and shot the motorcycles on a rocky outcrop which would be submerged underwater every time the tide came in! Needless to say, this was a race against time as we had to get our shots and in a short time frame, with the sun setting perfectly in the background! Well, we got it!
Karizma by TheNirvanaTeam
Phew! That's just half the vehicles we shot for Hero MotoCorp on this project! Let's move on from the shooting to the usage of the images.

Here's a quick look at how the images were used on Hero MotoCorp social media channels.
On Two Wheels with Hero MotoCorp & TheNirvanaTeam!
Seen above are (from top left) the Xtreme Sports, Splendor Pro, Maestro Edge, Karizma, Passion Pro and the Achiever 150 motorcycles/scooters. This being our first photo-shoot with commuter segment motorcycles in India, it was a steep learning curve! All vehicles ranged between the 100cc to 250cc category, safe to say, these vehicles form the foundation of commuter motorcycling in India.
It was a fantastic experience for our entire team, planning, executing over 20 unique location based shoots and delivering content in an extremely tight timeline. Our clients, Hero MotoCorp Ltd, their entire marketing team and their local (Pune) dealer network have been a dream to work with.
---
Kaustubh Khare: Assistant Photographer and also in-charge of keeping the vehicles shoot ready.
Vivek Bhandari & Team: Logistics Expert and in-charge of vehicle transportation.
Sadhana Saxena: Vehicle Security and Safe-Keeping.
Vaishali Chandan: Planning and Support.
Nipun Srivastava: Shoot Director, Lead Photographer and overall Team Lead.
---
---
Kawasaki, Ducati, BMW, MV Agusta, Benelli, Triumph and even Royal Enfield have upped their motorcycle game in India (or have had too!).
We're the next big market for motorcycle makers in the world. We've got the money and we've got the trails too! Most of all, we're buying new motorcycles like there's no tomorrow! The markets have been going crazy over the past year, so much so that the Motorcycle we're bringing to you today already has a refreshed version out there!
So, which motorcycle should you get if you want to see the country on two wheels?

Let's say you're a practical rider, someone who's not stingy but you're one who likes to be smart about your passionate decisions too, what bike to buy? 😉
Take a keen look at the Kawasaki Versys 650. A perfectly priced sports touring motorcycle for the Indian market.
An 800,000 Rupee ticket to premium motorcycling freedom. Buy it and you join the big league, kit it out well and you can ride the length and breadth of India, Nepal and Bhutan – all without a passport and over all sorts of terrain, roads and climate!
The 649cc engine on the Versys is all but battle tested, rock solid and super smooth over the rev range, gives a sweet straight power delivery up to a healthy 69 BHP. It can do 120 kmph all day long, comfortably, getting you where you need to be easily. The torque (64Nm @ 7000 rpm) too is tweaked in favour of the rider travelling with a little load – whether that be your luggage over a long weekend, significant other or both.
It has an ABS and an adjustable suspension setup too! Pretty freakin' cool at this price point, we can tell you that.
Nipun Srivastava, our resident adventurer, has been painstakingly kitting out a Versys 650, using it on his photography missions and weekend rides alike.     
How the Kawasaki Versys 650 is the perfect beginner premium motorcycle to take on the Indian road, we'll let him break it down for you.
He'll take you through everything, from what accessories go well with this motorcycle to what one must watch out for when on the Versys 650. Enjoy 🙂 .
""You'll be mistaken if you think the Versys 650 is a small motorcycle."
This Kawasaki is meaty enough to keep you full for a lifetime of comfortable riding, customized to your specific style.
Me, I'm more a sucker for exploration and seeing the country on tour. Piece by piece, I like to pick up areas which look promising on the map and then head out to check if my research was any good. Often times the research goes out of the window when on a major ride, so what I need then is a reliable machine which can get me through some serious stuff.
The 650cc parallel twin on the Versys is known to be a bullet proof engine. It has been used by Kawasaki on a number of its top-selling motorcycles like the Ninja 650 and the ER6N. Right there one knows that if maintained well, this engine will go a long long way. The gearbox is a tad notchy for my liking but one soon gets used to it.
Take the Versys 650 almost anywhere!
Height-wise, the Versys 650 sits right in the middle. If you are too tall or too short, give it a proper test ride before you consider buying it. Lowering kits are available for this Versys but they are almost always underwhelming in performance and often lead to ground clearance issues, especially while riding two – up. For those who hover around 6ft or just under, the seating on the Versys is just right. The seat, well that's relatively comfortable too.
All fueled up, she weighs in at just under 215 kgs.

Good suspension, that's what makes the Versys an absolute game changer at this price point. The Versys boasts of Showa's Separate Function front forks which are manually adjustable for Rebound and Pre-load. The rear mono-shock can be adjusted with just the twist of a knob, while seated even! Although I find the front a little soft for my liking, I am yet to fully explore all the possibilities these front forks offer. I'm pretty sure there's a setting somewhere which will work perfectly – I just need to find it.
So then, on paper, the Versys 650 makes a very healthy case for itself in India. What more can one ask for then? Read on 🙂 .
In this Sport-Touring motorcycle segment, one major factor is the accessories one can mount on one's steed. It is here that the Versys really excels. There are just so many options from reputed brands like SW Motech, Hepco Becker, Givi, Evotech and even Kawasaki themselves that one is truly spoilt for choice.
Each Versys then is sort of a blank canvas. A very capable and smart blank canvas.
One can take the Versys from being an intercity shuttle to a relatively tough machine, able to head out on to the road and even off it to a great extent. All one needs is the right set of accessories mounted and you can push the Versys 650 trail-side. On the trails, the 650 is a little top heavy if you're running a full tank of gas but if you know what you're doing, the motorcycle does well to get you across a dusty, gravel topped trail without any difficulty. One sore point, the ABS can't be turned off. You'd think Kawasaki could have thrown in a switch for that just for good measure. Alas.
Trail-side with the Versys 650!
The accessories you choose for your motorcycle need to be on point, always. They must be geared towards the kind of riding you intend to do.
Here's a list, a brief description and a final GO or NO on the accessories we chose for the Versys 650.
Our accessories line-up:
Radiator Guard: By far the most necessary accessory for your Versys is the Radiator Guard that you mount. It must be light yet strong and be ready to take a subtle thrashing every time you hit a rough patch. On the Versys, this is important as the front tire tends to send small stones flying into the radiator as a routine. We chose the Evotech Performance Radiator Guard as it is extremely light (aluminium), an absolute breeze to mount and covers the full front of the Radiator assembly and not just the fins. An absolute GO from us.
Guard that Radiator Baby!
Also seen are the SW Motech Sump Guard, The Hepco-Becker Crash Bars and the SW Motech Fork & Swing-arm Sliders.
Engine/Sump Guard: Very important if you ride long distances on Indian roads. This guard protects the engine sump, the bottom of your exhaust system and more importantly, the vulnerable O2 sensor located just next to the engine sump. We chose the SW Motech Engine Guard as design wise this thing is a masterpiece. It presents an absolutely smooth surface to the ground so as not to catch on anything and cause damage. It's made of aluminium, hence is lightweight and the rubber mounting bushes save you from any vibration/resonance on higher revs. GO for this.
Crash Bars: These cover the lower part of your front fairings and the sides of your engine heads. We chose the Hepco Becker Engine Guard for the Versys 650 as it provides very good coverage, has perfect clearances with the fairings and fits in seamlessly with the design language on the Versys 650. It is also very easy to bolt on. It is rock solid once bolted on correctly. An absolute GO from us!
Front Axle & Rear Swing-arm Sliders: We went with the SW Motech sliders as they seem to be the most polished and easily available sliders in India. Once on, you almost forget they're there. GO.
Chain Lubrication: No one will tell you this before you buy a premium motorcycle but your chain is the key to a good ride. It is also a part which demands constant attention when riding religiously. We've gone ahead and mounted a Versys Edition Scottoiler V-System on the bike so as to keep our chain lubricated at all times. Giving us the peace of mind to carry on riding regardless of conditions. This is a GO if you don't want the hassle of manually lubing your chain.
Note: The single sided lubricator, included with the Scottoiler, does an OK job. We suggest you use the dual sided lubricator for consistent lubrication.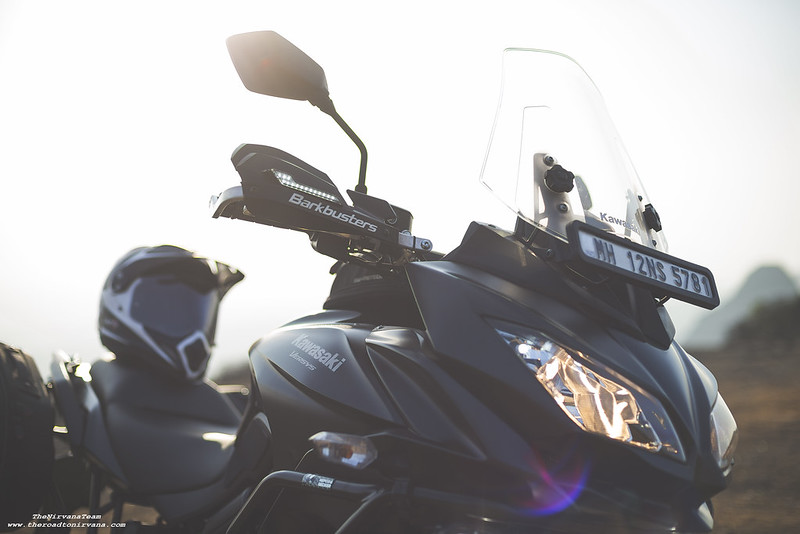 Barkbusters hand-guards. As purposeful as they come!
Hand Guards: This is a requirement only if you tend to test your skills every now and then, which obviously increases your chances of taking a tumble or having your brake/clutch lever smacked out of shape. We got the Barkbusters mounted on our Versys with the VPS guard cover. Moreover we added the Barkbuster DRLs atop the cover to increase the visual footprint of the vehicle and add style to the overall look. The Hand Guards are a GO from us, the cover and DRLs you can do without.

Dazzle Baby! The Denali D4 Auxiliary lamps.
Auxiliary Lighting: We think this is important. Also, it is one of the most confusing and cost intensive investments you can make on your vehicle. Important because in our riding conditions, one needs to be visible. Confusing because of the sheer number of choices out there – Baja, Denali, SW Motech and even Chinese knock-offs – it's a tough call to take. We went with the trusted Denali D4s for our Versys and give it a healthy 7/10 on its daylight and night time performance. GO for the Denali D4s as they are simple, hardy and get the job done effortlessly. Just look at them dazzle!
Tank Pads: We've mounted the Tech Spec Snakeskin for the Versys 650. Industry leading, very good performance and absolute value for money. GO.
Tank Bag(s): We looked at them all and then settled for SW Motech. We got two – The Yukon 90 for when it gets wet and the Micro for short intercity bursts. Both mount to the same tank ring and can handle rough riding. The Yukon is ugly and a pain to use but is waterproof, the Micro is a breeze to use but is a tad small, even for something called a micro. SW Motech, Givi, Hepco Becker or even Giant loop, the choices are endless out there! GO.
Travel light, travel right! The SW Motech Aero Semi Rigid Panniers.
Luggage: We've mounted the SW Motech (Quick Lock EVO) Aero ABS Semi Rigid Panniers. These are cost effective, let you carry more weight (8 kgs per side) and look bloody amazing on the Versys 650. We give these a 10/10 for looks and an 8/10 for functionality. GO for it!
Side Stand Foot Enlarger: This is probably the most underrated accessory for your bike. Our SW Motech side stand foot enlarger helps keep the bike steady on soft terrain, like a boss. Be it on a beach or a mushy trail, the motorcycle stands steady.
OEM Accessories: The Kawasaki Gear Indicator and the DC Output Socket. The DC Socket is an absolute GO. You can live without the Gear Indicator, moreover it comes console integrated in the 2017 Versys 650.
That takes care of the accessories list on our Versys 650! Phew!
Why didn't we go with OEM Kawasaki Accessories? Two reasons, one – they are freakishly expensive and two – they do not inspire confidence when on the road.
VERSYS 650 – ISSUES
Every machine has its quirks and the Kawasaki Versys 650 is known to have a few too.
For starters, Kawasaki India has recently gone solo and split its operations with Bajaj Auto Ltd. This boils down to a smaller service network and in places service that's not so great. Moreover, basic spares have become slightly tougher to come by.

On the road, some riders claim to have bent their rims while riding over large pot holes at speed. We faced no such issues, yet.

The stock tires (Dunlops) are geared towards delivering high mileage only. They perform badly on dry roads, wet roads, good roads and bad roads alike. We exchanged ours for Metzeler Sportec M7 RRs after the first thousand clicks.

The stock headlamps are weak. You NEED an auxiliary light setup. Alternatively, we hear, Cyclops make good replacement LED Bulbs for the Versys.

Versys 650's jerky gearbox takes getting used to but becomes smoother after the second/third service.

Typical parallel-twin behaviour – the handlebar vibrates when getting off the mark, can make a novice question his/her intuition when new to the motorcycle.

The Horn is puny, in India, one needs to get something with more punch.

Lack of a healthy exhaust note. The Versys 650 sounds like a refrigerator. Sorry.
If you notice, I'm picking nits here. In the end, the Versys 650 is a damn fine proposition for Indian roads. 😉
VERSYS 650 – THINGS TO LOVE!
An absolutely bulletproof engine and a suspension setup which is sublime.

It comes touring ready. If you had to, you could take the Versys 650 out of the box and hit the road straight away. It would do well.

Short running in period of 1000 kilometers. After that, get new oil and kiss 9000 rpm all you want.

Comfortable service intervals of 5000 kilometers. This will irk the mile-munchers but most riders will be fine.

Acceptable cost of maintenance. It's not a super expensive vehicle to keep in ride-ready condition.
Overall the Versys 650 is damn easy to live with.
This motorcycle provides the perfect mix of reliability, mechanical prowess and is very accessory friendly.
The Versys 650 delivers decent power, nothing crazy or too intimidating, so as to get your soul the sport tourer it needs!""
Happy riding!
We hope you've enjoyed our story on the Versys 650 from Kawasaki. Tell us what you feel about this motorcycle and whether you would consider buying it.
If you already own one, let us know how it's going for you and how far you've travelled on your steed!
Connect with us on Facebook, Twitter or Instagram and let's start a conversation!
---
Versys 650 ABS – 2017 Update
There's a new kid on the block and it's more or less the same as the old kid.
The New 2017 Kawasaki Versys 650 is now green in colour, has a console integrated gear indicator, sports a giant Versys decal on the fairing and that's about it. The Engine (now BS IV compliant), Gearbox and Suspension remain the same on the new Versys as well.
---
Disclosure: This is not a sponsored post. Views represented are personal opinions of the rider based on his experience with the vehicle showcased.
Vehicle: The Versys 650 ABS (2016)
Photography for this piece has been delivered by our Lead Photographer – Nipun Srivastava and assistant photographer Kaustubh Khare.
Model: Our resident adventurer – Nipun Srivastava.
---
---
Our resident champ takes the new Mahindra Mojo – Tourer Edition out for a spin!
Join Nipun Srivastava as he chases his vision and talks about the striking New Edition Mojo by Mahindra Two Wheelers.
The Mahindra Mojo Tourer Edition
Fully loaded with Saddle Bags, a Tank bag, Custom mounted Fog lamps, an engine guard, Pannier mounts, Tail carrier and a Mobile Phone Holder which works!
---
"You know what they say, "If you don't ride in the rain, you don't ride at all."
I've been shooting photographs for the better part of a decade now. In that time, I've travelled long distances on two wheelers loaded up with my stuff, most of it being camera gear, since my motivation for travel was second only to my need of creating images wherever I went. – Showing it off, once I was back. Stands to reason then, that vehicles have played a major part in my journey. I can't even remember the last time I took a flight to get somewhere for a shoot.
When Mahindra Two Wheelers came to me with the Mojo, I was intrigued to say the least. I was to take a short trip with the Mojo Tourer Edition and see what it was like. For me, it's the little things that take a motorcycle from being a mere machine to becoming a true companion on a journey. Power is good to have and we all love style but a motorcycle that takes care of the rider is one that will truly stand the test and taste of a motorcycle rider.
Found my Mojo!
Each time I ready myself for a journey, it starts with nervous excitement. Nervous because no bike ride is the same. Each trip has its own charm and challenge, no matter what direction one takes. On this ride, The Mojo Tourer Edition was to be my companion. A motorcycling date of sorts!
The motorcycle was a black, one pot, 300 cc, twin exhaust, fully kitted out and ready for action Mojo Tourer Edition. With new saddle bags, a tank bag, a handlebar mounted phone holder and two new super seductive fog lamps, this version of the Mojo had us all under its spell right from the start! Phew!
Loaded up and turning heads!
As I walked to the motorcycle, I could hear Santana's Black Magic Woman chiming at the back of my head. Only fair I thought, this Mojo seemed like a very snazzy slice of motoring kit.
Parking lot silence is blissful. Especially when you get to break it with a sweet sounding twin exhaust. A turn of the key, a flick of the ignition, the mellow hum of the fuel pump and then the ripe cherry of a starter button. The Mojo rumbled to life and settled into its characteristic note.
"It sounds bloody good", I said to myself.
Time to ride out!
Six gears will let you own the better part of 100 kmph. As will the linear and pretty much effortless power delivery to get your riding day started right.
Purpose built for the long haul
The Indian monsoon is at its peak here in Pune, a dreary grey and overcast sky had me wondering if there was any point in riding out on this day. I love golden light you see, I love the setting Sun, especially in my photography. Still, a day of good motorcycling trumps almost everything else really. We dodged the rain quite a few times on this day but eventually it caught up with us and I decided it was time to eat, for me that is. The Mojo's 21 liter belly meant it could keep going way longer than my fight with hunger.
No damp spirits here!
As we waited on the weather to let up, I noticed the attention to detail Mahindra has put into this version of its flagship motorcycle. For instance the pannier frames on either side of the rear wheel hold the saddle bags in place, giving the rider more confidence while tackling Indian roads and their temperamental surfaces ;).
No road, no problem!
Connected to the pannier frame is the Tail carrier. A spot perfect for my tent and sleeping bag, if I'd carried it on this day that is! Still, it made a sexy hold for the helmet. With the helmet on it, damn she looked hot!
Ready for adventure!
Rain had now given way to a steady breeze around Kusegaon on this early evening. The rays of the Sun took turns poking at the landscape while I sat admiring the Mojo and setting up some shots of myself with the bike. Kusegaon is a place I come to, often. It's the perfect place to quickly disconnect from the city and its usual trappings. Something which the Mojo is good for too.
In the thick of it all!
The Mojo Tourer Edition is a purpose built machine for the aspirational Indian motorcycle traveller, to say the least. It's a nice bike to start ones motorcycling journey on. I was beginning to regret the lack of time I'd have with this motorcycle, only a 300 kilometer ride around Pune/Mumbai this time. Would be an experience to ride through the night with those sexy fog lamps, I'm sure. I have a penchant for auxiliary lights, I must confess. 😀
Spellbinding lights!
Evening was upon us as I vroomed around exploring the lush green Kusegaon had offered on this day. With the kind of weather we'd had all day, I was almost certain there would be no good sunset to write home about but boy, was I wrong!
Surreal Clouds!
It was surreal, as if the clouds decided that this would be the day they would put on a show of sorts. As if to mark my ride with the Mojo. Further driving home the point of getting out of one's comfort zone and more importantly, getting out there on a purposeful machine.
The Mojo Tourer Edition – as purposeful as it gets!
Touring is all about being out there and when you least expect it, you'll be gifted for the choices you made to get on the road and travel on a motorcycle.
Conquering Dreams
The Mahindra Mojo Tourer Edition has been put together for just such a person. One who's in control of their individuality and does not fear going out there and conquering dreams. Even if it's as simple as – Chasing Clouds!"
— Nipun Srivastava
Chasing Clouds!
---
We Thank
Mumbai: (Client) Mahindra Two Wheelers Limited, for flying with @TheNirvanaTeam and for providing the Motorcycle.
TheNirvanaTeam: Kaustubh Khare, Roy Kulkarni, Dinesh Pawar, Vaishali Chandan and Nipun Srivastava (lead).
All views represented on the article are personal opinions of the writer based on his experience with the vehicle showcased.
Check out how Mahindra Two Wheelers Ltd used the content: www.mahindramojo.com/mojo-tourer
More on the motorcycle, here.
---
---
The Bose SoundLink Mini 2, Bluetooth speaker.
Every once in a while we come across a product which takes our breath away. Like something new you bring home for the first time and then wonder how you lived all those years without it! The Bose SoundLink Mini 2 is just such a thing.
For us travel bunnies, the need for great sound on the go is an important one.
Headphones are a pain to untangle, music systems cant be taken out of cars and other speakers (although reasonably good at sound) sport a complete lack of aesthetic value (even Beats!). Our passive quest for a solution was on for a while now. On our latest trip, a new friend brought along this sleek beauty.
At first glance, you wonder what it is. Sleek lines, slender profile, meaty weight, understated controls and oh, no wires.
We haven't even gotten to the sound yet!
Imagine the most striking, well cut, visually spellbinding diamond in your mind. That's how good it sounds when the waves hit ones head and that's how good it sounds all the time. A breath of high-fidelity fresh air, truly.
–
Practicality
It is heavy, pretty heavy compared to other stuff in the market. It is not water resistant (like a JBL). And is not something that can be thrown around in the back of a backpack. Well you can but the sheer beauty of it will make sure you give it the attention it deserves.
It gives a good 4 hours of high fidelity high volume sound. Or if you like it mellow, it might even last two days.
The Bose SoundLink Mini 2 charges up within the hour and the lady inside tells you how much juice it has every time you switch it on.
Has a 3.5 mm jack, a cradle charger and also a direct charging micro USB port.
Clearly marked buttons with good tactile feel let you control everything from the power to the volume and you can even toggle through two devices which can be connected simultaneously via Bluetooth.
This Bluetooth speaker is by far the best we have ever used. The design, the feel and the sound – all of it sets the Mini 2 apart from the rest.
–
Travel
What blew us away is the sheer quality and usability of this Bluetooth speaker. We love using it while working behind the scenes. It lends any photo-shoot that much more ambience and heck, we even use it when it's time to chill out and take a break from it all!
The SoundLink Mini 2 is just the thing one needs to head out alone and be by ones self.
Give a boring evening them feels, we all know good music can do that! We love using it while driving. On road trips, our Jeep and the Bose make perfect companions over long hours of travel over far and distant lands. All while keeping our music humming right there with us.
(the Jeep does not come with a music system as standard)
–
Style
Oh boy, who knew Bluetooth speakers could be a style statement?
Put it on any surface and it will make heads turn. Play music and the same heads will swing with melodies galore. It's like audio Nirvana.
This speaker really is something we wonder how we survived without, given our love for music and travel. Even though the Bose SoundLink Mini 2 is one of the most expensive speakers in its segment, it is the one which takes the prize in the end.
Great design and amazing sound – Kudos Bose!
The Bose SoundLink Mini 2, Bluetooth speaker.
---
Photography for this piece has been delivered by our resident Champ – Nipun Srivastava.
Product: Bose SoundLink Mini 2 Bluetooth Speaker. This is not a sponsored post, we payed for the piece!
Model: Kaustubh Khare
Vehicle: Our very own Kalmoohi – The Jeep.
We would like to thank Kaustubh Khare Photography for helping out on shoot and also for standing in as our lone model ;).
---
---
Many great quotes have been written about travel and exploration outside one's own comfort zones. These words often make us question our dispositions towards travel or the lack of it. Here at Nirvana, we humbly try and go beyond every time we find ourselves looking for excuses not to do something.
The mind plays tricks on the body, inertial towards change, it takes all of one's passion to overcome the inertia and jump into the beauty this earth has on offer.

The need for adventure, sometimes resides deep within the heart. For those of us burdened with the daily grind of things, it can take some doing to unearth that true calling. Cutting away from what the world calls life and regaining one's individuality. Becoming the person one truly desires to be is not an endeavour for the faint hearted. Especially not for those who loathe being judged.
Once we're over it though, once we realise, it is only our thoughts that truly matter in our lives. The world becomes our playground. A palate of dumbfounding experiences which we would never have explored was it not for our heart's restless beat to the tune of adventure.
Ever wonder what it feels like to be a vagabond?
We struggle with it sometimes. Forgetting why we started out in the first place, neck deep in 'work', making ourselves believe we're already in the right place. Irony is, there is no right place. Only the place where you are now and the next place where you want to be at.
It is that journey which is worth all the effort in the world.
Director and Lead Photographer Nipun Srivastava has this to say:
"A day off or a weekend doesn't cut it anymore. I feel the need for eye opening experiences. Adventures which leave me humbled, add the most value to my life."
We agree. Slowing down is sometimes a great way of making sure one is doing everything one is supposed to. Not just 'work' but spending time actually living and loving where we are. Smelling the roses, from time to time, refreshes the soul – Readying it for the next challenge. 🙂
At Nirvana, motoring powers our soul and the pursuit for great photography is the fuel that drives us forward towards a life of driving adventures. Have you ever felt this intense intrinsic drive to explore?
These days, when we head out as photographers, we go out looking for experiences. Whether it involves travelling a thousand miles or maybe just ten, it is the experience that counts. More and more, thanks to our unique clientele, we look at shooting experiences rather than just 'set up' shots for our audience. Our job of shooting vehicles and landscapes affords us the opportunities to actually be there in the moment. So much so, that many a time, the roads just run out!
Our adventures have seen many friends join hands with us in our photographic endeavours. Teamwork, as they say is imperative for success and it's no different for photography. Someone's gotta drive while we shoot ;).
It is our constant endeavour to find like minded individuals who are willing to share our adventurous dreams. And we have been lucky.
We've found a few great people, who work with us not just to earn but also to learn, with us. As we grow ever greater into these times, they've had our back and we thank them for it.
Now, we move into a new era with Nirvana. Greater stakes, greater endeavours and epic outcomes await. Join us.
As we wait for the rising sun. As we start engines for the upcoming run.
Do you feel you can explore with us, as one?
Apologies for the silence on our website for the past few months. We were busy.
But hey! You can now track us daily on our NEW FACEBOOK PAGE!
AND Our Twitter and Instagram!
See you out there!
---
Photography for this piece has been delivered by our resident Champ – Nipun Srivastava.
The muse for this shoot was our very own Kalmoohi – The Jeep. More about her, here.
---
---
One thing we love about our job is that it always feels like a vacation. Recently, our resident photographer landed up at a destination so beautiful, in a car so cool, he had to bring out the big guns!
Check out the view!
Nashik, in Maharashtra, is an Indian city tuned mostly towards religious tourism and the occasional trek. In recent years though, this city has taken on a unique personality. One, that has truly intrigued and amazed the entire country and the world!
Nashik is home to India's most popular Winery – Sula Vineyards. Just outside the city limits stand the stately Vineyards. An expanse ripe with enthusiasm, technique and a unique taste for the good life – that's the Sula vibe. Right then, we struck a chord with the place.
Arriving in style!
We drove from Pune to Nashik in the striking Mercedes Benz GLA. A car we chose for its unique form and laudable capability. Right from the get-go, the GLA 200 CDI took on the challenge of the Indian road with solid gusto. Traditionally, Mercedes Benz cars occupy a luxury oriented placement in the Indian market. Touring in the GLA however, we felt brand Mercedes Benz was now venturing into territory not just for the chauffeur driven CEO but also for the one who likes to take charge of the wheel and steer into the good life, head-on.
Head into the Indian countryside and one is greeted with boundless beauty albeit coupled tastefully with the occasional bad road. A place not ideal for soft, sexy and luxurious cars, surely. It is here that the Mercedes Benz GLA, with its rugged disposition, throws down the gauntlet in the face of this fact. Roads, good or bad, are easily traveled by this mid sized GLAdiator of sorts. The GLA also excels in quenching the thirst for trailblazing across the countryside. All this while keeping the driver cocooned in familiar luxury. It is by far the best suited Benz for the aspirational Indian.
All about the GLAm!
Talking aspirations, the Sula winery was born out of sheer passion and a great attitude. CEO Rajeev Samant took what little he had, poured his heart into his work and gave rise to a truly global wine brand. The creation of Sula has brought about a wine revolution in India. Growing at a healthy pace and gaining popularity by the minute, Sula's Wines have captured the attention of most curious travelers and wine connoisseurs alike.
Taste the Sula Life!
Attention is something the GLA grabs by the ton as well. The GLA's road presence is something which needs to be felt to be believed. This luxury SUV gives India the pomp of a three pointed star, the elegance of a luxury tourer and the go-almost-anywhere attitude! The GLA rivals the Audi Q3 and the BMW X1 when we look at price points. The Mercedes Benz GLA looks stunning from every angle, something that its rivals struggle to do even on the best of days.
exquisite
The GLA is big enough to command the road and small enough to even be called compact! On the motorway, the GLA drove flawlessly across hundreds of kilometers that we threw at it. Eventually the roads ran out and we were doing trails towards Nashik and this is where the GLA came into its own. We weren't worried about ground clearance, we knew there was enough power and all doubts about the GLA's capabilities evaporated as we circumvented traffic jams on the Pune – Nashik Highway by driving through tricky village paths & broken roads!
tasting trails
We did not push the GLA beyond the broken road however. When driving a luxury car of this form, it isn't always the best course of action trying to do high articulation maneuvers. That's simply not what the GLA is about. A 7 speed dual clutch gearbox mated to a 4-pot diesel motor churning out 135 bhp provides effortless on-road performance on the new GLA 200 CDI. The diesel engine does create some noise outside and on the inside as well but it's not something which affects the overall drive experience. Space is tight on the inside, making the GLA in essence a two person tourer.
Two of us, with our luggage and camera equipment traveled very comfortably in the GLA. We fell in love with the fantastic driver and spotter seats in the car, these seats make long drives an absolute dream! The unmissable sport mode makes easy pickings of sharp mountain curves and the suspension which is specially tuned for India (owing to the increased ride height) does well to keep the GLA centered and the occupants charged up ;).
Ideal for India!
On a drive which ends at a location as stunning as the Sula Vineyards, we had to go all-in. We reached Sula and were greeted by their brand managers, Nirvana was given a one-on-one tour of the Vineyard and the manufacturing facility. Not to forget the tasting of 10 most popular wines from Sula!
Sunset at Sula!
A visit to Sula can be an all encompassing experience. Soléil, the restaurant, serves Indo-French Cuisine at the vineyard and 'Beyond' is a luxury hotel managed by Sula for its patrons. They also undertake tours of the winery for a small fee which includes a quick wine tasting as well. If chilling out is all you plan to do, you can head to the cafe overlooking the Vineyard for some amazing sunsets and snacks.
The Nirvana Favorite – Chenin Blanc Reserve.
We're no wine boffins but we do have our favorites! On our scales, the Chenin Blanc Reserve and the Late Harvest Chenin Blanc take the top spots! Sauvignon Blanc, Riesling, Shiraz and Merlot are a few more among the varieties produced at Sula. If you are someone with a genuine thirst for travel and love a unique experience, a visit to these Vineyards is a must-do. It is one of the most unique weekend experiences one can undertake.
In it to win it!
Pushing the realms of possibility and chasing perfection relentlessly are traits both Sula & Mercedes Benz embody. Our boy Nipun Srivastava cut short his vacation and took on the task of showcasing both the car and the destination, single-handedly. This, because we value true originality, class and quality. Any such endeavour inspires us to do more and way better than ever before. We thank Sula Vineyards for their exemplary hospitality.
Motoring and alcohol do not mix, let's be clear.
Here at Nirvana we practice the highest norms of motoring safety. We adore the vehicles we drive and use, behooving us to do our job responsibly.
Do share our Sula story if you liked it! In our bid to encourage motoring conversations further, we'd like you to comment below and tell us what you think.
We'd love to know how our readers satisfy their cravings for the road! Cheers!
---