It's that time of year again. The mountains will soon echo with the sound of motorcycle engines. Hundreds of people will leave their homes and comfort zones alike, taking charge of their existence with the help of two wheels!
 Serenading Mountains
The things in life one decides to do before it's too late are many. For a freakishly increasing number of motorcyclists in India, riding to Khardung La aka the Khardung pass a little distance from the town of Leh in Jammu & Kashmir, is the ultimate achievement.

To Khardung La!
It is a very personal experience and an equally personal endeavour, this. The Khardung La is located at a height of about 18380 Ft, on the way to the desert towns of Disket and Hunder. From the high altitude town of Leh (11000 Ft), the mountain pass is about 50 kilometres away.
If you think there are things in life more important than riding a motorcycle over maddeningly bad terrain and beautifully dangerous roads to the highest motor-able road in the world, just ask any Royal Enfield (Bullet) rider. She/he will surely set your thoughts straight.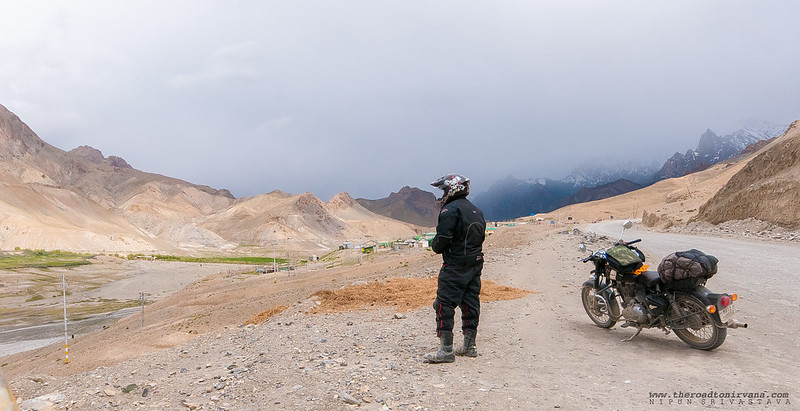 Into The Mountains
For most bikers, riding in Ladakh on the mountain roads which wind their way through the Himalayas is a challenge. Everybody can do it but not everybody does. It takes courage of a different kind to actually set out on this special road trip. The hurdles a motorcycle and its rider face when on these high altitude roads are positively uncountable. Mind you, that is a major reason why one sets out on most adventures, isn't it?

Night in the mountains.
Controlling a motorcycle while riding through slush, gravel, sand and even torrential streams are just some of the things a person on this endeavour will have to endure. Not undermining the fact that high altitude always has nasty surprises up its sleeve, if you aren't acclimatised properly. The air is thin up there, oxygen is less and so is the room for error while riding on the ultra-narrow roads. Almost 85 % of the roads are mountainous where on one side is the mountain itself and the other side is a cliff or a raging river and no, seldom will you find any barricading to save you, if you're planning on going over i.e.
Long way down!
One can never underestimate the power of the weather here. They say 'If you don't like the weather in Ladakh, just wait five minutes' and it is actually true. The weather can change with every blink over the Ladakhi landscape. You will be treated to ice cold rain and snow, winds fast enough to throw you off your feet and people who are as beautiful as they are calm.
Whacky Weather!
Whether you ride solo or you ride with a bunch of people like yourself, this adventure will affect you as an individual. Call it philosophy or call it spirituality, either way, you will be a changed person by the time you reach home. Many have said before that the isolated existence and the feeling of being removed from the ruckus of everyday life is the real reason why people go to this place. There is a lot more to Ladakh than just that. It is that place where no matter what your age, you will meet yourself, the real you.
Absolute Isolation
We're not going to talk about how one should take this trip. Frankly, we have no right. Do take the trip if you get a chance though.  Leave that chair, head out, stretch right up and touch the sky.
Touch that sky!
Want to see more Pictures? Click on

Leh & Ladakh

.
---

Motorcycle Paradise
Give me a place I can be myself.
Give me the pleasure of connecting with my soul.
Give me my space to dream.
Let my essence come to the surface.
Let me, for my life back home, reccaliberate.
Let me sing my song.
I want to win the world.
I want to LIVE my life.
I want to fly.
Give me Hedvi.
The quintessential beach destination for any biker, come here to 'touch' your old self. Listen to your heart tell you what it really wants from life. Take a dip in the sea of peaceful waves breaking on the brown sand. Forget about where you came from. Head out towards where you want to be. Hedvi will take you there.
There is a lot more I can say about this haven. It is a special place for all us men and women the world considers as outsiders or weird. There is something about a flimsy shack near the beach, something about that voice of the ocean every time you close your eyes. That something which makes sweet sweat fall from your chin, that something which wakes you up early with the sun shining through bamboo weaves. Something, which is in drinking a litre of Solkadi every day that you spend here. What I can't do is explain it with words, that something, it's just Hedvi.
On the west coast of India, Hedvi is a small stretch of sand 200 kilometres north of Goa. Guhagar, another beach close to Hedvi is a major tourist centre. That is all anyone will tell you, especially us Enfield riders. Further, if you really deserve Hedvi, you will find it – On the road, on those two wheels standing in your garage right now.
Sun, sand and sea.
Take the Nh-17 and head out towards Goa if you're coming from Mumbai or the north. Remember one thing, if you've reached a place called Chiplun (coming from Mumbai), you've missed the right turn towards Guhagar.
If you're on the right track and lucky, you will see almost blank concrete sign posts telling you where you should be headed.
Ask people, that's the easiest way to find the right direction in India. If you reach the beach without getting lost even once, do write me a mail. I'll send over a bottle of wine. Honest!
Isn't it just another beach?
So is Baga in Goa, Kendwa in Zanzibar, Murud – Janjira in Maharashtra. Hedvi is not the prettiest beach in the world but it is the most beautiful. If, you can understand the vibe present in this coastal village. I would say, take your time.
Do not head to Hedvi just for the heck of it, for that there is Goa and its booze soaked pleasures. Hedvi is for the mature traveller, the one who understands the depth of travel and is ready to put up with big fire ants.
If you're the type who thinks a getaway is a place where you dance till you drop and drink till you puke with a Dj playing you're favourites, you're right in thinking that Hedvi is a bore. On the other hand, if you're a Motorcycle man/woman, you'll know what I mean when I say that we can dance and drink even at Hedvi, with a twist nonetheless.
To the beach we'll ride.
What else is around?
Well, not that it matters when you're at Hedvi but there are a couple of interesting temples around. There is one major Laxmi Ganesh Temple in the main village, located atop a small hillock. Vehicles can drive right up to the temple gates. There is a second smaller temple on Hedvi beach itself, frequented mostly by village folk.
Next, during high tide i.e. at night, you can make your way alongside the coast to the gorge. Every time a big wave comes in, water shoots up the gorge into the air. Getting to the gorge is a bit of a trek and you need to remember how you got there or else if the tide gets too high, you might end up getting water locked. This happened to a friend of mine and me once. Carry a big, powerful flashlight.
There is a small stream which runs into the sea on the beach itself. This is a great place for bird watching early in the mornings and awesome for photography at sunset.
Playing in the sand!
Food
First things first, the Solkadi at Hedvi is by far the best that can be found anywhere in the world. Solkadi is a Maharashtrian drink/cooler cum digestive. When in Hedvi, I personally forget about liquor and stick to this pink nectar. Made with Kokam and coconut milk, it will refresh your senses and give your pallet something to think about. All this while making sure you head to the throne soon enough. Worth it!
Solkadi. The pink potion.
Grub, for vegetarians at Hedvi is no problem as veggie curries etc. are easy to order and easy to prepare for the family with whom essentially you will be staying.
For non – vegetarians on the other hand, chicken is available. If you want fish you need to inform your hosts in advance. Mutton, if you want it, will have to be bought by you from the Guhagar street market and cooked by you too, if you can handle it.
The typical Hedvi meal.
There is only one spice option available here, very spicy, no matter how well you explain blandness to your cook.
Taadi – or the local intoxicant (drink) is also available here. You can see farmers climb up coconut trees (from which the Taadi is extracted) and bring it down for you! It's a very harsh drink and is not for the faint hearted drinker.
Beer is available on order but don't go looking for brands like Tuborg or Carlsberg. Kingfisher is available, be happy. There is always the option of carrying your own booze.
Stay and accommodation
Motorcycle Shack
Alright, so there are shacks and they aren't really on the beach. Though there is a broad treeline between your only accommodation option and the beach. You will realise, this too adds to the beauty of the place.
'Suruchi' is the name of the place where you can stay at Hedvi. The hotel is named after the daughter of the owner, Mr Bhatkar, who is also a resident on the same property. There are two couples shacks and three couples rooms along with three slightly bigger halls which can be occupied by groups/big families etc. Hygiene might be a concern for people who'd rather nit-pick than enjoy a vacation. It's no 5 star this place.
Hedvi Treeline
There is ample parking space here, right in front of your rooms – another reason for it being a hit with bikers. When you park though, make sure there aren't any coconuts dangling over your vehicles. There is nothing worse than waking up to a nasty dent on your baby. Also, the ladies and waiter or two will make sure you get tea, water and solkadi to your hearts content all through the day. For the finicky ones, there is always the STD booth/grocery store. Yes, they keep cold mineral water.
Before you leave
You will want to make sure you don't need to use your cell phone as there is no network here. You may chance upon a couple of bars of signal if you are on the beach. Otherwise, the only option to connect with the outside world is an STD booth in the village near the beach. That always works fine.
Evening at Hedvi
Fire ants are huge here, thanks to the coconut trees. Big, red and ready to bite! Don't walk barefoot in the grass or you'll end up jumping all afternoon. Scorpions and tree snakes also frequent this joint, you're the outcast here, deal with it. For supplies, the STD booth in the village is attached to a tiny grocery shop where you will get basic stuff like hair oil and toothpaste. Don't go looking for tissues or baby wipes, they are a myth in this part of the country.
Make sure you order your meal at least 2 hours before lunch or dinner or else you will have to suffer. Otherwise there is tea and solkadi available always.
For motorcyclists and specially Enfield riders, there are two local mechanics here, Sandeep and Dinesh. They can handle minor problems and small electrical troubles on your bikes. To call the mechanics, get in touch with Mr Bhatkar. Basic medical facilities are also available at Hedvi, there is a very small hospital, only advisable for first aid though. Chiplun, a town about 70 kms away is where good medical facilities are available.
Bonfires are a treat here, make sure you and your group experience this under the stars and in the shadows of the tall trees. Please don't litter at Hedvi.
That's the end of the travel jargon. Enjoy your trip to Hedvi!
P.S: You want Mr Bhatkar's Phone number don't you? Well, e-mail me and you'll get it!
Hedvi is the holy grail for a Bulleteer.
Want to see more photos? Click on

Hedvi
For those of you who have read through this article, here's a treat – The Firelords Hedvi ride video of 2012!
---
It is a village about 850 kilometers from Mumbai, it lies close to the town of Hospet in the Southern Indian state of Karnataka. Hampi is less a medieval ruin site and more a wonder of nature. The views of the landscape here are full of boulders and hills of boulders in various sizes and shapes. Hampi is a site located within the ruins of the Vijayanagar Empire. It is older than the medieval city of Vijayanagara and is still of much religious importance. Home to the Virupaksha Temple – the main center of pilgrimage here and dedicated to Lord Shiva.
On the banks of The Tungabhadra river which flows through Karnataka into Andhra Pradesh, Hampi is not just a religious stop for the Indian traveler but is also a place of wonder and amazement for the foreign tourist.
Below is a photographic account of what I saw at Hampi and also what I think of it.
The gateway to Hampi
As one rides through the surrounding towns like Gadag and Hospet taking one towards Hampi, one starts to feel the excitement building up inside.
The entrance to Hampi does rather well to instil even more wonder into one's mind.
The best season to visit Hampi is around September to November I would say, it's neither too wet nor too hot.
 God of the Gopurams
The Virupaksha Temple from the inside.
Major monuments in Hampi require you to buy a pass which is managed by the tourism department.
One drawback being that the passes are pretty expensive for foreign nationals when compared with tariffs for Indian citizens.
The land of perplexing opposites

Beautiful architecture and ruined rock – cut structures all claim the land.
On one hand, temples of the Vijayanagar Empire poke ones spiritual inner self and on the other the awesome expanse of ruins spread as far as the eyes can see make one wonder, how?
The Vitthala Temple Mahamandapa
This structure is in danger of falling apart, with every monsoon, more steel pillars are used to support and keep the structure upright.
The Stone Chariot at Vitthala Temple
This Chariot is by far one of the most enchanting pieces of carvings in Hampi. It is believed that the wheels are capable of revolving.
The Nandi Bull at Kamalapur Museum
The Museum has a vast collection of miniature carvings up on display.
Visiting the museum is a good way of spending a lazy afternoon here.
Also, next to the museum lie the grand elephant stables of the royal elephants.
Fusion Mansion
The Lotus Mahal is an awesome amalgamation of religion and culture. Huge arches on all sides and pyramidal towers. It is the best preserved stately monument at Hampi.
The Elephant Stables
Talarigatta gate
Hampi and Kamalapur, two neighboring villages and the roads between them are lined with these imposing stone cut gates built hundreds of years ago.
Dusk and the Virupaksha
In the evenings, the beauty of the place just reaches a whole new dimension.
Nandi temple. Way to Vijayavitthala. Mathanga hills
The sheer Magnitude of everything around, from the crazy rock formations to the imposing Gopurams of Temples just keeps one on the feet.
Walking trails and riding the roads through villages to get to even more sites of splendour.
—–
Colours of South India
Street photography in India is not the toughest of things to do.

The people of India seldom refrain from posing for a picture.
An example from Hampi!
This group of effervescent friends were quick to ask me for a picture.
What's more, they didn't even ask for a copy!
Strange things happen in India.
Only in India.
—–
The KSTDC tourist hotel
Karnataka State Tourism Development Corporation.
The rooms are neat and there are three types available, Regular, Deluxe and Super deluxe.
There is also the Presidential suite for the slightly extravagant.
Rs 3500 per night and President Pratibha Patil's room is all yours!
The food is decent and your waiter will be more than happy to help out with special requests.
The staff at this KSTDC resort at Kamalapur, 4kms from the Virupaksha temple made my stay as comfortable as could be.
Right from warning me about the scorpions in the bathroom to making sure I had well cooked mutton for dinner every day.
Eeveryone here made sure that I took back memories which I would cherish for a log time.
Like every adventure, this solo bike ride was a learning experience. Not only did I meet a lot of different people, but also, learnt that life is beautiful and travel is the way to appreciate ones existence.
The Virupaksha Temple gopuram cradling the sun during sunset.
————————————————————————————————————————————————————————————————————————————————————————————
Want to see more photos? Click on

Hampi
Feel free to share!

---