Part 8 of Rooh – E – Rajasthan.
To read part 7 – Click here.
To read part 6 – Click here.
To read part 5 – Click here.
To read part 4 – Click here.
To read part 3 – Click here.
To read part 2 – Click here.
To read part 1 – Click here.
Lets go home.
Twenty eight wonderful days had been spent on the roads and in the cities of Rajasthan. On this special motorcycle journey I had led a much disciplined and regulated life. You know, going to sleep early to get up in time for the sunrise more often than not. Also to leave early to reach the next destination on time.
My last morning here was different. I didn't wake up on time. Three lines of alarms failed to get me out of my snooze on this day. I woke up with a jolt at nine AM when my mum called to check whether I'd left Udaipur.
I mean wow, I felt like even Rajasthan didn't want me to leave. Letting me be as I revelled in deep slumber.
After I was awake however, it was a mad rush to get on the road. It took me an hour to get to the bike and load up. Hurriedly, I said my thank you to the hotel staff, tipped my favorite waiter and rolled on towards the highway.
Sooner than you'd think, with my bikes' engine warmed up and us riding smoothly on the highway into Gujarat, I was again thinking back to the time I'd had in Udaipur and Rajasthan as a whole.
What can one say? When a place known for its harsh climate and shifting sands embraces you with a large heart, one can only feel humbled.
My motorcycle ride around Rajasthan had grounded me like no other escapade of mine. Only a long string of adjectives could probably describe what I felt or maybe even that would fall short of truly expressing how liberated I felt.
Homeward bound!
RAJASTHAN
The Land:
A complete and absolute assault on the senses. A place tailor-made for the wanderer and ponderer alike.
The sands of Sam
The people:
Positively one of the best behaved and most polite in India. Most cultures boast of being hospitable and caring but the folk of Rajasthan truly personify hospitality. They embrace their roots. One has to admire the people who respect and hold in such high regard their own culture, music and place of belonging.
The music of Abu
The food:
To be brutally honest, across the length of my trip, the food I had was mediocre. There were some stars though. Like the LAAL MAANS atop Nahargarh Fort in Jaipur or the super spicy Aloo ka parantha at Dudu! Even the Chaat at the Gol Piyau in Ajmer is worth a special mention.
Food and thought
The experience:
It was just a thought two years ago, today Rooh – E – Rajasthan is one of my favorite pieces of work!
A ride to remember!
Rajasthan was a challenge at first. A personal feat I have to say. Like one gets used to the temperature of water after diving in, I got used to Rajasthan's ever-changing vibe. From the serene desert sands of Jaisalmer and Sam to the chaotic city life of Jodhpur and the commercial holiness of Pushkar, the feeling of finding myself in a different situation was ever present.
I rode on smooth straight roads, through suffocating sands over vanishing roads, atop camels, walked barefoot on warm evening sand, became a part of the music, made friends from different cultures and countries even, spent a month amongst strangers who I now call my own.
I felt more Indian than I'd ever felt before. I felt more human and alive than I'd ever felt before.
Favorite incident:
Chancing upon two musicians in Jaisalmer who became friends and delighted me with their art. Etienne 'Suryaneel' Lauth and Hariram Bhopa. They were as absorbed in their art as a glass of cold water would be in hot sand, they taught me to forget about the world and do what the heart asks. Let me not comment on the brilliance of their music as it was just beyond word.
Etienne (Suryaneel) and Hariram
Most remembered photographic moment:
Shooting atop desert dunes.
As the sun went down over the horizon made up of curvy dues stretching out till the eyes could see, shooting here was a refreshing experience. I walked atop the dunes barefoot, letting the coarse grains of sand caress my sole. It ended up touching my soul. I felt peace.
The camel and its jockey
Shot of the trip:
Camels around my motorcycle on the highway. On my way from Ajmer to Jaipur. The image sums up my journey in a nutshell. The ride, the road and Rajasthan.
A different trip.
Three most loved Photographs of the trip:
My top three most adored photographs from Rajasthan, each of these photos represent a facet of my journey. Not just when it comes to storytelling but also technically. Each of these photographs have hours of effort behind them and also more technique has been used compared to any average image.
Aamer.                                                  Sam and sand.                                          Kumbhalgarh.
Best biker moment:
Looking at the road end and sand begin.
Sand locked
Final Haul home!
After about seven hours of riding through the morning and afternoon I had crossed into Gujarat and was soon closing on my night halt for the day – Ankleshwar. The town of Ankleshwar is built around industry and also happened to be my rest stop at the beginning of this ride. As I approached the town on my motorcycle I got stuck in a traffic jam! On the six lane highway, it was a situation I'd never been in. After about half an hour and probably moving only about ten meters forward, I decided to turn around on the same road and get off the highway. Yes it was dangerous but a man's gotta do what a man's gotta do. I rode on the wrong side of the road for a kilometer or so and reached an exit. Then I managed to find my way through another town which lay adjacent to Ankleshwar.
They say that everything happens for a reason and it's true. As I rode through this unknown town towards Ankleshwar, I found myself at the start of a long and narrow bridge which stood over a wide river which I had to cross. The evening traffic was so much that I was literally wiggling my way through. As I rolled on to the bridge, a perfect and round golden yellow almost orange Sun greeted me to my right. Its reflection off the river was relaxing to say the least. I wanted to stop right there and click some pictures but there was absolutely no space and the traffic behind me was menacing. I had no choice but to store the memory in my head and move on. Just that bit of beauty was enough to take away the pain of my now eight hour long motorcycle ride out of Udaipur.
I was on my way home now. I stayed the night in a hotel and then pushed my bikes' performance to the limit for the home run. She was close to seizing up, my motorcycle, I could feel it. An 8AM cold start is the last thing I wanted for her straining engine but we now had to crank it up and get home. On the highway again and racing towards the outskirts of Mumbai and Thane, we hardly took any stops. My mind was alight with questions about whether we'll reach home on our own steam. I kept the throttle jammed open, the motorcycle responded like she knew what were trying to do, get home.
My motorcycle knew the fact that the trip was over and this was the most important part. Getting home often is. She probably knew that the only place she'd get the attention she deserved would be at the workshop in Pune and so we cracked on through the mid day sun. Soon we crossed into Maharashtra and then by noon reached the turnoff to Pune.
I stopped for lunch and also to give my motorcycle one final cooling rest before we hauled it to Pune. After lunch, getting back on the bike, I told her not to give up on me on this absolute last leg of 200 kilometers. It'd be a pity if we couldn't get home now. These roads were known to the both of us, the team of man and motorcycle soldiered on till we reached the outskirts of Pune. One final water stop marked the end of my ride to Rajasthan. I was home.
At that overwhelming moment, what it felt like cannot be put in words. It was my longest ever solo motorcycle ride. An overall distance of about 5000 kilometers of motorcycling, tourism, photography and an experience of a lifetime had been achieved.
Just like Rana Pratap's horse, Chetak, my motorcycle got me home and then proceeded to get herself to the workshop. Only then did she let her condition take the better of her. She'd gone through a lot, the desert heat, the grains of sand and my constant whims. It had been an epic challenge for her too. What a machine! What a personality and how amazing that she understood her rider just the way he was. The Marauder!
The places I missed:
Yes, believe it or not, there are a lot of places I didn't visit on this trip. Rajasthan is huge and trust me when I say it is worth spending a sizable part of one's life here. Each corner has it's own story, it's own people and it's own shade of sand. When you go, keep in mind these places that I didn't get a chance to go to.
Why didn't I go?
Time was a major reason for skipping places like Bikaner and Alwar. Sometimes it so happened that I found out about a place only after I'd passed it, like Bundi and Gagaria. Rajasthan is like a big bundle of surprises, each place you go to can hide amazing sights which someone in a hurry may never uncover. The step wells in Jodhpur make up one such site. I only found out about them just before leaving. Thanks to my friend Oindrila Mukherjee – an avid traveller, I can share a few pictures which will demonstrate what a beautiful place I missed not to mention a fantastic photo-opportunity.
The thing is, it's sometimes okay not to have seen a place in its entirety. For me personally I try to explore for myself as much as I can but then again – I'm the imperfect traveller. These places I've missed just make sure that one day I will head back. Because I've fallen in love with the land.
Rajasthan limit ends.
——————————————————————————————————————————————————————————————————————————————–
In this article:
Number of nights: Ankleshwar = 1.
Distance travelled: Udaipur – Akleshwar – Pune = 860 kms.
Motorcycle condition: She survived! We did it. Crank assembly changed, block-piston kit changed, complete engine and mechanical overhaul done.
———————————————————————————————————————————————————————————————————————————————-
People I thank:
The Firelords, Pune – A motorcycle owners' club of sorts.
Mount Abu:
Nathu ji – Musician.
Barmer:
Mr Madhav Singh Rajpurohit, Staff at Hotel Madhav Paradise.
Jaisalmer:
Mr Hariram Bhopa, Mr Kadam Singh – RTDC, Mr Etienne 'Suryaneel' Lauth, Mr Bismillah Khan and troupe, Sultan Bhai – Camel herder, staff at RTDC Moomal.
Jodhpur:
Mr Pankaj Srivastava – Punjab National Bank, Mr Kishor Kumar – RTDC, staff at RTDC Ghoomar, Bansiraam – folk musician, Mrs Laali Mukherjee.
Ajmer/Pushkar:
Mrs Geetam Saxena. Staff at RTDC Sarover – Pushkar.
Jaipur:
Mr Ajay Saxena – RTDC. Staff at RTDC Teej.
Chittaurgarh:
Manager – RTDC Panna, RTDC staff at the Chittaurgarh fort.
Udaipur
Mr Narayan. Staff at RTDC Kajri.
————————————————————————————————————————————————————————————————————————————————————-
Some travel for pleasure, some for adventure. Some go for others, I go for me.
The End.
---
It's that time of year again. The mountains will soon echo with the sound of motorcycle engines. Hundreds of people will leave their homes and comfort zones alike, taking charge of their existence with the help of two wheels!
 Serenading Mountains
The things in life one decides to do before it's too late are many. For a freakishly increasing number of motorcyclists in India, riding to Khardung La aka the Khardung pass a little distance from the town of Leh in Jammu & Kashmir, is the ultimate achievement.

To Khardung La!
It is a very personal experience and an equally personal endeavour, this. The Khardung La is located at a height of about 18380 Ft, on the way to the desert towns of Disket and Hunder. From the high altitude town of Leh (11000 Ft), the mountain pass is about 50 kilometres away.
If you think there are things in life more important than riding a motorcycle over maddeningly bad terrain and beautifully dangerous roads to the highest motor-able road in the world, just ask any Royal Enfield (Bullet) rider. She/he will surely set your thoughts straight.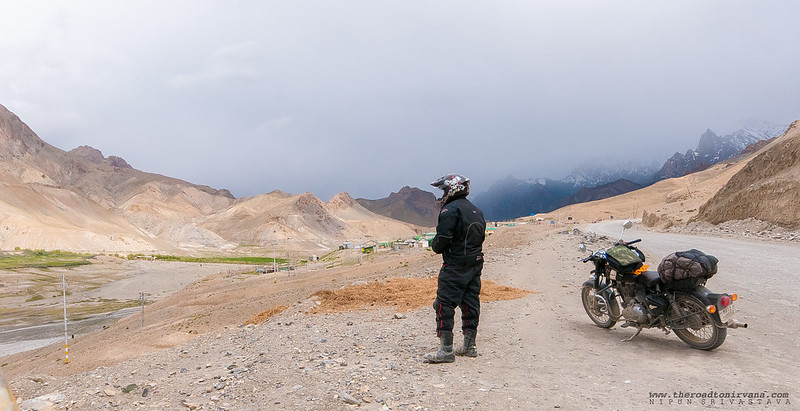 Into The Mountains
For most bikers, riding in Ladakh on the mountain roads which wind their way through the Himalayas is a challenge. Everybody can do it but not everybody does. It takes courage of a different kind to actually set out on this special road trip. The hurdles a motorcycle and its rider face when on these high altitude roads are positively uncountable. Mind you, that is a major reason why one sets out on most adventures, isn't it?

Night in the mountains.
Controlling a motorcycle while riding through slush, gravel, sand and even torrential streams are just some of the things a person on this endeavour will have to endure. Not undermining the fact that high altitude always has nasty surprises up its sleeve, if you aren't acclimatised properly. The air is thin up there, oxygen is less and so is the room for error while riding on the ultra-narrow roads. Almost 85 % of the roads are mountainous where on one side is the mountain itself and the other side is a cliff or a raging river and no, seldom will you find any barricading to save you, if you're planning on going over i.e.
Long way down!
One can never underestimate the power of the weather here. They say 'If you don't like the weather in Ladakh, just wait five minutes' and it is actually true. The weather can change with every blink over the Ladakhi landscape. You will be treated to ice cold rain and snow, winds fast enough to throw you off your feet and people who are as beautiful as they are calm.
Whacky Weather!
Whether you ride solo or you ride with a bunch of people like yourself, this adventure will affect you as an individual. Call it philosophy or call it spirituality, either way, you will be a changed person by the time you reach home. Many have said before that the isolated existence and the feeling of being removed from the ruckus of everyday life is the real reason why people go to this place. There is a lot more to Ladakh than just that. It is that place where no matter what your age, you will meet yourself, the real you.
Absolute Isolation
We're not going to talk about how one should take this trip. Frankly, we have no right. Do take the trip if you get a chance though.  Leave that chair, head out, stretch right up and touch the sky.
Touch that sky!
Want to see more Pictures? Click on

Leh & Ladakh

.
---