Motorcycles, they make our world go round.
Truly, these two-wheeled machines have made me marvel at their form and function, right since I've been conscious enough to understand the feeling of wind hitting my skin in tandem with the twist of a throttle. What motorcycles have given me, in return for living with them, maintaining them and fueling them, cannot be quantified. But what I can do is share how they've made a huge impact on my life, the type of people I meet and how I meet them.
MOTORCYCLE FRIENDSHIP
Ever had a friend who you've never met, never ridden alongside, never even spoken to on the phone but your connect is super strong – as if you were siblings? That's what MK and I share – all because of our motorcycles!
I had just bought my dream machine – the BMW R1250GS.
It was surreal, bringing this behemoth home and like any true motorcyclist, I was itching to ride the living daylights out of it! As if on cue, my friend who I'd never spoken to, MK, sent me a text saying he was on his way back to India in December. (He stays in Dubai most of the year). He was returning to his village home in Kerala – in the heart of South India!
Since we'd never met, yet, were two passionate motorcyclists – passionate about motorcycles, accessories, riding gear et al, this was a golden opportunity for us to finally ride together after years of WhatsApp friendship! MK, like myself, rode a plethora of motorcycles and had a penchant for quality.
MK and I got to know each other because both of us were part of a motorcycle (messaging) group that owned Kawasakis – The Versys 650 to be exact. We both loved the V650s as they made for fantastic, practical and fast machines that were very accessory friendly. As it happens on such groups, discussing accessories and dealing with weirdos who always had a point to prove, MK and I found our opinions chiming in unison more than a few times. This led to us deciding that, as and when we'd get the chance, we'd ride together.
You know what they say, great friends are hard to come by. So I take them when I get them and hold on as tight as the brotherhood allows.
DISTANCE
The reality was that MK's home was a thousand miles away from my home – one way. I'd have to cross 5 states, ride through mountain ranges, alongside India's West Coast and cover decent highway distances to reach Kerala.
2000 miles ahead!
I convinced my usual motorcycling partner in crime, Vaishali, to join me on this multi state ride across western India. She's the best pillion I've ever had on a motorcycle. Always in sync, always ready to pull her weight (and the bikes! If need be 😜). Vaishali has been a constant companion on quite a few motorcycle rides. Most importantly, she doesn't mind me giving most of my attention to my motorcycle when on a ride, especially with my cameras.
Vaishali, flanked by the GS and I. #helmethair #forthewin
WELL BEGUN IS HALF DONE
Well, the ride didn't begin all that well.
Being a Creative Director, leading my own advertising and production teams, I'm always jumping from one shoot to the other and the night before the ride was the same, it got real late. We started the ride a full 6 hours behind schedule, as I spent the early morning packing and setting up my GS, first BIG ride after all. 
Starting late (on a ride as huge as this one) is a strict no-no for me. It just puts everything out of whack and has a cascading effect on the whole endeavour. Anyway, we made our way, leaving my home city of Pune at noon, in the state of Maharashtra, India.
Highway Milemuncher!
It was December, a few days ahead of Christmas. MK is Christian and the whole idea on this leg of the onward journey was to reach the destination in time for us to celebrate together! To help make that happen, MK and his family had made their way to Wayanad, up and into the Southern Indian Mountains, with MK riding his Versys 650.
Vaishali (my pillion), the GS and I were a long ways away though. We were still riding towards Goa, our first overnight stop on the ride.
GOA
The worst place to stay, if you have to leave the next morning, is Goa.
Why? Because one never feels like leaving Goa, ever! The food and people in Goa are some of the best. Every time we ride into Goa, the chilled out vibe grips us so tight that we almost always end up extending our trip! No such option this time, we were on a mission, mission to Mangalore!
Susegado baby, you're in Goa!
'Susegado', as the Goans refer to the 'vibe' here, is infectious to say the least. From quiet naps in the afternoon to casual beer and seafood in the evening, you just want to slow down and enjoy each breath you take, when here. Something that is so alluring to my current city dwelling mindset, I am certain I will get myself a home in Goa someday. Maybe I'll even get a boat and spend my retirement dough mounting Denali lights on it!
Coastal Dusk
We reached Goa after dark, just in time for a quick dinner with local friends and then to bed. Next morning, we took our time once again, leaving at noon. On our way out of Goa, our next overnight destination was the city of Mangalore in the state of Karnataka (already our third state on this ride!).
ALONG THE WEST COAST
The coastal road from Goa to Mangalore, a distance of about 400 kilometres, is some of the most pleasurable and easy riding one can do. Especially now that we had already fallen behind our riding schedule, there was no point rushing through the good bits. Taking the Goan vibe along as we rode across state borders into Karnataka, we took time to appreciate the abundant coastal beauty this stretch of the road had to offer. Stopping often, just to enjoy the constant sea breeze and refreshing views.
Surf's up!
The whole 400 kilometre Goa-Mangalore stretch winds along the western coast of India, in tandem with the Western Ghat Mountains on one side and the stunning Arabian Sea on the other, lined on both sides of the road with rustling coconut palms.
Seaside Ride!
Even though the 400k distance may seem short, this coastal route is a slow ride by default. After a good 10 hours on the road, we reached Mangalore City and battled its peak hour evening traffic to reach our hotel. Promptly dismounting and heading for dinner.
MANGALORE
Just 400 kilometres from the Indian Sunshine State of Goa and a few tens of kilometres short of the Southern state of Kerala, sits the bustling coastal City of Mangalore. With its own unique Mangalorean cuisine and culture, it's a city and region which is as unique as it is stunning! I'd taken a trip specifically to explore this part of India in 2018, on my Versys 650, check out that story here: Malabar Calling.
On this trip however, Mangalore was just a place to lay our heads before we finally made our way up into the Western Ghat Mountains towards Wayanad.
GOD'S OWN COUNTRY
Ah, Kerala, you beauty!
From crisp coffee to tantalising teas, from calm lagoons to the roaring seas, from life at sea-level to misty, evergreen mountains – Kerala has EVERYTHING any traveller could ever ask for. Not to forget the divine cuisine that is the diamond in the crown of this state!
As soon as we rode into the Western Ghat Mountains, we left the warm and sultry tropical weather behind and were welcomed into the highlands with cool mountainous breeze. With the Boxer Engine of the 1250 GS growling between my legs, I took full advantage of the superb 2-Up riding dynamics of this stellar motorcycle!
Loaded up!
Not only were Vaishali and I riding 2-Up, our GS (The Swashbuckler) was fully loaded from front to back! Right from the SW-Motech EVO Daypack Tankbag, carrying most of my Camera paraphernalia, to the AERO ABS Side Cases (also from SW-Motech) – our main luggage. I also have to mention the nifty Urban ABS Top Case that we had, carrying all our footwear at the back.
Why do I consistently choose SW Motech ABS Luggage over a trio of aluminium?
Well, even on a motorcycle as well put together as the GS, one needs luggage that is manageable single handedly. (OR) When touring 2-Up, the rider-pillion team has to be able to lug the luggage up a hill with bare hands. Ultimately, ABS luggage is light, yet holds its form beautifully and looks stunning on the outside. Moreover, the AERO ABS Side Cases aren't too big and thus make you carefully consider each item you are carrying. You know, so that you don't end up carrying extra crap that you'll never use. Most importantly, in a worst case scenario, one can shove these abs plastic luggage cases in overhead bins on an aircraft!
ABS luggage #forthewin from SW-Motech & Denali Electronics D4 V2 TriOptic LED Aux. Lamps
Just in time for this ride, I had mounted the Denali D4 V2 TriOptic LED Aux lamps. These came in very handy as we rode further up into the western ghat mountains and the Sun went down behind the peaks. We were flying towards our destination, the forest district of Wayanad. We passed the coffee plantations of Coorg/Madikeri during early evening and then crossed the state border into Kerala as dusk approached. A few more hours of cold weather riding saw us entering the forests of Wayanad on the GS, looking for our hotel, where our Christmas dinner awaited!
My friend, MK, had made sure that as soon as we got off the motorcycle, our beers were handed to us! Mark of a true friend ;).
A CHRISTMAS TO REMEMBER
Motorcycle Friends – MK, his wife Seema, Vaishali and I. Our Steeds – MK's Kawasaki Versys 650 & The Swashbuckler!
When motorcycle tourers meet, the first few hours are spent conversing and analysing each other's motorcycles. It's one thing to share messages about which accessory to buy, its a whole another process seeing it mounted on a machine.
MK and his wife had ridden up to the forests of Wayanad to celebrate Christmas with us. What a gesture and what a way to bring in 2020!
WAYANAD & VYTHIRI
Vythiri Trails
Absolutely calm green forests, nestled within sweeping hills and water bodies, that is what Wayanad and Vythiri offer.
We spent a couple of days exploring the areas around, took in the perfect winter weather and generally chilled out. I even took the opportunity to head out and ride a couple of off-road trails deeper into the forests of Vythiri. Lucky that the monsoon season had passed, this place would have been mayhem to ride through, landslides and all!
Lakeside Vibes!
At the end of one trail, we found ourselves a glassy lake with open views, imperative that I spend some time shooting my GS! 😀
ON TO THE NEW YEAR!
With Christmas behind us, MK, our pillions and I were to ride further deeper into Kerala – to their village home, 300 kilometers further south of Wayanad. This was our first real ride together!
Riding into 2020!
2020 was brought in with style at (what I like to call) MK's motorcycle-home. One reason why we hit it off is that the both of us are motorcycle aficionados, the constant motoring banter between us is endless, we often found ourselves being the last people in a room. Visiting a fellow rider's home sometimes treats one to a fascinating insight into their unique perspective on motoring.
MK's Motorcycle Home & Festive Champagne!
There's something to be said about living far away from the city. The calm surroundings and slow pace of life in Indian villages is worth its weight in gold if you ask me. Increasingly, I have come to realise that it is the quality of the life one is living and not the location that matters most. Here's hoping I put my learnings from this trip into practice sooner than later!
Finally then, our time at MK's home also came to an end. Their family had left no stone unturned in making sure we were fed every type of delicacy Kerala had to offer. Vaishali and I were as honoured as we were humbled by their extraordinary hospitality.
I struggle with goodbyes.
KOCHI – NO TIME FOR MELANCHOLY
On Indian roads, there's no time to brood. As soon as we rode out of rural Kerala, the heat, humidity and bustle of urban traffic hit us like a freight train!
We were now on our way to the metropolitan city of Kochi.
After spending close to 10 days in the stunning serenity of Wayanad, Vythiri and then at my friend's village villa. Kochi's fast pace took some getting used to! Luckily for us, the BMW dealership here was headed by a friend and fellow GS rider as well. For the first time on this ride, Vaishali and I left the GS for some TLC at EVM Motorrad Kochi and made our way to the touristy side of the city. Kochi is a hardcore coastal city, the Arabian Sea forms an inseparable part of the life here. Whether it's the sea-food or the ways to get around town, the Sea is everywhere.
Ferry Hop in search of the Biker's Burger!
We hopped onto a ferry to get us to Fort Kochi – probably the most touristy part of town. With the prospect of juicy burgers in front of us, we weren't complaining! Lo and behold, I found myself a 'biker's burger', I had to give it a go! 😀
Our stop at Kochi city was planned as a jumping off point. We had the GS being looked over by the boys at BMW, just as a precaution, as this was our first big tour with the beast. Next, we had to plan our journey back towards home. Or did we?
TAKING THE LONG WAY HOME
My partner in crime on this ride, Vaishali, is a corporate honcho and her work schedules are always very demanding. But when we're on a motorcycle ride, she leaves the planning to me. I was free to take whatever route I wished, as long as I got her back in time for her work. Ok then.
Since we'd largely hugged the coast on our way south, I was quite keen on taking the mountainous route towards home. With the GS making short work of highways, I was quite keen on taking a road that had a few more curves and few less curbs, if you know what I mean.
Although as a tourer I tend to ride South quite often, there are still pockets of South India I am yet to explore. The hill town of Coonoor, in the lap of the Nilgiri mountain ranges is one such unexplored pocket for me. And so, thanks to google maps and Taj Hotels, our plan was set.
COONOOR & OOTY
The GS, surrounded by tea gardens, at 7000ft!
If Tea and mountains are your thing, Coonoor & Ooty in the southern Indian state of Tamil Nadu are a must visit. Both hill towns ooze old world (and dare I say, colonial) charm. The climb upto about 7000 feet above sea level brought us to our little cozy spot in Coonoor. This quaint little hotel (managed by Taj Hotels, India), was the perfect example of old British architecture that now forms part of regular life here. The temperatures were quite low, which was a welcome break from the humid hustle of Kochi. Both Coonoor and Ooty are touristy towns with tea gardens surrounding all mountain slopes, all around. Needless to say, both towns are full of tourist traps that are worth visiting only if one is fond of such things.
Sweeping Views – Train Ride to Ooty – Ooty Railway Head – Our Cozy Spot at Coonoor!
Our love for machines, however, drew us to the Nilgiri Mountain Railway. The last remaining meter-gauge rack/cog railway line in India. The hour long train ride snakes its way along the mountain slopes from Coonoor to Ooty, offering sweeping views of the stunning tea gardens and surrounding hills. A perfect way to take in both towns, when short on time.
On that note, we were no more on a leisure trip. After our second night at Coonoor, we were well and truly homeward bound. Even though home was still a good 1000 kilometres away!
Riding down the Blue Mountains!
Now, it was just a matter of mounting up, riding down the Blue Mountains of India (Nilgiris), wrapping up our 20-day motorcycle sojourn and finally, settling down with the grind once again.
RIDING HOME
Homeward Bound!
Vaishali and I took one more stop on our way back home. The coffee town of Chikmagalur. If coffee is your thing and you're in India, Chikmagalur is the place to be! Estate after estate growing coffee line the hillsides here. Check out my Kawasaki Versys 650 story, where I explore this area in greater depth: Malabar Calling.
With Chikmagalur behind us, it was a relatively straight 700 kilometre highway dash back towards our home city of Pune. Memories and experiences in tow, atop the mighty Swashbuckler, we had made good time on every leg of our 3000 kilometre winter journey to the South of India. For the kind of riding we do, I doubt there's a better steed out there.
SOUTHERN SOULS
MK and I, the original dreamers of this trip, have made a pact.
Every year, when he returns to India, we will meet up and ride together in some new part of India. Our next escapade includes the Southern Districts of Idukki and Periyar National Park and Tiger reserve.
As Vaishali and I returned to Pune, MK and his family reached their home in Dubai. All of us, back to the grind. Little did we know, what 2020 had in store for the world. Lockdowns after lockdowns in India have kept my GS and me caged in isolation since this whole pandemic fracas began. Although I'm pretty sure these testing times will pass, I truly hope us 'Southern Souls' are riding alongside each other again, soon.
If it wasn't for our motorcycles, all of them, that got us here, MK and I probably wouldn't ever have crossed paths.
And if you took a look at us today, we're like family.
Touchwood.
Motorcycles, they make our world go round.
---
Writing for this piece has been rendered by Nipun Srivastava, our resident adventurer & Creative Head.
Motorcycle built by The Nirvana Team. Accessories provided by SW-MOTECH & DENALI Electronics. Project supported by BIG BAD BIKES.
---
---
Kawasaki, Ducati, BMW, MV Agusta, Benelli, Triumph and even Royal Enfield have upped their motorcycle game in India (or have had too!).
We're the next big market for motorcycle makers in the world. We've got the money and we've got the trails too! Most of all, we're buying new motorcycles like there's no tomorrow! The markets have been going crazy over the past year, so much so that the Motorcycle we're bringing to you today already has a refreshed version out there!
So, which motorcycle should you get if you want to see the country on two wheels?

Let's say you're a practical rider, someone who's not stingy but you're one who likes to be smart about your passionate decisions too, what bike to buy? 😉
Take a keen look at the Kawasaki Versys 650. A perfectly priced sports touring motorcycle for the Indian market.
An 800,000 Rupee ticket to premium motorcycling freedom. Buy it and you join the big league, kit it out well and you can ride the length and breadth of India, Nepal and Bhutan – all without a passport and over all sorts of terrain, roads and climate!
The 649cc engine on the Versys is all but battle tested, rock solid and super smooth over the rev range, gives a sweet straight power delivery up to a healthy 69 BHP. It can do 120 kmph all day long, comfortably, getting you where you need to be easily. The torque (64Nm @ 7000 rpm) too is tweaked in favour of the rider travelling with a little load – whether that be your luggage over a long weekend, significant other or both.
It has an ABS and an adjustable suspension setup too! Pretty freakin' cool at this price point, we can tell you that.
Nipun Srivastava, our resident adventurer, has been painstakingly kitting out a Versys 650, using it on his photography missions and weekend rides alike.     
How the Kawasaki Versys 650 is the perfect beginner premium motorcycle to take on the Indian road, we'll let him break it down for you.
He'll take you through everything, from what accessories go well with this motorcycle to what one must watch out for when on the Versys 650. Enjoy 🙂 .
""You'll be mistaken if you think the Versys 650 is a small motorcycle."
This Kawasaki is meaty enough to keep you full for a lifetime of comfortable riding, customized to your specific style.
Me, I'm more a sucker for exploration and seeing the country on tour. Piece by piece, I like to pick up areas which look promising on the map and then head out to check if my research was any good. Often times the research goes out of the window when on a major ride, so what I need then is a reliable machine which can get me through some serious stuff.
The 650cc parallel twin on the Versys is known to be a bullet proof engine. It has been used by Kawasaki on a number of its top-selling motorcycles like the Ninja 650 and the ER6N. Right there one knows that if maintained well, this engine will go a long long way. The gearbox is a tad notchy for my liking but one soon gets used to it.
Take the Versys 650 almost anywhere!
Height-wise, the Versys 650 sits right in the middle. If you are too tall or too short, give it a proper test ride before you consider buying it. Lowering kits are available for this Versys but they are almost always underwhelming in performance and often lead to ground clearance issues, especially while riding two – up. For those who hover around 6ft or just under, the seating on the Versys is just right. The seat, well that's relatively comfortable too.
All fueled up, she weighs in at just under 215 kgs.

Good suspension, that's what makes the Versys an absolute game changer at this price point. The Versys boasts of Showa's Separate Function front forks which are manually adjustable for Rebound and Pre-load. The rear mono-shock can be adjusted with just the twist of a knob, while seated even! Although I find the front a little soft for my liking, I am yet to fully explore all the possibilities these front forks offer. I'm pretty sure there's a setting somewhere which will work perfectly – I just need to find it.
So then, on paper, the Versys 650 makes a very healthy case for itself in India. What more can one ask for then? Read on 🙂 .
In this Sport-Touring motorcycle segment, one major factor is the accessories one can mount on one's steed. It is here that the Versys really excels. There are just so many options from reputed brands like SW Motech, Hepco Becker, Givi, Evotech and even Kawasaki themselves that one is truly spoilt for choice.
Each Versys then is sort of a blank canvas. A very capable and smart blank canvas.
One can take the Versys from being an intercity shuttle to a relatively tough machine, able to head out on to the road and even off it to a great extent. All one needs is the right set of accessories mounted and you can push the Versys 650 trail-side. On the trails, the 650 is a little top heavy if you're running a full tank of gas but if you know what you're doing, the motorcycle does well to get you across a dusty, gravel topped trail without any difficulty. One sore point, the ABS can't be turned off. You'd think Kawasaki could have thrown in a switch for that just for good measure. Alas.
Trail-side with the Versys 650!
The accessories you choose for your motorcycle need to be on point, always. They must be geared towards the kind of riding you intend to do.
Here's a list, a brief description and a final GO or NO on the accessories we chose for the Versys 650.
Our accessories line-up:
Radiator Guard: By far the most necessary accessory for your Versys is the Radiator Guard that you mount. It must be light yet strong and be ready to take a subtle thrashing every time you hit a rough patch. On the Versys, this is important as the front tire tends to send small stones flying into the radiator as a routine. We chose the Evotech Performance Radiator Guard as it is extremely light (aluminium), an absolute breeze to mount and covers the full front of the Radiator assembly and not just the fins. An absolute GO from us.
Guard that Radiator Baby!
Also seen are the SW Motech Sump Guard, The Hepco-Becker Crash Bars and the SW Motech Fork & Swing-arm Sliders.
Engine/Sump Guard: Very important if you ride long distances on Indian roads. This guard protects the engine sump, the bottom of your exhaust system and more importantly, the vulnerable O2 sensor located just next to the engine sump. We chose the SW Motech Engine Guard as design wise this thing is a masterpiece. It presents an absolutely smooth surface to the ground so as not to catch on anything and cause damage. It's made of aluminium, hence is lightweight and the rubber mounting bushes save you from any vibration/resonance on higher revs. GO for this.
Crash Bars: These cover the lower part of your front fairings and the sides of your engine heads. We chose the Hepco Becker Engine Guard for the Versys 650 as it provides very good coverage, has perfect clearances with the fairings and fits in seamlessly with the design language on the Versys 650. It is also very easy to bolt on. It is rock solid once bolted on correctly. An absolute GO from us!
Front Axle & Rear Swing-arm Sliders: We went with the SW Motech sliders as they seem to be the most polished and easily available sliders in India. Once on, you almost forget they're there. GO.
Chain Lubrication: No one will tell you this before you buy a premium motorcycle but your chain is the key to a good ride. It is also a part which demands constant attention when riding religiously. We've gone ahead and mounted a Versys Edition Scottoiler V-System on the bike so as to keep our chain lubricated at all times. Giving us the peace of mind to carry on riding regardless of conditions. This is a GO if you don't want the hassle of manually lubing your chain.
Note: The single sided lubricator, included with the Scottoiler, does an OK job. We suggest you use the dual sided lubricator for consistent lubrication.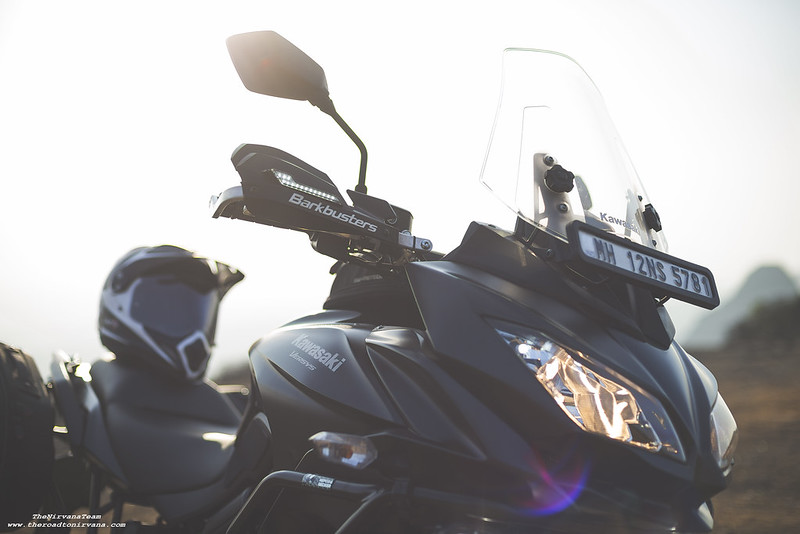 Barkbusters hand-guards. As purposeful as they come!
Hand Guards: This is a requirement only if you tend to test your skills every now and then, which obviously increases your chances of taking a tumble or having your brake/clutch lever smacked out of shape. We got the Barkbusters mounted on our Versys with the VPS guard cover. Moreover we added the Barkbuster DRLs atop the cover to increase the visual footprint of the vehicle and add style to the overall look. The Hand Guards are a GO from us, the cover and DRLs you can do without.

Dazzle Baby! The Denali D4 Auxiliary lamps.
Auxiliary Lighting: We think this is important. Also, it is one of the most confusing and cost intensive investments you can make on your vehicle. Important because in our riding conditions, one needs to be visible. Confusing because of the sheer number of choices out there – Baja, Denali, SW Motech and even Chinese knock-offs – it's a tough call to take. We went with the trusted Denali D4s for our Versys and give it a healthy 7/10 on its daylight and night time performance. GO for the Denali D4s as they are simple, hardy and get the job done effortlessly. Just look at them dazzle!
Tank Pads: We've mounted the Tech Spec Snakeskin for the Versys 650. Industry leading, very good performance and absolute value for money. GO.
Tank Bag(s): We looked at them all and then settled for SW Motech. We got two – The Yukon 90 for when it gets wet and the Micro for short intercity bursts. Both mount to the same tank ring and can handle rough riding. The Yukon is ugly and a pain to use but is waterproof, the Micro is a breeze to use but is a tad small, even for something called a micro. SW Motech, Givi, Hepco Becker or even Giant loop, the choices are endless out there! GO.
Travel light, travel right! The SW Motech Aero Semi Rigid Panniers.
Luggage: We've mounted the SW Motech (Quick Lock EVO) Aero ABS Semi Rigid Panniers. These are cost effective, let you carry more weight (8 kgs per side) and look bloody amazing on the Versys 650. We give these a 10/10 for looks and an 8/10 for functionality. GO for it!
Side Stand Foot Enlarger: This is probably the most underrated accessory for your bike. Our SW Motech side stand foot enlarger helps keep the bike steady on soft terrain, like a boss. Be it on a beach or a mushy trail, the motorcycle stands steady.
OEM Accessories: The Kawasaki Gear Indicator and the DC Output Socket. The DC Socket is an absolute GO. You can live without the Gear Indicator, moreover it comes console integrated in the 2017 Versys 650.
That takes care of the accessories list on our Versys 650! Phew!
Why didn't we go with OEM Kawasaki Accessories? Two reasons, one – they are freakishly expensive and two – they do not inspire confidence when on the road.
VERSYS 650 – ISSUES
Every machine has its quirks and the Kawasaki Versys 650 is known to have a few too.
For starters, Kawasaki India has recently gone solo and split its operations with Bajaj Auto Ltd. This boils down to a smaller service network and in places service that's not so great. Moreover, basic spares have become slightly tougher to come by.

On the road, some riders claim to have bent their rims while riding over large pot holes at speed. We faced no such issues, yet.

The stock tires (Dunlops) are geared towards delivering high mileage only. They perform badly on dry roads, wet roads, good roads and bad roads alike. We exchanged ours for Metzeler Sportec M7 RRs after the first thousand clicks.

The stock headlamps are weak. You NEED an auxiliary light setup. Alternatively, we hear, Cyclops make good replacement LED Bulbs for the Versys.

Versys 650's jerky gearbox takes getting used to but becomes smoother after the second/third service.

Typical parallel-twin behaviour – the handlebar vibrates when getting off the mark, can make a novice question his/her intuition when new to the motorcycle.

The Horn is puny, in India, one needs to get something with more punch.

Lack of a healthy exhaust note. The Versys 650 sounds like a refrigerator. Sorry.
If you notice, I'm picking nits here. In the end, the Versys 650 is a damn fine proposition for Indian roads. 😉
VERSYS 650 – THINGS TO LOVE!
An absolutely bulletproof engine and a suspension setup which is sublime.

It comes touring ready. If you had to, you could take the Versys 650 out of the box and hit the road straight away. It would do well.

Short running in period of 1000 kilometers. After that, get new oil and kiss 9000 rpm all you want.

Comfortable service intervals of 5000 kilometers. This will irk the mile-munchers but most riders will be fine.

Acceptable cost of maintenance. It's not a super expensive vehicle to keep in ride-ready condition.
Overall the Versys 650 is damn easy to live with.
This motorcycle provides the perfect mix of reliability, mechanical prowess and is very accessory friendly.
The Versys 650 delivers decent power, nothing crazy or too intimidating, so as to get your soul the sport tourer it needs!""
Happy riding!
We hope you've enjoyed our story on the Versys 650 from Kawasaki. Tell us what you feel about this motorcycle and whether you would consider buying it.
If you already own one, let us know how it's going for you and how far you've travelled on your steed!
Connect with us on Facebook, Twitter or Instagram and let's start a conversation!
---
Versys 650 ABS – 2017 Update
There's a new kid on the block and it's more or less the same as the old kid.
The New 2017 Kawasaki Versys 650 is now green in colour, has a console integrated gear indicator, sports a giant Versys decal on the fairing and that's about it. The Engine (now BS IV compliant), Gearbox and Suspension remain the same on the new Versys as well.
---
Disclosure: This is not a sponsored post. Views represented are personal opinions of the rider based on his experience with the vehicle showcased.
Vehicle: The Versys 650 ABS (2016)
Photography for this piece has been delivered by our Lead Photographer – Nipun Srivastava and assistant photographer Kaustubh Khare.
Model: Our resident adventurer – Nipun Srivastava.
---
---
In this article, we'll briefly talk (and walk) you through the Alpinestars Toucan Motorcycling Boots in India.
Our review will help you understand whether this is the pair of adventure boots you should go for!
The Alpinestars Toucan Motorcycle Boots!
Adventure motorcycling in India is fast catching up. Manufacturers are rushing to our shores with their machines, trying to bank any spare penny that the Indian tourer may have to invest in their products. Well, motorcycles aside, what often gets talked about is quality riding gear to go with these adventure machines.
A good helmet, a great riding jacket, good pair of gloves and a functional yet hardy pair of boots which will get you through thick and thin – that's what's on any true rider's gear list. Well at least that's the idea, anyway.
Here in India, buying quality riding gear takes a little doing. Very few places to test out the big brands, check the look and feel etc. If premium gear is what one is after, in all probability one will have to wing the sizing and bet ones money on a leap of faith while ordering these pieces.
This time, we bring to you the Alpinestars Toucan Adventure Touring Boot.
A boot we've lusted after for a while. A boot that's almost mystical in its concept and a boot we've got our hands on recently! They say it can take anything any tourer worth their salt can throw at it. So does this thing really match expectations in India? Read on.
The Toucan is a premium motorcycle touring boot and costs a hair under INR 30000/-, which includes a 41% import duty. The boots aim to incorporate features of Alpinestars' top of the line dirt-riding boots and safety aspects from the years worth of research and experience they have gained in creating riding gear for all types of motorcycling.
All that means little if these boots don't keep a rider's feet cool, dry and most importantly – safe while out on the Indian road (or off it!).
Studio images for the Alpinestars Toucan Boots, shot at our in-house studio at TheNirvanaTeam HQ!
Over to our lead Photographer and resident adventurer, Nipun Srivastava, who is actually using the Alpinestars Toucan Adventure Boot currently:-
""Damn, this thing feels stiff."
When you first put on the Toucan Boots, you're gonna panic. They feel extremely stiff, offer limited movement and make your heart sink. Putting these boots on for the first time made me feel like it was a waste of 30 grand. I probably wouldn't be able to ride the bike with the foot freedom I was used to anymore. I even considered not riding with these boots at all, yes!
Once I calmed my disappointment however, I read the owner's manual. There it was, the manual clearly states that the boot will be quite stiff when you first start using it and will loosen to fit aptly in due time. Alpinestars even advises one not to size up if the boot fits snug when new.
Phew!
Walk in the boots. Keep walking and flexing the boots to get used to them and let the boots adjust to your feet. The Toucan is a big boot and may be a tad overwhelming initially but bear with it. After a while of walking the boot, I got on to the motorcycle and took it for a ride.
Leaving town with the Toucans!
The gear shifts were tougher to make now. Braking no longer remained a casual flick of the foot, it now had to be a more conscious effort. Riding with this boot takes some getting used to.
Here are the usage aspects broken down for you:

Was I comfortable? – Yes.
Was the fit right? – Yes
Were my feet hot? – No
Were my feet sweating? – Very slightly.
Were the gearshifts easy? – No, especially at the start, since the boot is new and stiff it takes quite an effort to get the gears to shift when you need them. It does become easy as one keeps riding though.
Was rear braking easy? – No, I had to alter my braking style and be conscious of the amount of weight I put on the brake pedal. Since the boot is heavier than the ones I was used to (SMXs), usual force applied seemed too much. I got used to it eventually.

Are the boots easy to wear? – Absolutely, the boots are a breeze to wear and take off. The aluminum arrowhead buckles make the boot very easy to use.

Can I walk with the boots on? – Yes, it gets easier with every step.
Can I hike/trek with the boots on? – Hell no.
Are the Toucans waterproof? – Yes, you'll be amazed. The Gore-Tex membrane keeps all water out 100%!
Are the boots prone to slipping on wet surfaces? – It is possible to slip in these boots. Do not take a chance.
Waterproof baby!
Are the boots easy to live with?
Big boots seldom are but the Toucans do the job they were meant to do very well. So taking that into consideration, yes, the Toucan is easy to live with.
Nipun's Gear Setup:
Alpinestars Toucan Boots, SX-1 Knee Guards, Apex all-weather gloves and the Air Jacket – a perfect harmony!
You will buy this boot only if you're in search for the best that's out there for your feet. It cost us just under INR 30,000/- to import it to India from Germany, with a 41% import duty included. So, it does cost a pretty penny. If you're still interested, you probably intend on doing some great travel with your motorcycle. After getting into these boots, you're going to want to ride far and ride hard.
With the Toucans on and adapted to your feet,  you can ride far and long. Comfortable cruising on the highway is a pleasure as there is lesser need for rider inputs. On the trails too the boot manages to support ones feet very well. Should you have a brush with the dirt, rest assured that the Toucan will perform well. Adventure riding is where the toucan shines beautifully.
Trail trials!
I spent long, hot and sweaty days riding with the Toucan here in India and I have no negatives to report. It performed very well on the road. When I took it off-road and onto some tricky trails, the Toucan supported my feet and calves as I stood up to negotiate ruts and mounds. They have a solid feel when you put your feet down next to the motorcycle and make you feel well protected. The Alpinestars Toucan Adventure boot is value for your money despite the premium price tag."
Give it dirt, give it dust, give it mud or splashes of water while you tease your comfort zone exploring new horizons – the Toucan will thrive.
Then, just clean up and head out again!
---
Disclosure: This is not a sponsored post. All views represented are personal opinions of the writer based on his experience with the product showcased.
Product: Alpinestars Toucan Motorcycling Boots.
Photography for this piece has been delivered by our Lead Photographer – Nipun Srivastava and assistant photographer Kaustubh Khare.

Model: Our resident adventurer, Nipun Srivastava.
Vehicle: The Versys 650 ABS.
---
---

Lex Talionis! – A long term update on the Mahindra Thar!
We've spent an adventurous four years with this mean and mod-friendly machine! So before we let you through to our original story on the Thar, here's a quick look at the major modifications on our daily driver!
Mahindra Customisation: Snorkel, Midnight Edition Front and Rear Bumpers: Inspire confidence while fording and enhance maneuverability / aesthetics.
Bimbra 4×4: Heavy Duty Rock Sliders, Fiber reinforced Hard Top (V2), Aluminum Roof Rails: Protection from rocks underneath and the Hard Top takes cabin comfort and security to the next level.
Hella: Front Auxiliary Halogen Lamps (Comet 500 Black Magic): Used as DRLs and driving aid.
Onella: Rear Auxiliary LED Lamps: Rear driving aid and campsite illumination.
Aurora LED: Front LED Bar (Off-Road): Off-road path-finding.
Cooper Tires: Discoverer STT Pro 31″ Mud Terrain Tires on 15″ Steel Wheels: Improved off-road capability, increased stability on road, the trade off – an audible 'humm' while at speed, reduced top end. 
Mopar: Wrangler Hood Latches: Aesthetics primarily, eliminates squeaky noises made by stock metal bonnet Latches.
DampMat: Thermo-Acoustic Insulation: Reduced cabin noise and heat by 50%. Improved life inside cabin (and air-con efficiency) immensely.
ARMORO:  Custom Spare Wheel Cover: Adds attitude and improves overall aesthetics, protects spare rubber from elements.

Built not Bought!
Each modification/add-on mentioned above has been made after careful research and due scrutiny of each available option in the category. The custom accessories market in India is steadily growing and so are the options that are natively available for enthusiasts to use on their individual rigs.
We at TheNirvanaTeam & theroadtonirvana.com have also grown with the industry as end-users and as creators who use these products to our advantage while on the job.
.
Now, back to our original story on the Mahindra Thar!
The Jeep Life!
Those who follow our work will know we did a quick review of the Mahindra Thar some time ago. The Thar is an SUV which carries the tag of a Jeep in India. People who drive these brutes are often from a different school of thought altogether. These men and women, like most, value comfort, style, ease of handling and most of all practicality. With all these in the bag though, there is still something missing. The chase for this missing element is what makes people buy a Jeep.
A jeep is not practical, it isn't comfortable, the handling on these machines is appalling and as for styling – it hasn't changed for the last 7 decades. So then, what is it? What makes one buy a Jeep? Nirvana set out to unravel this mystery in the best way there is!
Why Jeep?
We cleared our schedule, packed up as much stuff as we could, stuffed it into a Mahindra Thar and then drove off in tandem with the rising Sun. For the first few kilometers, we battled the blistering cold as the Thar warmed up. The cabin heater takes its own time to wake up and the canvas-ish soft top roof was not helping things either. Eventually though we did find some semblance of temperature inside the cabin. The drive had now begun. We were now officially giving chase to the element, that one thing which makes one go out and buy a jeep.
Barreling through the cold morning winds, we'd defog the windscreen manually (with a cloth) every few minutes. Irritating at first, it is something a Jeeper gets used to very quickly. Much like the bumpy ride one has to deal with even on smooth highway roads. The rear end of the Thar sits on an antique leaf spring suspension setup making it jump over every little lump of tar on the Indian road. Safe to say, the ride is not something to write home about. Even with the fully independent pot hole eating front suspension, there is only so much this Jeep can offer.
 Highway Crusin' – Indside Story!
The 2.5 Litre turbo-diesel does tend to impress when given the beans on the highway. Sluggish at first but given time, the Thar holds its own on the highway. For what is essentially a box on wheels, the Mahindra Thar is a gem on smooth straight roads. On mountain roads however, curve after curve, one has to calibrate to the comfort zone of this Jeep. The driver learns to read the road for potential bumps and it's his/her skill which decides how smooth or unnerving the ride will be.
Barring a rudimentary seat-belt, there is nothing between the passenger/pedestrian and certain loss of limb. Oh, maybe the less than adequate brakes might soften the nudge a little. And then there is the price tag; eight and a half lakhs on the road (Pune). Phew! So where does all that money go? Clearly the interiors (or the lack of them) is not something which eats up the budget.
Getting dirty!
As we found out, the Borg&Warner 4×4 transfer case mated to the 2.5 turbo is where the money's at. It is the off-road capability of this Jeep that costs. Off-road loyalists in India will probably want to discount the Thar's ability when things get a little too technical (Compared to a traditional solid-axle). Not to say this jeep is bad when taken off the road. We found the stock Thar to be adequately endowed for someone looking to break into the world of Indian jeeping. Having said that, we were still miles away from discovering the magic element (and our destination!).
I can go anywhere!
We had driven a few hundred kilometers by now. Over highways and in the curves, we'd found our rhythm with the Thar; then something funny happened.
As we got used to the Thar's antics, she took on an almost endearing personality. Like a human being, even with all its limitations, the Thar kept moving. Eating miles and sipping diesel, she got us to our destination – Our holy grail – Hedvi.

Holy grail – Hedvi!
Despite all the niggles, we had fallen for the Mahindra Thar! Every time we looked, we couldn't take our eyes off it! On a beach, out trailblazing in the wilderness or even on the city street, the Thar cuts a very crisp figure. And gosh is it attractive! Driving down the streets, everyone from young boys and girls to middle aged couples and even a few Army and Police personnel will give you the thumbs up.
The Thar almost always becomes the conversation piece because truth is, the Jeep (as a concept) has seen it all. Over the past century, in all corners of the world and in every walk of life this vehicle in all its forms has proven its mettle beyond doubt. Starting from the military, through utility and going all the way till recreation, the Jeep can do everything.

Trailblazing!
The compromise in comfort and luxury, we feel, is fair in return for the capabilities and downright uniqueness. Safety on the other hand is something Mahindra & Mahindra still need to work on for the Thar.
Finally though we'd cracked it; we now knew why one buys a jeep. Read on.


Travel till land's end!
Romance is rare, charm is even rarer and class, well that's almost extinct. There is a reason why a charming, secure and confident man makes any woman swoon. The reason is romance. Any man who is secure in himself and confident about his abilities probably knows how to woo a woman. He could walk onto her turf with his charm and the only thing a lady will do is welcome him. No matter how uncomfortable it is to be together, no matter how unpractical the love is and regardless of the cost, if the romance is alive – the love will flourish.
And that is it ladies and gentlemen. The romance of a lifestyle is what attracts enthusiasts to jeeps like bees to honey. It's the romance of doing things differently, standing unaffected by the way the 'herd' looks at living and going where few bother to look which sets true blue Jeepers apart. Living with a Jeep is not for those corrupted by comfort!
The virile lifestyle!
Comfort zones become a thing of the past with a jeep. A well kitted out vehicle and with a strong skill set on tap, anyone can become an explorer. In fact, we love the romance of Jeeping so much, we've bought one! The vehicle you see in the pictures is a bone stock* Mahindra Thar from our very own Nirvana stable!
Expect a lot more travel and Jeeping stories hereon out! Also, in our bid to encourage motoring conversations further, we'd like you to comment below and tell us what you think. We'd love to know how our readers satisfy their cravings for the road! Cheers!
For more Jeeping photography click on The Jeep Life!
---
 Mercedes Benz and www.theroadtonirvana.com share a motoring relationship of sorts.
'The Best or Nothing' says it all. The statement resonates so fiercely with our passion for creating experiential motoring images, that we push ourselves to the absolute limit every time. The moment we got the message from Germany, our planning began.
We were to deliver images that were clearly rooted in India. Routine as that may sound, fitting a car/vehicle into that bracket was always going to be a challenge. The list of possible destinations was endless. Right from the backwaters of Kerala to the mountain passes of Ladakh and even the seven sisters of the North east, we considered everything. After all, this was a unique opportunity. Through our photography, the world would lay its eyes on India.
Something still eluded us. It was the peak of the Indian Monsoon. Everywhere, the skies were grey and the earth a wet green. Then it struck us, we would have to outrun the Indian monsoon! We would head to Rajasthan!
Rajasthan!
The Desert State of India is home to the Thar Desert. A place we are very familiar with and if you know our work, it is a place we love to shoot at. The sound of the wind in the Desert carries with it stories of times past and as the sun beats down relentlessly each day, the sheer tenacity of the desert people comes to the fore. The odds were stacked against us though. The Desert was 1200 kilometers away, the rain was heavy and we had just enough time to make it all happen. Along the way, we were also to shoot at Vadodara for a separate brief.
Then came the question of the car itself. We were to shoot the new CLS and also the GL 63 AMG both and we had just about a week to make it all happen. Even though the weather was an obvious risk, The Nirvana Team was ready and we slotted ourselves into gear. We flew out to Vadodara where we were to collaborate with a local artist for 2 days. For Mercedes Benz, of course. This shoot was part of the 'Homestory' and artist profile for the St Moritz Art Masters, Switzerland.
Making a presence in Vadodara!
The Laxmi Vilas Palace at Baroda is an eternal icon of the city. In every mention of the City, the Palace features at the top. The question was – How do we get in?
We exercised all our contacts and then some more to at least get a word through to the palace authorities. The people at the palace were superbly kind to us and let us shoot on the grounds solely on our merit. The palace gates opened and we drove the mighty GL 63 AMG onto its August grounds! Rani ji, the reigning Queen of Vadodara also graced our shoot and met with us. We were truly honoured! On this day, even the Sun came out for a short while and we got a few shots worthy of the Mercedes Benz Badge.
Laxmi Vilas Palace, Vadodara.
As soon as the adrenaline of shooting at the Palace wore off, the realization of the start of the road trip set in. Experiential road trips are our forte but even then, each road trip shoot brings with it unique challenges. The Indian monsoon was still unrelenting. We were very low on sleep too, an average of just three hours a day. Then again, if the car you're driving is more luxurious than a 5 Star hotel, who needs sleep? This is where the GL 63 AMG really came on song.
"Enough power to move the earth, while keeping one cocooned in luxury." were lead photographer Nipun Srivastava's actual words just after they hit the highways leading into Rajasthan.
GL 63 AMG – Grunt Central!
Whoa!! That's the first thought one's brain will have when you ram the pedal into the GL. You will be punched into your seat and then your world will change. As you hurtle forward, your ears will tingle to sounds of the V8 sitting under the hood. As the needle hits red, one pull of the paddle will usher in another delivery of power as if it was something the gods arranged for you to have. Crisp steering response and a not so heavy steering wheel make controlling the GL 63 AMG a pleasure.
By now, you're in a trance. Eyes on the road, pedal to the metal and going hell for leather – that is the AMG experience. The handcrafted engine will follow your every command, in the GL 63 AMG, you are the Maharaja of the Indian road. When you're coming, they will hear you and when you're going they WILL look. That's the reaction one gets on the roads.
The Indian Road:
Indian highways are notorious. Bad roads were the least of our concerns.
The Blue Hulk, as we had begun to call the mighty GL, was powered by a V8 Petrol Bi-Turbo engine. A high performance engine like that needs to be fed appropriately. Only a high octane diet would adequately satiate The Hulk's appetite. Sadly though, out near the Desert, just finding a fuel station which sold petrol was a luxury. The fuel economy of just over 4 kilometers to a litre of fuel (when Nipun aka lead foot was at the wheel) was not helping things. On the secluded desert roads, we fueled up every opportunity we got!
Leaving the weather behind!
We covered the distance of 650 Kilometers from Baroda to Jaisalmer in record time. Stopping over at Barmer and at a few other places along the road as well. Driving across the landscape was such a rush that we forgot lunch! Improvisation was the answer – Bananas! We reached Jaisalmer as the moon rose over a now clear sky. Team Nirvana had finally outrun the Indian Monsoon. We love it when a plan comes together!
The Desert, The City: Jaisalmer.
This city and Nirvana go back a long way. One of our pet projects; Rooh – e – Rajasthan meaning 'Spirit of the Desert' has featured this superlative city. To us, Jaisalmer is like home.
Golden City
To twist things a little, this time, we were not staying at the city per say. Team Nirvana and the mighty GL 63 AMG would be put up at a special place a little outside Jaisalmer. Super car – super hotel, you know. The luxurious surrounds of Hotel Suryagarh out in the Desert was to be our new playground and also our home base for the remainder of the shoot. As soon as we were in the city, we tanked up the Hulk and then our tummies as well. Shooting photographs on an empty stomach is a recipe for disaster ;).
With full stomachs, we marched onto the Desert, knowing exactly where and how we were to shoot. This shoot started at 11pm and we shot in the dunes for a couple of hours. Not a soul around for miles, the only lighting we had for this mini shoot was the Moon and the GL 63 AMG itself.
Shooting in the moonlight!
After our initial fill of playing around in the sand under moonlight, we drove back to our (not so) humble abode.
A word about the hotel we stayed at: Suryagarh is a hotel which has little in common with the other places we've stayed at. In the middle of the arid desert life is difficult to say the least but if you're at this hotel, everything is literally taken care of. We had spoken to them about our "plans" beforehand and they were most happy to oblige. Even before we reached, they knew what we needed and had it ready for us, customized to our liking. Amazing. It helps to have things sorted when on a photo shoot such as this. Kudos to Suryagarh!
The Suryagarh Courtyard
Nothing ever goes to plan. We were up early for the sunrise but the eastern skies over Jaisalmer were overcast with mist and remnants of the monsoon. It felt as if the skies themselves were telling us to take a break. For the first time in 6 days, the Nirvana team sat down for a proper breakfast. Breakfast is a luxury few can afford in the bets we make to shoot in the golden hours. One look at our work and the sun and its shades will tell you how much we love using just natural sunlight.
As the Sun rose, the skies cleared. We began our final recce and chalked out a rough plan of action. Over the next two days, we shot in the desert, at our hotel and of course the city of Jaisalmer itself.
For us, the two most important things are motoring and travel. These words continue to define our style of photography. Jaisalmer and its surroundings gives photographers like us the perfect play ground to make our mistakes, learn and then deliver – every time.
Big toys!
Not to forget, another word which defines our work is adventure. We love taking a risk or two with everything we do. Whether it is shooting without camera straps altogether or dangling out of an open top jeep to get that perfect rolling shot, we're always pushing limits.
We wanted to explore the roads that turn off of the main highways here in the extreme western parts of India. These small and almost inconsequential roads are sometimes gateways into photo opportunities which one would never imagine out on the highways. Going 'off the beaten track' as they harp every time ;).
As we drove further into the desert on one of these inner roads we saw the real temperament of the elements here. The landscape in this part of Rajasthan is unpredictable, from hills to sand dunes to sand dunes the size of hills – one never knows what will pop out of the horizon. In the Thar Desert, sand has the unquestionable right of way.
Hell for leather – always!
Another side to Rajasthan's beauty is the music here. This desert region is known for its folk and regional music and musicians. No evening is complete without a song or two from the repertoire of these tenured musicians. The tunes are mesmerizing and take one into bygone times when kings and queens reigned over this part of the world. It was a simple shot that popped up into our heads. Musicians + car + local architecture, simple.
Music & Motoring
As it happened, on that particular evening, the Super Moon had come out in all its glory. The moonlight and the clouds added just the right amount of drama into the frame, we think. This was also the last night of our week long shoot. Before the Sun rose again, we would be on our way back to Pune.
The Beginning
The journey is eternal.
The shoot had ended but the journey was a long way from being over. Not only did we have to drive our way back but like most journeys this was an experience which would continue in our minds for quite a while. The GL 63 AMG was the first super car we had ever shot, here in India and the way we do things, that was a big deal. We can hardly take credit for this shoot though. Yes, we shot the images but without the special support of our friends, acquaintances and team members none of this was possible. It was the people that we met who made it possible, we just made it happen :).
We thank:
Germany: (Client) Mercedes Benz for their awesomeness.
Pune: Mercedes Benz India for the vehicle.
Vadodara: Benchmark Cars – local Mercedes Benz Dealer. Miss Vishwamohini Priyalak Bhatt, Miss Malvika Singh and her highness The Queen of Vadodara.
Jaisalmer: The Suryagarh Boys: Siddharth, Sunny, Rajesh, Asif and Kunal for taking every effort to make sure our shoot and stay goes smoothly!
Team Nirvana: Niranjan Tarphe for his support on shoot.
---
That probably isn't the best way to address a car but when the car is this beautiful, chic and so very elegant, that's what comes to mind. On a recent shoot, we shot the 2015 CLS for Mercedes Benz, right here in our hometown, Pune.
Even before the CLS hit the Indian roads we were out there pointing our cameras at it! Hence we were limited to shooting the CLS inside the Mercedes Benz plant premises (closed roads). We didn't get a chance to really drive the vehicle and put it through its paces but our deep penchant for shooting vehicles was enough to help us look past the minor displeasure.
The 2015 CLS is an upgrade (facelift) from the older CLS which, to be honest, was pretty neat too. On the outside, the new one has swanky 'Multibeam' LED headlamps, a more aggressive grille and front bumper which gives it a bold/in your face look. Having said that, the new avatar still retains the super elegant look and sleek lines, side on. We spent our day with the CLS 250 CDI version of the vehicle.
Here are some shots from our day in the rain with the new CLS:
Super crisp!

She makes the camera sweat!
CLS splash!
The 2015 CLS: A masterclass in motoring art!
Thankfully, TeamNirvana got complete access to the Mercedes Benz Center of Excellence. That gave us super drenched souls some much needed respite from the incessant rain and also a chance to get up close and personal with the new CLS. Something we're still absolutely in love with is the contour hugging/wrap around tail lamp cluster and the overall look of the CLS' back end. It's no wonder the designers didn't fiddle with it – you don't mess with perfection!
The dynamic and almost seductive rear end of the CLS four door coupe 😉
This was a quick wrap of our CLS shoot, coming soon is more Mercedes Benz motoring action. Stay tuned as we break geographical shackles and head out into the country with (wait for it) a supercar. Cheers!
We Thank:
Germany: (Client) Mercedes Benz.
Pune: Mercedes Benz India for the vehicle and premises.
Team Nirvana: Yogesh Shinde and Vishal Kankonkar for their support on shoot.
---
Well, the title should really be Shooting Car, since we're gonna talk about just one motor. Mercedes Benz and theroadtonirvana.com have, through downright amazing photography, created a relationship unlike anything else we've been a part of. Continuing the same, we shot the C-Class earlier this year in all its glory, right here in Pune, India. Our Home!
We LOVE our motoring. What we love even more than that are vehicles which make magic happen. Both on the road and in front of the lens, there are some cars which truly take the cake. The 2013 Mercedes Benz C-Class is one such epic motor. Here we go!
Gift wrapped in a package of precise and confident design, the 250 CDI was delivered to us and we were told, it is your way or the highway. You know what though, "our way is the highway!". You see, it's all about analogies when it comes to motoring. Magic – is one such one-word analogy.
Magic.
What is absolutely imperative for us before shooting any vehicle is the fact that there must be a connection between the photographer and the ride. That is, we need to take these beauties for a spin – a good old fashioned drive through the country. More often than not, triple digits and then some on the speedometer builds a connection of sorts between the vehicle and its driver. "I begin to trust the vehicle and that helps me feel right at home shooting these cars and bikes" says our lead Photog Nipun Srivastava. We agree!

Making that connection
We're a little selfish in most our endeavors here at Nirvana. What we mean is, "motoring" is great but what use is motoring if one doesn't travel?
You don't just simply head out looking for shots, no. You head out looking for an experience, photography, just happens. That's what we believe and that's what helps us grow as photographers, travellers AND motoring enthusiasts!
Head out, chase the Sun.
Nipun drove the C-Class onto back roads which surround Pune city amidst the Western Ghaat hills of India. "How can you not have a sunset shot?" we thought just as we roared off on one of our signature short drives onto unknown roads.

Sunset hues.

Lights play!
Pune, incidentally is also the home of Mercedes Benz in India. The assembly plant for these cars is just a 30 minute drive away. It was mandatory for us to showcase the C – Class on the roads of our city. We made our way to Pune's shopping street, the Mahatma Gandhi Road!

Like a boss.
Driving this C-Class Mercedes is a pleasure. The handling is damn crisp at high speeds which inspires confidence on the road. Then comes the interior which was pretty chic and gave us all the luxury we asked for with every touch. For a car of its class, in India the C-Class is slightly overpriced according to our experience. Still, no harm in dishing out dough for quality.
One shortcoming the C-Class shares with most its counterparts is the lack of adequate ground clearance for Indian roads, there's just no way around that one. She drives smooth with a ten-on-ten automatic transmission but you do get flappy-paddle mode which takes a little getting used to. On the whole though, we would buy this baby. No grille or combination rings can outclass the three pointed star on Indian roads! Wink!
THE SPORT MODE: Yes, we did press that pretty button. The C-Class revs higher in Sport and other boring things change to give back a sharper, more fun ride.
Faster?
After our mandatory road-tests were done, it was time for us to do what we do best – have fun with our cameras! We put in close to three hours scouting for and setting up a single shot and then we shot the star among stars! You won't believe how awesome peanuts and diet coke taste out in the cold sitting beside self clicking cameras and a beautiful car. And then when the final shot comes out of processing, it just makes us swoooooooon!
Star among stars!
Shooting this car over three days was a fantastic experience for us. There are few things we value more than good vehicles, good places and good people. This shoot was right up there with some of our best over the past three years. Having said that, ladies and gentlemen, this is just the start. There's a BIG Nirvana surprise coming soon! Hint: It loves flying!
A Masterclass in Quality, Mercedes Benz.
For all their awesomeness, we would like to thank Mercedes Benz Stuttgart, Mercedes Benz India for blessing us with the car and a BIG thank you to the master drivers who helped us navigate through each step of our insane shoot!
Until next time,
TEAM NIRVANA.
---
Motoring enthusiasts like ourselves are defined by the thrill of travel. On wheels powered by engines, we traverse every kilometer we can afford. We ride and we drive, it's who we are.
The Firelords have literally scorched the roads for over four years and here we are celebrating our power-slide into the fifth! Join us!
As an ode to our dedication for motorcycling and our ever-revving spirit, Ladies and Gentleman, we bring to you the Firelords Motoring Video 2013! Enjoy.
Do leave your comments below!
---
Pune, a city known for its many facets. A place which is as metropolitan as can be. That city where people like us come, make a life and only seldom leave. There is a lot in Pune to keep you hooked and I know you won't argue when I say that the city's food too works like a charm. Right from the road-side tapris or handcarts that serve us with our flaming hot cuttings of chai to those high end and lavish spreads of cuisine, everything is here to be liked.
I've spent close to five years in this city, going to college and making a career for myself. In that time it has been easy to tumble along and move through the streets of Pune one full tummy at a time. It's been fun unearthing some real extraordinary and sometimes mighty different foods in Pune. The city is home to some killer street food. For anyone who values cuisine, the scene here is set.
Here are three special things that we will show to you in this article. Three completely different kinds of grub. A three stop vegetarian foodie trip through Pune.
Heads up: Special thanks to Yogesh Shinde for being a part of The Nirvana Team this time round!
Jhatka Bhel
Since the early 1900s the Shivajinagar railway head has been an important station for travellers coming to and heading out from Pune. Now a days, it is jam packed with all things travel. Right from passenger trains and locals fetching and delivering the masses to and from their daily destinations to big red busses crowding the road in front of this old railway station. The reason for this organized rush hour mayhem is the people of the city, their travel and their journey through daily life.
The Shivajinagar railway head.
Something as routine as the thousands of people who pass through the gates of this station is the Jhatka Bhel stall here. Tucked away in the lower right-hand corner, just outside the entrance, this stall is small, quiet and to the point. Since 1951, this oddly named bhel stall stands here. Feeding travellers with just one simple concoction of basic Indian ingredients. Bhel Puri, in this part of the country, is as old as tradition itself. It is a sweet/savoury melange of puffed rice, fresh cut onions and tomatoes, coriander, spices and tamarind chutney.
Bhel ka Jhatka!
On the go, this quick fix dish makes for an apt fuel. For those of us who value quality and quantity, a portion of Jhatka Bhel here at the Shivajinagar station is just perfect. What makes this particular Bhel Puri even more special is the story behind its peculiar name and its existence altogether.
The year was 1951 when a man named Yedunad Prasad Yadav started hawking at the Shivajinagar railway station. Over time he got himself a rented cubicle on the right hand side of the station's entrance. That ordinary looking cubicle still stands today, now run by Yedunad's grandson – Radhesham Yadav.
More than half a century of Bhel selling prowess has gotten the Jhatka Bhel its share of dedicated patrons.
Story behind the 'Jhatka':
It was originally known as Bhel Puri. But Yedunad Yadav had a unique style of putting all the ingredients together. As he went about making a portion of the popular Indian Chaat, Yadav jolted his head to one side in a peculiar albeit amusing way. Those frequent head bangs lent their name to his particular Bhel concoction – Jhatka Bhel.
Back to the future, Radhesham who has taken his grandfather's place in the shop since 1994 doesn't headbang while making your bhel but the original taste remains and so does the name. Radhesham goes about selling the bhel in a nonchalant and almost stoic way. Talking only while taking orders and delivering over the counter. Quite the contrast, we would say.
Radhesham, doing what he does best!
G.S. Gaikwad, a regular at the Jatka Bhel stall says that the 'good chutney' and 'kadak crispy' rice puffs have had him reaching for his bit of bhel since he was a kid! That's pretty much the story with most patrons at this stall, they swear by Radhesham's preparation. So much so that sometimes people miss their trains just so that they can eat the Jhatka Bhel!
Gaikwad and other patrons line up for their share.
When here, one can't help but notice the attention to hygiene and cleanliness. Radhesham and his customers make sure they do not litter. There are no utensils used at all, except the bhel mixing spatula of course.
Sign in Marathi: Do not litter the platform, use dustbins.
The snack is served in a folded piece of broadsheet and the spoons are makeshift too. Like little shovels, patrons use the thin cardboard pieces as spoons. This would be heaven for eco-mentalists and health-freaks! At INR 15 a portion, a tummy-full of 'get going grub' is in everybody's reach.
Stop. EAT. Go.
It's an explosion of flavours, the Jhatka Bhel. Much like everything else that's Indian.
The Nirvana Verdict: We rate the Jhatka Bhel at a 3.5 on 5.
Shegaon ki Kachauri
Not just any Kachauri, this. Selling like hot cakes for the past 56 years in the small town of Shegaon, the Shegaon-ki-kachauri has made its way to Pune. Much loved here too, we might add!
Scores of people throng this roadside shop just off J.M. Road everyday. At eight bucks a piece, these little pockets of fried pastry pack a good punch. Piping hot, deep fried, spicy and compact – the perfect food for a city goer.
The Kachauri heap.
Image by Yogesh Shinde.
The Kachauri is a popular Indian snack. It's a round, deep fried and savoury pastry filled with a spicy stuffing. It's a real rage all year round in Indian households and each house has their own recipe for the filling. The Kachauri even boasts of a good shelf life and hence is even more popular.
A Kachauri cross-section.
Image by Yogesh Shinde.
Shashikant Sharma, manager of the Kachauri outlet's J.M. Road shop told us that he's been selling the snack for over five years in Pune. He says that the Kachauris have a cult following here. Not just Pune, Sharma tells the Nirvana team that apart from Shegaon and Pune, the snack sells well in places like Nagpur, Amravati and even Mumbai. He's mighty proud of his product.
A camera-shy Shashikant with his Kachauris.
"Nowhere in Pune will you find the taste which you'll get in our Kachauris" Sharma boasts. We agree!
Mehul Shah, who works with Just Dial stays nearby and swears by the Shegaon Kachauri. He says he's eaten many a Kachauri but none match the taste which he finds here. Shah is a regular at the joint.
Mehul Shah, getting his grub.
Freshly fried right next to you, the piercing aroma adds that much more zing to a brilliant snacking experience. Fair warning, this snack is highly addictive when served hot and is very high in calories! Watch it!
How it all happens!
One concern that we did have was the hygiene of the cooking environment. It could put some people off.
This outlet is open throughout the day, on all days.
The Nirvana Verdict: We rate the Shegaon ki Kachauri at a 4 on 5. It's that good!
Kharwas
Travelling through the streets of Pune, it's not uncommon to come across something one hasn't experienced before. Look what we found for dessert!
Kharwas is not your ordinary dessert. It is a sweet meat made out of a cow's first milk, just after it gives birth. The texture is like a smooth cheesecake and the taste may need to be acquired for some.
Saffron and Cardamom flavoured Kharwas.
Very high in protein, this unique sweet dish is known to increase body heat. Don't be going anywhere close if you've just discovered you're pregnant. Known as Barri in the Marwadi language, Kharwas is popular amongst Puneites in flavors such as Kesar (saffron), Elaichi (cardamom) and pistachio.
Eating Kharwas.
Describing it as a unique and special sweet meat, owner of the corner shop Mr. Krishna Pardeshi tells us that he has been selling it at this very spot for over ten years. His Kharwas shop – Yashaswi Sweet Mart, is so well tucked into the street corner that it's hard not to miss.
Mr. Pardeshi.
Just off J.M. Road, on the road going towards the famous 'Z' bridge, his shop can be seen on the left. There's no drama here. Just a humble Mr. Pardeshi serving up Kharwas by the plate.
When the inquisitive Nirvana team asked Mr. Pardeshi how he procures so much 'first milk' everyday, he smiles. He then goes on to tell us that he contacts owners of buffaloes and cows all over the city and then gets them to sell the special milk to him. Quite a logistical feat we think!
The Kharwas here is fresh, sweet and at 18 INR a portion it's quite a departure from the now common in Pune gelato/mithai experience. Worth a shot for sure!
The Yashaswi Sweets shop is open from 5pm to 10pm, all through the week.
The Nirvana Verdict: We give this unique sweet a 3 on 5.
All aboard!
So those are our three not-so-run-of-the-mill (vegetarian) eats from the city of Pune. Do feel free to comment and leave suggestions for new and interesting foodie destinations. The Nirvana Team is always ready for good grub!
---
A much delayed article. A year late, to be precise. There are some things in life that happen out of the blue. Like this brilliant (professional) life starting trip. I got to work with two of the most accomplished and inspiring editors I know. Read on to find out about Zanzibar and my 30 day trip to the island in early 2011.
As a photographer, I had decided that Africa was a place I'd visit only when I felt completely prepared. It's an overwhelming continent, something I'm sure everybody knows already. More so for a photographer I can report. Thing is, with its grave prospects for downright dumbfounding photography (for the viewer and photographer alike), the continent of Africa had intimidated me for quite some time. I had hence decided within my head that I would venture into that part of the world only when I, as a photographer, was better ready.
All that changed in an instant when I received my confirmation email from Mambo Magazine. Mambo was a travel/culture online magazine based in Zanzibar, Tanzania. Yet again, my life had managed to trump my game plan but I wasn't complaining! I was to spend a month on the Island of Zanzibar, interning as a photographer and writer. I took off.
When you first reach the Island of Zanzibar, you may feel like this is not the quintessential African destination but rest assured. Zanzibar is as African as Africa gets. There is wildlife, there is culture and there is the experience of a lifetime.
Getting there
Zanzibar lies about 35 miles off the coast of Dar-es-Salaam, a part of Tanzania in east central Africa. I took a 20 minute flight to Zanzibar from Dar-es-Salaam. One can also opt for the ferry which takes about 2 hours to get you there. Both options invite you into this grove of uniqueness with absolutely stunning vistas. Whether you look at it from the air or while racing across the Indian ocean, this archipelago is a treat for the senses.
Once on land I found that life here is laid back. Nobody here is in a hurry, 'Pole pole' as they say, slowly slowly. People here are friendly and are completely at ease with tourists. Tourism being the main industry in Zanzibar, the main town known as Stone Town revolves around the traveller.
In Stone Town one notices how life here is like any other tourist town but with a slight twist. Zanzibar is home to many different ethnicities, right from Indians to people from the Middle East and of course the African Swahili. The various cultures and people here coexist in a beautiful mixture that is bound to catch your attention and keep you enthralled. As you walk through the maze of narrow streets and lanes that is Stone Town, you will see small shops on both sides of your path selling local art and souvenirs. One can find scintillating paintings of the forests and the Masai and even abstract which are capable of capturing the attention of the most discerning connoisseur.
Street side!
For the food loving kind, the by-lanes of Stone Town offer authentic Swahili street food in addition to the retro barbeque and grilled preparations of sea food and meats. Make your way to Forhodani park and you will be treated to tens of vendors selling grilled sea food such as fish, shrimp and octopus right off the grill!
Forhodani Bbq!
A dish called 'Urojo' is a local delicacy, it is a savoury soup and is very healthy and filling – perfect for the weight-watchers. Kassava chips are a popular local munch. If you're a little fussy, almost every cuisine in the world can be found here, right from the best pizza and pasta from Italy to lassi and tava biryani from India. If you're feeling lavish, head to the Serena Inn, a Stone Town five star, for a pint of Kilimanjaro. Overlooking the ocean, this little escapade will refresh you at any time of the day.
A pint of Kili
Stone town is also home to a lot of beach cafes, such as the Livingstone. It sits right next to the ferry terminal and hence is always surrounded by interesting happenings, the staff of the Livingstone will also make sure that your time at the resto-bar is worthwhile and that you leave with a stomach full of grub and a spring in your step.
The Livingstone Cafe
The Swahili culture is a very unique one indeed. The women here wear colourful attires and although shy at first, they won't mind if you ask before taking a picture. Even the clothes worn by the locals have interesting angles to them. The 'Kanga', a type of head gear worn by the local women has interesting quotes printed on them which have a hidden meaning. Women communicate amongst themselves and with their husbands and friends using these Kangas, without speaking a single word!
Vibrance in cloth
Zanzibar is the birth place of Swahili. The language is not too tough to grasp for the average traveller, basic Swahili is easy to pick up. 'Jambo' a word which means hello, 'asante' which means thank you and for Indians, 'Pilli Pilli' which stands for chilli is enough to get you through your vacation in paradise here. Even if you're not a language person, the cheerful spirit and energetic charm of the locals will coax you into learning a few words. Don't be surprised if you hear people using some Hindi words, for instance the word 'bas' stands for enough, just like in Hindi.
Jambo!
You get the full tourist experience in Stone Town but if you want to see the real thing, head out. I recommend renting an SUV and taking a drive across the island. That way one gets a chance to really gain a feel for Zanzibar. But, even that is a tad touristy if you ask me.
For the hard-core traveller who really wants to discover this place inside out, I suggest you hop onto a 'Dalla-Dalla' or a local bus and hang on! These are small Toyota trucks modified to carry a monumental number of passengers. It' is the perfect way to break the ice between you and the experience. These trucks/busses are the lifeline of the island. Make sure you loose your inhibitions before hopping on though!
Do the Dala Dala!
Being the biker I am I took a six day motorcycle ride across the island and its various beaches/villages. A motorcycle ride according to me is the best way to experience the openness and beauty of Zanzibar. The exhilaration of riding along the smooth roads which mostly run parallel to the coast and feeling the cool ocean breeze is incomparable to any other pleasure. Every spot on the island has a completely different feel. I spent a month here and still can't wait to get back. Read more about my motorbike ride here: The Magical Motorcycle Tour.
Bikin' it in Africa!
The villages are a complete contrast to the town. Hardly any shops, empty roads and the sounds of the Ocean. Stay on the east coast for a couple of days and experience the beautiful sunrises over the calm waters of the Indian Ocean.
Sunrises here leave one speechless.
Party? Make your way to Kendwa – it's the party king of Zanzibar. A great place to chill out and meet fellow travellers. On the west coast, you will be treated to amazing sunsets every evening. Rest assured, you'll have a story to tell from here!
Postcard sunsets
Distances are short here, if you're in a car. In a couple of hours one can cross the entire island from North to South. The roads are good too but once you're in a village, be prepared to ride through some sandy patches. It is all great fun though.
Road to nirvana! Wink!
Zanzibar also has great wildlife. The Jozani national park in the centre of the island is home to the African Red and Black Colobus monkeys. If you are lucky, you might even catch a glimpse of the native Blue Monkey. The guides of the park will take you through the forest foliage and past huge centuries old Baobab trees. They will help you track down the whereabouts of these playful tree dwellers.
The Red Colobus and Blue Monkeys.
If you have the guts, head to the Zala Park. Zala is a reptile sanctuary managed by two inspiring locals who have dedicated their lives to conserving wildlife on the island. The park is home to some of the most dangerous snakes in the world like the Green Mamba and the Cobra. Who knows, you might even get to hold one.
Zala Reptile Park!
Dolphin tours are also very popular with the tourists here but there is a catch. The excessive tours operated here, some say, are leading to the detriment of the dolphin population. I steered clear of this option to be honest. If you're lucky, sitting on one of the pristine beaches of this wonder island, you might just get to see the dolphins playing out in the ocean.
The southern shore
Take the sea safari on the east coast though. That will give you a guided insight into the daily life of the people living in the coastal regions and will take you close to the culture of the real Swahili Zanzibaris. See how the local women make a living by farming seaweed and making rope from coconut fiber. It's quite the learning curve!
Sea Safari!
When you want more, take some Swahili cooking lessons. Learn what they eat, how they cook and help do it. Enjoy a cosy meal with one of the local families, right in their home. Take in the cheerful hospitality while you drink coconut water and talk to the family. On this island, even a month is less time!
Be it for the honeymooners, backpackers or even adventure freaks, with its myriad avenues when it comes to that extra ordinary travel experience, Zanzibar will see you bowled over. Whether you are looking for a week away in a foreign land or even planning to take your family along for a different kind of trip, my suggestion is, head to Zanzibar and let the Swahili vibe take over.
Perfect mornings
For me, Zanzibar was an eye opener. Mambo and I did a photography workshop on the last day of my trip. It was the first time I was going to be teaching! The workshop was a roaring success! House full!
Cameras love Zanzibar!
In more ways than one this trip managed to force open my mind and instill in me the confidence needed for the coming year and it's travel. Africa does that to you. Do visit, it'll do you a world of good.
Karibu Zanzibar!
To see more pictures from Zanzibar –

Click here.
Links:
Top ten photographs from my trip to Zanzibar – The Zanzibar Post.
An in-depth Island experience: The Magical Motorcycle Tour.
Swahili cooking: Click here to read.
The Sea Safari: What lies beneath.
Travel article in the Pune Mirror on Zanzibar by Nipun Srivastava: Click here to read.
For any further information regarding travel/cuisine/entertainment/safety in Zanzibar, contact: www.Mambomagazine.com
---
Part 7 of Rooh – E – Rajasthan.
To read part 6 – Click here.
To read part 5 – Click here.
To read part 4 – Click here.
To read part 3 – Click here.
To read part 2 – Click here.
To read part 1 – Click here.
Udaipur
Water. Wealth. Wonderful.
An easy and fulfilling ride along the smooth National Highway 76 brought me to the lake City of Rajasthan. Udaipur is a city with an open heart and welcomes everyone inbound with arms wide open. As you roll in, everything is where it needs to be. Even the people are helpful. Udaipur was to be my last stop. On this personal milestone of a trip, Rooh – E – Rajasthan, Udaipur was the last bastion of tourism I was to experience before turning that wheel towards home. It was symbolic of many things, this city of Udaipur.
As far as my motorcycle was concerned, she had gone into what seemed like a trance. She had made peace with her flailing condition and was bashing on regardless. She was surviving the length of the trip after all!
Getting back to the ride, the highway led me straight into the city and almost suddenly I found myself in local city traffic. You know, the kind where the breeze of the highway leaves your side and is replaced by the warmer city air, with that slight tinge of diesel. People on two wheelers are riding to and from work and the three-wheeled tempos are out to take over the world.
This time, my RTDC (Rajasthan Tourism Development Corporation) home was a really good one. Well, compared to the rest I'd stayed at. In Udaipur, nothing is cheap. Thanks to RTDC I had awesome accommodation at a manageable price. Otherwise, the good hotels of Udaipur are known to be monumentally expensive.
I settled in, sorted myself for a four night stay and sat down for lunch. This was a busy place, the restaurant was abuzz with travellers, much a contrast from my previous destination Chittaurgarh. Food was laid out on one side with almost every table in the room full to its capacity. This told me something about Udaipur. Either the city is really something, that makes everyone want to be here or it has a pseudo charm like Mount Abu. I was counting on the former, bear in mind, I had seen nothing of Udaipur yet.
After lunch I put in some time and reorganized all my luggage and data. I recharged and cleaned my camera gear for the upcoming five day exposure to Udaipur's charms.
Come evening, I was hungry to have a look around Udaipur. Kick starting the bike I dove deep into the city. Within 10 minutes, I found myself bang in the middle of the city markets. I took a lot of wrong turns and it took me a while to break into the city's narrow streets and crowded ethos. I rode towards the famous Lake Pichola, home of the Taj Lake Palace Hotel. The hotel is a white palatial building in the middle of the Lake. Known for its overly luxurious stays and cuisine, any luxury travel mag doing a feature on Rajasthan will have the Taj's lavish rooms in it.
The Jag Mandir palace.
As I made my way, the city was revealed to me. Udaipur sits amidst the hills and is blessed with lakes between its pockets of population. At the banks of the Lake Pichola, a guide told me some facts about the lake and the hotel. Also, the Jag Mandir palace stood in the middle of the lake. It is essentially a pleasure palace. The kings would treat it as their summer resort or use it for throwing parties. Sadly, on this day, the lake was closed to common folk. Because madam Shakira was to perform for a businessman's birthday bash which was being held on the Jag Mandir island complex. Preparations were on full swing with rigging crews all over the lake putting up fireworks.
This was my first clue about the reality of Udaipur.
Not being able to get onto the water and photograph the evening Sun was a huge turn off for my excitement. No matter, my guide took me to a place from where he thought I would get a good shot of the lake. It was a garden up on a small hill but the problem was it's foliage. The trees restricted me from getting a clear shot. Here's where my second clue about Udaipur came to light. When you're here, don't take a guide. The information you are given is sketchy to say the least. Although they mean well, the guides seldom realize themselves that they are wasting a tourist's time and money actually. I made my way back to my hotel through the various city streets yet again. I wasn't all that happy to be honest. Hope was that Udaipur would be the cherry on the icing for my trip.
Edge of understanding.
Though there was still a lot to see around Udaipur. Slowly I was realizing that Udaipur was a city of money, for money and probably even run because of money. The class difference was apparent in the tourism of the town itself. Up until now Rajasthan and its destinations had offered to me a lot of substance. Not just history but a lot more to take home in my head. Udaipur, though it has the history if you're interested, will first give you the golden handshake. This place does not embrace its past, it uses its past.
I managed to reach my hotel just before dusk, called for my tea and started talking to the people at the hotel about the avenues for exploration around here. As I spoke to the hotel staff about the city, everyone from the waiter to the manager agreed with me when I mentioned my first impression. Realizing that I wasn't all too interested in staring at the city's facade, everyone gave me suggestions as to what I may like. My waiter gave me the best advice, he told me to head out of Udaipur itself. Soon, I had a plan, an ambiguous one but a direction to head into nonetheless.
The plan went into action that very evening. I head out into the city again, reached one of its star restaurants and found myself a table. This restaurant was touted as one of the best owing to its panoramic view of the Lake Pichola. Just for fun, I won't tell you the name of the restaurant. Rest assured, some digging on your part when you're in Udaipur will land you at this waters edge bistro. The prices here are high and the food is ordinary. It's the view they charge you for.
The Udaipur City Palace and The Taj Lake Palace.
The view was good indeed, one could see the Taj Lake Palace Hotel and the Udaipur City Palace in all their glory and on this night, the lighting for the upcoming concert was being tested – that added major drama to some of my photographs. What an evening it turned out to be! So many people came up to me in this outdoor setting and asked me about most things under the sun. Right from my photography to my travels, even the motorcycle caught their attention. After about an hour of shooting and talking with strangers, I sat down at my table for dinner. Here too, the waiter serving me had his own questions about my journey. He kept me company and made sure there was never a dull moment during dinner. Those of you who actually do manage to find this restaurant, you'll like the vibe it offers.
I got lost in the city a couple of times while on my way back to the RTDC hotel. It was late and I too took my own sweet time finding my way. There was something about Udaipur which I hadn't felt in any other city. Being in Udaipur felt like walking on a heavily trodden grassy path which gives way to mud because of the sheer use of its presence. That's what Udaipur truly felt like to me – an overused city. What caused it to be overused and how, that was still a vague question and I had some time to figure it out.
Night was peaceful and the next morning came with me waking up early and chalking out the days tourism. Udaipur woke me up with a calm caress. Chirping birds and whistling winds made my morning real pleasant. I walked out into my balcony and tried shooting some birds and squirrels, all while sipping on tea.
Good morning Udaipur!
Chai lo.
Tea, was now one of the most important things in my life. For that matter, almost every biker/traveller will tell you that tea is what makes the journey that much more awesome. Each cup tastes different, the aroma of the hot golden potion is different in every land. And that my friends is the only second reason a biker stops on the side of the road to take a break. Tea is also sometimes the sole reason for a trip, it's that important to us motorcycle boys.
Day one: Saas – Bahu Temples.
This day, I booked myself a cab. I wanted to give my motorcycle a little r and r before we made our way back home, a journey of over 800 kilometers. A car arrived and for the first time on this entire trip, I had the luxury of keeping my camera gear off my shoulders. I was paying through my nose for the exclusive cab but I knew, in the long run, it'd be worth it. My first destination were some temples a little distance away from the city of Udaipur. A small village called Nagda was our first stop. The temples, known as Saas – Bahu (or mother-in-law – daughter-in-law) temples, were a rather inspiring place to start off my photography.
Interior of one of the temples.
This temple complex, although small, has the power to get your creative juices flowing. Dedicated to the Lord Vishnu, these medieval buildings inspire intrigue with their mind numbing architecture. The carvings and sculptures here are so very detailed that it's easy to get lost standing in one spot. Everywhere you look, inside or outside, the place and its intricacies are mesmerizing. It is a peaceful place to spend some time, if you have it.
The temples and the lawns.
The light here is another brilliant companion to any photo maker. Take my word for it, the illumination on the heavily carved stone is almost intoxicating.  This was the first place I'd visited and already I wished I'd brought my motorcycle. What pictures I could have made!
You could get lost standing in one spot.
The town of Nagda is also home to a much revered Temple of Eklingji. A place where they don't let even cellphone cameras inside. A place like that has no room for someone like me I think, so I did not go in. Those with a religious bent might not want to do the same. If you don't mind heading in without your camera, do go and check it out. To some, this temple complex is an architectural marvel. To me unfortunately, like the Dilwara Temple at Mount Abu, this too had to become a missed destination.
The Eklingji Temple entrance.
From Nagda, my driver and I made our way to the famous Haldighati, a historical battleground. Haldighati is named so because the color of the mud here resembles the color of turmeric, for which the Hindi word is Haldi. This mountain pass was made famous by the battle of Haldighati between Rana Pratap and the Mughal Army of Emperor Akbar. Many a story hail from that very battle but one of the most compelling is the story of Chetak – the king's horse.
The road to Haldighati.
Chetak was the beloved horse of Rana Pratap. It is this horse which carried an injured Pratap out of the battlefield despite it's own injured leg. It is said that Chetak displayed unparalleled loyalty to his master and carried him a great distance on his three legs, only after he found that the Maharana was safe did he breath his last. Today, there stands a tomb dedicated to the royal horse, still lending glory to its supreme sacrifice. Known as the Chetak Chabutra or the Chetak Smark, it stands close to a local museum, which is dedicated to the story of Maharana Pratap of Mewar.
The Chetak Chabutra.
This museum, though highly informative, is a very crude rendition of the story of Pratap. If you know the story, I'd suggest you skip the trip here. Go only if you have kids, they might enjoy it.
The Rana Pratap museum.
That was day one. I came back to Udaipur quite tired from all the sight seeing and story studying. In the night I head out into the city to see if there was a place from where I could capture some sort of nightscape. I spent about an hour on the road inside the city but couldn't find any good spot to set up. To be honest I did get some mediocre shots of the promenade but the city failed to please my senses on this night.
Dinner.
I found myself a posh looking restaurant and settled for dinner. Payed a bomb for some mediocre food and left. Sleept like a log.
Day two: Out of the city again.
This day was to see me heading out of Udaipur again. This is true about Udaipur, there is more to see outside and around the city that inside its limits. Sure you have the Udaipur City Palace and the sound and light show there. There is also a temple up high on a hill near Lake Pichola but that's about it. You have to head out to really enjoy what Udaipur has to offer. Since I also could not afford the luxuries of a five star and a 'royal experience' at one of the poshest hotels in the country, I head out. Again, I had booked myself a cab.
On this day, Mr Narayan – the owner of the cab company volunteered to drive me. He told me that he heard my story from his driver the previous day and wanted to meet me. He said 'mai har uss aadmi se minla chahata hoon jisse mai kuch seekh sakta hoon' or 'I want to meet all the people from whom I can learn something'. I was flattered by this statement of his. Believe you me, our drive towards Kumbhalgarh fort was anything but mundane. Thanks to both our talkative personas, we kept jabbering our way through the afternoon drive.
The drive from Udaipur to Kumbhalgarh Fort revealed to me the green Rajasthan. 70 odd kilometers of country roads show you the agricultural side of Rajasthan. Lined with fields all through the roads to this old fort are a treat, not all that smooth but when you're in India a road with potholes is just fine. This particular stretch of road is known to wind through some tribal dominated territory. They say one shouldn't venture out alone all the way to Kumbhalgarh. It is a common practice that groups of vehicles travel in a cavalcade along this route.
Rajasthan and agriculture.
One crosses some hills and forests on the way and the tribals have been known to pelt stones on passing vehicles, amongst other things. Well, Mr Narayan and I were so busy talking that we didn't even realize that time had flown by and we we staring at the Kumbhalgarh fort in the distance.
It's stunning. From a distance of about 5 kilometers, you can see the length of the fort wall across the frame of your vision. Amidst green hills and atop one of its own, stands Kumbhalgarh – The sentinel of Mewar.
We reached the fort a little before sunset. This light was perfect for taking pictures. We were also in time for the sound and light show which was held here everyday after sundown. I bought our tickets and we proceeded inside the fort walls.
Evening light.
Slowly our climb began. Mr Narayan and I hired a guide who told us about the fort while we climbed up. I knew nothing about Kumbhalgarh before this day. The only reason I found myself here was that I was advised by my hotel staff to check this place out. Like most forts in Rajasthan, the Kumbhalgarh too was perched atop a hill. They say the walls of this fort stretch for a whole 36 kilometers around the structure! Huge! At vantage points, one can see the Aravalli hills stretch for miles and miles around this fort. Catching your breath is a pleasurable affair atop Kumbhalgarh.
Climbing to the top.
Kumbhalgarh is important. It was built by Rana Kumbha of Mewar, hence the name. Also, this fort was the birthplace of Maharana Pratap, the warrior king of Haldighati fame. Another fact about the Kumbhalgarh fort is that it sits on this hill dividing the kingdoms or Marwar (Jodhpur) and Mewar (Chittaurgarh). The Fort also plays an important role in the formative history of Rajasthan. Kumbhalgarh provided refuge to prince Udai who was smuggled here by Panna Dhai when Chittaurgarh was under siege. Later, Udai took the throne post which he founded the city of Udaipur.
Marwar and Mewar.
Thanks to the long drive from Udaipur, by the time we reached the top of the fort, the sun was just setting. We stayed put for a while and watched the sun go down. It is here that the fort of Kumbhalgarh played an interesting part in my personal journey.
Sunset at Kumbhalgarh.
As I stood atop the highest pavilion and shot the sunset with my camera, a happy group of Israeli tourists joined me. We got talking about my camera and travel, made friends and the rest is history. The sun set and all of us made our way down to the foot of the fort. It was during our little downward trek that my friends and I really connected. It was time now for the sound and light show, I told my new found friends about the show and some of them joined us as we watched.
Sound and light magic.
The sound and light show here starts right after sunset and takes one through Rana Kumbha's life and trials. As you sit facing the fifteen feet thick fort wall, the fort lights up all the way to the top and keeps one gripped as a voice narrates its history. The stories connects across the sands right from Udaipur to Chittaurgarh and Jaisalmer.
The Kumbhalgarh Fort and the Milky Way galaxy.
After the show, my friends and I decided to meet for dinner back at Udaipur. That sounded like a plan! Though something still needed doing before I left Kumbhalgarh.
Before we left Kumbhalgarh, I still had a couple of shots to get. Mr Narayan knew a spot a little distance from the fort from where he thought I would get my perfect shots. I was taken there and yes! I set up and 30 minutes later, I had my shots. Check them out below.
Kumbhalgarh and its unique stance.
A unique photograph I have to say. The area around the fort is completely unpopulated, hence, there is no stray light here. The dark you see around the fort has not been processed into it. It actually was that dark! The Kumbhalgarh Fort stands out at night like a golden crown atop the Aravalli hills. Beautiful.
The second shot is what I call a mini star trail. Owing to the lack of time, I could not go all out and shoot a longer exposure. Thanks to the threat of leopards and foxes in the dark, we had to get a move on.
The mini star trail, Milky Way lighting up the sky.
Yet again, the drive back saw Mr Narayan and I conversing about the day's experiences. Everything from my photographic aims to our newly made friends were part of our banter. A pleasant drive reached us back to Udaipur at around 10 pm. I was in the groove this evening, it had been a stellar day. I backed up the shots I had taken and got my gear ready for the next day's shooting. Soon, I got a call from Amit, my Israeli friend. Our dinner plan was a go. At about 10:30pm I roared out into the Udaipur night.
Finally, all of us had the time to sit back and talk. They were a big group of about 6 to 8 travellers, we got talking. I, for one, was fascinated by Israel and its people – I always had been. I kept throwing question after question at them and they kindly tried replying to each one. I even learnt a little Hebrew! (swear words!) Next morning too, we met up for breakfast and the banter continued. I tried out an Israeli breakfast dish too. Called 'shakshuka', it's made of tomato and a host of other veggies. Thanks to my new friends, I was now considering Israel as my next big travel destination. They have good motorcycles there, a brilliant coastline and I'll bring my camera. Sounded like the perfect winter destination. Here's hoping!
Here & now though, plans were being made for the day's travel at Udaipur. There is so much you can do when you're in a group I tell you!
Day three: Lake Jaisamand.
We decided we would all head to Jaisamand Lake, a suggestion made by Mr Narayan the previous day. An hour's drive away from Udaipur city, Jaisamand is by far the most beautiful lake around. It is a huge water body, apparently unpolluted too. It is also Asia's largest artificial lake, built by Rana Jai Singh of Udaipur.
Lake Jaisamand.
Our drive to the lake was fun as all of us, including our chauffeur Mr Narayan (again!), were cracking jokes and talking about our travels all along. All the bumps along the road were levelled out by our spirited banter. We reached the banks of the lake a little before sunset, perfect timing if you ask me. Also, all of us were game for a nice, long boat ride across the lake. I too was eager to shoot some portraits of my friends. We negotiated the price for a boat ride with the boatmen and then set off. On the boat, we had along with us a few school children, interestingly, they lived on an island village in the middle of the lake! We wanted to check out the village too and the boatmen obliged us.
Afloat on an artificial lake.
A thirty minute boat ride saw us chug across the pristine waters of the Jaisamand Lake. Everywhere I looked, it was a picture perfect scene. The sun was going down behind the hills as we reached the village.
Chugging along.
This was an interesting village, water locked but apparently self sufficient. They had agriculture, dairy, accommodation and satellite TV! What was more interesting though was the fascination with village life visible amongst my fellow travellers. They were loving it.
Island village.
The light was now slightly lesser and so I started bumping up the ISO in all of my photographs. Grains came and made a nest in my camera's sensor. The pleasure of being here was so intense though, that I didn't mind. I was also mindful that we were nearing the end, my Tour-de-Sand was about to finish.
Jaisamand lake is a good place to take pictures all through the day. Even after the sun goes down!
This day was my last day in Udaipur. It was also my last day in Rajasthan because come morning, I would don my helmet and ride out. Ride out of Rajasthan.
Calm waters of the Jaisamand Lake.
We set off again in our red boat, heading back to the shore. It was time for some portraits! The girls were obviously my first choice but the guys were awesome too!
In this photo: Marsim Cassar.
The drive back to Udaipur was calm. The wind was cool, night was dark and our spirits were high. Somewhere inside though, I felt sad. I had already begun saying my goodbyes to this beautiful land in my mind. Every second that I was here, in my head, I was reliving the moments I'd spent in Rajasthan. The dark drive served me well and in the haze of oncoming headlights I was able to zone out and recap the events of the past months escapades. I felt sad about leaving but I felt wonderful about being here. It was only natural, I had spent a month away from home and on the roads of Rajasthan.
In this photo: Friends (L to R) – Amit Maoz, Tsion Abu, Amit Feldman, Lia Hibner, Marsim Cassar.
Back at Udaipur, we dropped everyone and then I was dropped too. I bid goodbye to our trusty Mr Narayan and then head upstairs to pack. The evening wasn't over though, my friends and I still had to take that one photograph of all of us together and dinner of course! My last night in Udaipur, I head out again. All of us met up and shared dinner and then it was time to leave.
At this point I must mention, Udaipur had been the most unique destination of all the places I'd been to in Rajasthan. The first couple of days were a real turn off for me personally. It felt like it was all about the money in Udaipur and it was. With the countless luxury hotels and everything here revolving around them, I was quite grumpy till I set out for Kumbhalgarh.
Travellers of a feather.
Much like history itself, the Fort of Kumbhalgarh played a vital part in my endeavor too. It was in Kumbhalgarh that I met my new friends, it was there that the turn around took place. Udaipur had gone from being a budget travellers' disappointment to a motorcycle traveller's delight. All because of people like Mr Narayan and others who made me feel at home. Once again I realized, not every place is made by its sights. A place is good because of the good people you meet there. I considered myself monumentally lucky as in this lake city, time and money, both have to be on your side. I had some time and not much money but thanks to the people I met, coming here was well worth it.
Near the end here, Udaipur finally did make its way to the top as the perfect end to my time in Rajasthan. I left with a smile.
It's not over yet!
For more pictures from Udaipur:

Click here

.
———————————————————————————————————————————————————————————————————————————————————-
In this article:
Number of nights: Udaipur – 4.
Distance travelled: Chittaurgarh – Udaipur – Kumbhalgarh – Udaipur – Jaisamand Lake – Udaipur.  = 375 kms.
Motorcycle condition: The real question is, can she survive the ride home?
Next destination: My journey home! (

Click here to read

)
---
Part 6 of Rooh – E – Rajasthan.
To read part 5 – Click here.
To read part 4 – Click here.
To read part 3 – Click here.
To read part 2 – Click here.
To read part 1 – Click here.
Chittaur
History, is me.
By the time I reached the outskirts of this underexposed historical town, it was mid afternoon. The sun was right on top and bearing down with all its heat. Turning off the National Highway towards Chittaur was like exiting a party. The moment I was off, the rush of vehicles at high speed vanished. So did the smooth road actually. My first obstacle was a railway crossing. I had been standing there for quite a while waiting for the train to cross. Which it hadn't, so I dismounted and stretched my legs. The train was nowhere to be seen.
The locals and I got talking. I broke the ice by asking them the way to the RTDC (Rajasthan Tourism Development Corporation) Chittaur hotel. They gave me a general direction and then came back with questions of their own. Was my bike a bullet? Where was I coming from? What was I up to? And the most common of them all in India, what mileage did my motorcycle give me?
The train arrived in the midst of our banter as two or three strangers looked my bike over. I was resting against the bonnet of a truck as the cargo train passed the railway barricading ever so slowly. In a minute, I saddled up and got ready for my last little haul into Chitttaurgarh. A full thirteen kilometers of searching, stopping and asking for directions finally brought me to the unassuming gate of the RTDC Panna hotel here. This RTDC hotel looked as barren as the city. It was a Sunday and so all the shops were closed too. A vibe similar to Barmer prevailed over the entire city.
I got myself in to the hotel and settled in. 300 kilometers of highway riding hadn't exhausted me enough I thought and decided that I might as well take an afternoon round around the city. I was only going to be here three nights so I felt the need to make the most of it. The hotel manager too, had started identifying with my adventurous streak. In his typical small town way, he told me that he was impressed. All over again I was humbled by this strangers' praise. I realized how many people actually wanted to go out and do something like this but thanks to the rut of life, they didn't.
Chittaurgarh town.
My afternoon ride took me through random empty streets of Chittaur. I didn't really see much. The heat was so oppressive that soon I decided that I'd rather take a nap, recharge myself and then hit the streets with the right verve. I over slept.
The next morning started early, with me heading out early enough to check out the Chittaurgarh Fort. Really the only true reason for me to visit this town. The Chittaurgarh Fort is not only a historical madhouse of information for seekers but also has a lot more to its credit. In terms of sheer size, it is probably the largest single fortified structure in India. As you close in, crossing the river Berach, the scale of this extraordinary building reveals itself. I stopped dead in my tracks, pulled out the camera and tried, in vain, to capture the fort's length. This was the first time on this trip that I felt out of my depth, photographically. The size of the fort was just too big for my camera and skill. The time of day wasn't helping either, there was a faint haze blocking the clear view of the fort. I had no choice but to move on into the fort and start exploring.
I rode on up into the fort walls and through the gates, something which I had now gotten used to. Each Rajasthani fort had it's characteristic entrance gates. In Chittaur however, a paved road led through these gates into the fort premises, I rode my bike all the way into the center of the fort. This fort is at an elevation of about 500 feet from sea level and one can feel the temperature change slightly. At first, I couldn't figure out what I was to do next. Yes I wanted to see the sights here but I didn't know where they were. I took a full round of the fort on my motorcycle after which I found a ticket counter which had a map of the fort on it. That's when I got my bearing. Honestly, I was still overwhelmed by the sheer scale of the structure.
Ridin' through.
I spoke to the people at the ticket counter for a while. Looking at their expressions I could instantly make out their assumptions about the kind of tourist I was. Three people were really interested in telling me about where the most interesting bits of the fort are and so I listened to them.
The Chittaurgarh Fort:
Apart from its size, this fort has an abundance of stories within its mammoth walls. The fort is believed to be named after the Mauryan ruler Chitrangada Mori. For 800 years, Chittaur was the capital of Mewar and all through that period and beyond, the Rajput warriors of Chittaur painted an unsettling and moving picture. Death before defeat was their resolve. More than a few times this fort has seen defeat in its history. Yet, the lore of the men, women and children who hailed from this land never once fails to inspire awe.
As I spent time in the fort, three stories came up in front of me again and again. The tales of Mirabai, Queen Padmini and Panna Dhai. These were stories which, in a short while, made me realise the importance of Chittaur in Rajasthan's history.
Mirabai:
Mirabai's time at Chittaur was as the wife of Rana Kumbha. She was a devout follower of Lord Krishna and considered herself to be the wife of Krishna, hence she wasn't too happy with her marriage. After Rana Kumbha's death, she completely gave into her devotion to Krishna. She is believed to have spent her last years as a pilgrim at Dwarka but none really know where she disappeared.
The Mirabai temple:
This is a beautiful temple dedicated to the saint-poet. Standing close to the Kirti Stambh, it is one of the most beautiful temples in Chittaur. In the early morning light, the intricate architecture gleams with unparalleled brilliance. Inside the temple, a representation of Meera, praying to her Lord Krishna, has been established.
The Kirti Stambh:
The Mira Temple and Kirti Stambh, in the morning (left) and just before sunset (right).
The Kirti Stambh is a 12th century monument, built by a Jain merchant. It stands close to the Mira Temple and is a beautiful piece of architecture, just like the Mira Temple itself. Both these monuments stand together in perfect accompaniment.
Jauhar:
The Rajput men chose to charge out of the walls of this fort into the enemy. Fighting to the last breath, preferring to die fighting than to accept defeat and live a life after surrender. This deeply ingrained Rajput trait leads on to another sorrowfully amazing tale of the women and children of Chittaur. Jauhar.
An ancient Indian practice of divine self immolation, performed by women and children of a particular Rajput clan, in the face of defeat of the defending army. It is often a common assumption that the act of Jauhar involved only the women and children of the kingdom but the truth is that Jauhar involved the Rajput warriors of the army as well. When it was eminent that defeat was inevitable, the women inside the fort performed Jauhar, after which the men charged out into the enemy committing Saka. Preferring to die fighting over enduring defeat.
Dusk over the fort.
At Chittaur, Jauhar was performed a total of three times over it's history. First by Rani Padmini and then the second by Rani Karnavati and finally the third when Chittaurgarh Fort was besieged by Emperor Akbar.
Rani Padmini and the Padmini Palace:
Queen Padmini was considered the epitome of beauty in her time. Wife of the then commander of the Chittaurgarh Fort, Rana Rawal Ratan Singh, the stories of her beauty had transcended kingdoms. It was inevitable that the lure of her beauty caught the Mughal ruler Allauddin Khilji's attention. Driven by his lust, he marched towards Chittaur to secure her as his queen.
Here is where an interesting tale begins, Khilji saw the brilliantly guarded Chittaurgarh fort and decided that he would try and acquire Rani Padmini without conflict. Khilji's army was deterrent enough. He sent a message to the Rana that he considered Padmini his sister and wanted to see her. Looking at the Mughal army, the unsuspecting Rana Rawal Ratan Singh gave in to Khilji's demand of getting a look at his wife, Queen Padmini. In those times, this was a rather shameful occurrence and hence Khilji was only allowed to see the queen in a mirror. Smitten by her beauty, he decided that he would not leave Chittaur without her as his queen.
Later, when the Rana went upto the outer limits of the fort to see off Khilji, he was arrested by Khilji's soldiers and held in captivity. Queen Padmini soon got the message that she was now required to leave with Allauddin Khilji as his wife and that her husband was under captivity.
Enraged, she decided she would have none of it. In a brilliant countermeasure to Khilji's deceit, Rani Padmini and the Rana's men came up with an ingenious plan. In over a hundred palanquins, hid Rajput warriors, masquerading as the queen's maids. They made their way to the Mughal army camp and attacked the camp, freed Rana Rawal Ratan Singh and brought him back to the security of the Chittaurgarh fort.
In the ensuing aftermath, Allauddin Khilji's army laid siege to the fort but could not beat the fort's defenses. Khilji kept up his unrelenting battle with the Rajput army until the fort's supplies perished and there was no chance of a victory for the Rajputs of Chittaur. At this juncture, it was decided that the Rajput warriors would commit Saka, they would charge into the enemy and fight until death. Hearing this Queen Padmini and the Rajput women decided to commit Jauhar.
After the battle was over, all that Khilji's lust driven army found upon entering the Chittaurgarh fort were burnt and charred remains of the women and children of Chittaur.
The Palace:
The Padmini Palace is a white building which still stands today. There are gardens to welcome you as one approaches the main complex. The room with the mirrors, where Allauddin Khilji saw queen Padmini, is open to the public and one can even see those very mirrors, they still hang from the ceiling today.
Panna Dhai:
By far one of the most poignant stories from the land of Chittaur. Panna Dhai's tale of sacrifice still manages to bring a tear to the eyes of many a mother today.
A 16th century Rajput woman, Panna was the nursemaid to Udai Singh (later, the founder of Udaipur, son of Sangram Singh). The word 'Dhai' in her name stands for wet nurse, she had been given charge of Udai Singh from his early childhood.
Chittaur. A historical panorama.
The story begins when Banbir, an exiled cousin of Udai Singh was appointed as regent of the kingdom keeping in light the arrest of Vikramaditya II. Banbir, who considered himself to be the rightful heir to the throne knew the time was right to act. He assassinated Vikramaditya II and was on his way to assassinate the already asleep 14 year old Udai Singh (the Maharana-elect), whose existence was the only barrier between Banbir and the throne of Mewar.
A servant hurriedly informed Panna of Banbir's doings, Panna understood what Banbir was planning and told the servant to smuggle Udai Singh, the Maharana-elect, out of the Chittaurgarh fort. She instructed the servant to wait for her at a rendezvous point near the river. As the young Udai Singh was taken away from the fort, Panna placed her own son in Udai Singh's bed and covered him. In time Banbir burst into the room and inquired about Udai Singh, she pointed at the bed where her son lay asleep, only to watch her own son being killed at the hands of Banbir.
Panna left the fort after her son's hurried cremation and retook charge of Udai Singh from the servant, out by the river. Here began an epic trek for the duo who were only given proper refuge at the fort of Kumbhalgarh. Years later, Maharana Udai Singh went back to Chittaurgarh and assumed the throne.
A heroic feat of sacrifice and loyalty to the throne was showcased by Panna. But for her, the city of Udaipur (later founded by Maharana Udai Singh) would never have existed.
The Vijay Stambh or the Tower of Victory:
This unique structure stands in the midst of some temples at the top of the fort. Built to celebrate victory over the ruler Mahmud Khilji by Rana kumbha, it is intriguing to say the least. The carvings on the inside and out are so very intricate that one can spend minutes just staring at a single part of this nine story tower.
For a fee of INR 5, one is allowed to venture inside the tower. Fair warning, this venture is not suited for people who suffer from claustrophobia. There is no room for two way pedestrian traffic inside. At some points the climb is pretty precarious, especially for me as I was carrying my hefty camera bag on my back. Getting shots was tough and so my trusty ultra wide angle lens came to the fore. Inside the tower, it is dark, dingy and well, stinky. There is constant movement of people and hence the 157 step climb from bottom to top is not all that easy. At the top though a big and windy room awaits you, I can't say the view is panoramic because it's blocked by the carvings on the windows but I'd still say it was worth it.
View from the top.
After my descent, I spent the entire evening in the Vijay Stambh complex. The complex is also home to a few other Jain temples apart from the Stambh itself. The complex is also home to the Gaumukh (Hindi for: cow's mouth) reservoir, this water body is fed by a natural spring, which flows through a carved cow's mouth in the rocks, hence the name. During the various sieges the Chittaurgarh Fort endured, this water body was the primary source of fresh water for the population.
The GauMukh reservoir and the Vijay Stambh complex.
This complex is also home to numerous Langoor monkeys. If you're ever bored, just sit down and observe these ultra happy and inquisitive creatures jump around. Keep a close watch on your belongings though!
Sundown with the Langoor monkeys.
Also, this is a brilliant place to watch the sun go down, especially after a hard day's tourism.
Day two:
My second day in Chittaurgarh was reserved for riding about inside the fort in the day and the sound and light show in the evening. Early morning went by as I sipped my tea and felt the fresh morning air of this town. Two nights that I had spent here hadn't revealed much about the town itself.
To me, it felt like all the sacrifice and bloodshed over those olden ages still had some sort of bearing on this place. Chittaurgarh, seemed to me like a stoic town, not reacting to my arrival in any noticeable way. I was here, studying the history as deeply as I could but there was no telling if I was actually learning anything about the place in reality.
This was also a time when I became increasingly introspective. At this point, I had spent more than three weeks on the road. A lot had had happened in my head, with it going through these myriad experiences, thumping across this sandy state. There was no homesickness, there was no longing to get back home. Even though my bike wasn't in all that great a nick, I felt like I could survive like this for as long as I wanted. I had completely become used to being alone. Meeting and interacting only with strangers.
The making of a true traveller.
It is at times like these that I realize I'm on the right path. I know I'm made for the road, a traveller through and through. Also, someone who would be incomplete without his camera and motorcycle. So many realizations, so little time.
The mango tree above me moved with the breeze, letting a ray of early sunshine dart into my half open eyes. As if to shake me out of my trance of thoughts, the sun's rays did well to wake me up. This was my second and last day in Chittaurgarh, most had to be made of it. So I geared up and made my way towards the fort. I entered using the same winding road which passes through the gates and reached the top quick.
A view of the city from the fort's walls.
I still hadn't been able to properly capture the entire length of the fort from afar. Slowly I was giving up on the idea altogether. For some reason I felt I wouldn't be able to do justice to the real majesty of this monument. I carried on, the 13 square kilometers that the Chittaurgarh Fort is spread out over, offer a lot of space for someone who just wants to experience peace. Birds will chirp, the sun will rise, the temperature will go up and the occasional cow will moo, that's about it. There is also an abundance of greenery up here and all over the fort, a nice contrast to the image of Rajasthan I should say.
Oh, it's green.
The people of Chittaurgarh too had been nice to me. I was welcomed well by my RTDC caretakers and even in the town while asking directions and sipping on roadside chai, people had been polite. It had become a characteristic of the people of Rajasthan, there had not been one incident as yet on this entire trip where I'd felt I was being taken for a ride, so to speak. The cities and roads of Rajasthan had become my home and I was happy.
Chai on a Chittaur street.
Even on this day as I rode my motorcycle nonchalantly around the fort premises, I felt like I was a part of this place. An unnoticeable speck in the span of the history of this fort. Still, this place grounded me like no other I've ever been to. I could relate to the tales of valour, heroism and sacrifice here. The vast plains that stretched out behind the fort looked to me like chalk slates, where each ruler came and wrote his own piece over the previous one's.
Chalk slate of Chittaur.
It was strangely beautiful, the way even the air here felt like it had a touch of the past.
Coming back to being the tourist, I had bought my ticket for the sound and light show this evening. I already knew most of what there is to know about Chittaurgarh but I felt the sound and light compilation would be a good opportunity to learn more as well as a relaxing way to spend my last evening.
Here, at Chittaurgarh, the sound and light show is managed and run by RTDC itself. Don't be surprised if you find the goings on a little laid back. They will wait till there are at least 25 people in the stands to start the show. I find this small town bending of the rules pretty amusing, really.
Light, sound and action!
The hour long show was just perfect. All the history I had learnt about Chittaur in the past two days got woven into a fine thread. The timelines became clearer in my head. And once again, the heroism of this quaint land touched me. It's strange that sometimes I feel I should have been born in those years to experience the history first hand. Who knows, maybe I was. I'd miss my motorcycle though!
By far the most compelling part of my time in Chittaur was when I asked the sound and light show operator a simple question. My question to him was 'You watch this show everyday of your life, do you still like it?' A Rajput himself, he came back with a simple reply. He said 'Sir, I'm a Rajput. Each day while I watch this show from behind, a tear escapes my eyes and my chest fills with pride. Every time, everyday.'
And you know what, I felt what he said to me word for word. Somehow I could relate to him.
The show got over and soon the same would happen to my time in Chittaurgarh. I promised myself I would come back. For now though, Udaipur was my next port of call. A very short 115 kilometer ride was ahead of me.
Early next morning, as usual, I geared up and said my goodbyes to the RTDC friends I had made here and left. These short two days had been good. The true embrace of Rajasthan had started to take hold over me. After spending more than three weeks on the road in this state, I had found my comfort zone. I was excited thinking about what Udaipur held in store for me.
The motorcycle was straining to go beyond 100 km/h on the 100 kilometer long National Highway 76 to Udaipur but I was determined to push her. I kept the throttle jammed open all through, stopping only twice, once for a quick breakfast and the second to take a leak on the side of the road like a traditional Indian traveller. The bike was hanging in there, for the first time since Jodhpur, I felt she could pull through for the remainder of the trip. I was still keeping my fingers crossed though. I had started respecting my motorcycle's resolve too, she deserved it.
Gaining on Udaipur!
This short 3 hour ride was filled mostly with me thinking about what Udaipur was going to be like. Udaipur is known for its luxury and well, I had been saving up all along. I couldn't wait to get there!
For more pictures from Chittaur,

Click here

.
———————————————————————————————————————————————————————————————————————————————————
In this article:
Number of nights: Chittaurgarh – 3.
Distance travelled: Jaipur – Chittaurgarh = 320 kms.
Motorcycle condition: Misfires, slight over heating, engine noise (crank issues). She's got guts carrying on like this! Salute!
Next destination: Udaipur, Rajasthan. (

Click here to read

)
---
Part 5 of Rooh – E – Rajasthan.
To read part 4 – Click here.
To read part 3 – Click here.
To read part 2 – Click here.
To read part 1 – Click here.
Jaipur
The capital of Rajasthan.
Entering the capital of Rajasthan was like reaching any other metropolitan city. Dug up roads, maddening rush, pollution and a whiff of what us city dwellers call life. The Marauder was clearly straining to keep up with my pace as with every twist of the throttle, she told me we needed to stop and get her checked out properly. From what I've noticed, it's not just us humans who like the wide open road. Even our machines love the feeling of the wind tearing around them. The term 'air cooled' takes on a whole new meaning if you look at it this way. My entry into Jaipur was a little different from all the other cities I had been to.
Dusk was upon Jaipur as I rode onto its jam packed, grid locked and dug up streets. Jaipur is a huge city. It took me a whole hour to find my RTDC (Rajasthan Tourism Development Corporation) Jaipur abode, what with the various one-ways and blocked streets. That extra hour of snails pace riding had managed to break the ice between the city and I. As the sun said goodbye, I had pretty much matched the pace of Jaipur in my mind. One more thing, there was nothing here that would remind you of the desert. A two hour drive away from India's capital city Delhi, here in Jaipur – there was no desert.
Just another metro.
The first night in Jaipur was one of those where you can't stop thinking and sometimes forget to blink, looking up at the ceiling. Usually when too many thoughts cloud the mind, I head out on to the road with my motorcycle but here on this mammoth ride, I didn't know what to do. Again, motivation is the key but I felt like all my trump cards had run out. Typical tourism was just not cutting it. Sleep came soon enough.
Day 1:
The sun was up as my eyes opened late. A pounding headache was what kept me in bed this long. I realised, it was best I take an easy day and not try anything too dramatic. The nearest coffee shop was a stone's throw away, not that I mind the street side chai but I wanted something that reminded me of what I'm used to back home. A cappuccino in a white mug with some shabby latte' art seemed like just the perfect fix. Like a proper city boy I pulled out my laptop and connected to the internet whilst sitting on the pseudo leather couch. Emails and notifications are what we all are used to checking but I also read up a little about Jaipur. I wondered why I wasn't excited to check out this new city this time round, was I losing my touch? Maybe.
Coffee.
The state of one's mind during travel is what defines the mood of the journey, I feel. If all is going well, even the simplest things can be a lot of fun. My motorcycle's dwindling health was the biggest bother I had and it was eating my enthusiasm towards Jaipur. The only way I saw around it was to get her a good service here. The next day we set out in search of the elusive 'Bullet mechanic'.
Day 2:
After some riding around, I found the Royal Enfield showroom. The people here were kind enough to escort me to their service station. As soon as I saw the red on grey sign board of the Royal Enfield service station, the persistent 'sinking feeling' in my stomach vanished. I was now sure that the problems the Marauder was facing would now be taken care of. Little did I know, that the service manager here would also tell me that nothing was wrong with my motorcycle. Frankly, the guy was just not interested in his job. There could be a million things I might be wrong about but I always know when my motorcycle is not doing well. They refused to acknowledge that there was a knock in the engine.
Royal Enfield at Jaipur.
Sadly, Jaipur too turned out to be a dud, as far as the bike was concerned. That afternoon after I had my lunch, I rode my bike to the nearest fuel station, tanked her up, parked her at the RTDC parking lot and sat down on the ground next to her.
There was a slight warm breeze ruffling the leaves of the mango tree above us and the sun shone through intermittently. The warmth of the motorcycle's engine hit me with every current of air, the smell of oil had an eerie tang to it. Maybe it was just me I thought, maybe I was being too paranoid. I talked to my motorcycle, sitting there I told her that we had crossed the half way mark on our journey. Another 2000 odd kilometres stood between us and the completion of Rooh – e – Rajasthan.
I asked her to stand by my side the rest of the way and that we would not be able to get her rectified here. The last thing I wanted was to have some guy uninterested in his job trying to tinker with the engine. Yet again it was decided, I would ride like I would have normally and it was up to her to pull through for the entire journey. If she decided to give up on me while we were on our way, I would do what was required to get her back home safe on a truck. Until then, the mission was more important than the means.
Slowly the sun came down as the hour hand struck 5pm. That, for me is 'get ready for sunset' time! I sped down the road that leads to Jal Mahal, a palatial building which springs out of the middle of Maan Sagar Lake here in Jaipur. Parking for two wheelers here is relatively easy to find. There is a walkway on one side of the lake made for people with an interest for viewing the unique palace. Unfortunately, entry to the palace was closed around the time I reached but I had seen so many palaces already, I didn't mind.
Jal Mahal during sunset.
I wanted to shoot some time-lapse footage of the lake with the suns light playing around the frame. I found myself a spot and set up. Both cameras clicking away, I was the centre of attention for more than a few passers-by. I was asked random questions by random tourists and locals alike, all in good vain of course. The short and tight conversations kept me busy and alert. Truth be told, one can never let ones guard down when travelling alone. Plus with all my equipment out and in plain sight, I was on my toes throughout.
Jal Mahal by night.
While shooting, I got a call from an old classmate who was now in Jaipur. He had seen my posts on Facebook. He asked me where I was and told me he would be there shortly. In the 30 odd minutes it took him to reach me, I suddenly went into flashback mode. Of the times that we were in school and the ones when all us kids parted ways after finishing school at Hyderabad.
Sachin Kumar, he was now a final year engineering student. He arrived, we met after about five years! We had so much to talk about that there was not a second of silence. The evening was just beginning to shape up as it became dark. Adventurous as usual, we decided that we'd ride to the top of Nahargarh Fort, at night. There we stories that this road wasn't too good, the place was very secluded and that it was advisable to head to the place in the morning. Sachin told me that the view from the top was worth the risk. We decided to go.
As soon as I packed my gear, we topped up our tummies with some roadside grub and head to the fort. About 10 kilometres away stood the top of the Nahargarh Fort. The approach road winds through a bush and the road is not particularly smooth but in the dark with our headlights flaring, we made our way and reached the top. From here, the view of Jaipur is panoramic. The evening lights from houses and shops glimmer like a plate of sweets covered with golden foil. Oh boy was the risk worth it! Beautiful would be an understatement.
Night over Jaipur.
We spent well over an hour up there on the fort wall, looking at and shooting what was my first night panorama of the whole trip. This fort wall is quite the night spot. Youngsters come here often just to hang out and 'chill'.
Clear skies and the Nahargarh Fort.
The night sky was clear and we were ready for some more action. From the top of the Nahargarh fort, there is a narrow winding road which leads down directly into the city. Interestingly, it is thought of as a dangerous and treacherous one as many people have lost their limbs trying to ride it. The same morning, I was told by local not to, under any circumstances, venture on to that bit of tarmac. Alas! Who could resist?
We started our motorcycles and head off towards the so called dangerous hill road. Bumpy it was but not really dangerous if you ask me. Only if you lost control of your vehicle would it be a threat and just like that we landed right in the middle of old Jaipur. Even Sachin didn't quite know his way out of this mangled hodge podge of streets!
The rush of adrenalin from the ride was still on. We zoomed through the narrow alleyways and surely after a while of riding, the broad main roads of Jaipur revealed themselves to us. It was time for food. Both of us being hard core non-vegetarians, we went to a shanty restaurant which was anything but hygienic. Yet, the best food is often found where one dares to go. Fried chicken which could take you straight to an Angio and gravies which looked more like islands in a sea of red translucent oil were served to us. It was tasty and that's all that mattered then. We both ate our hearts out!
Dinner time!
After dinner, another day had come to an end. My buddy had to head back as he had classes the next day and I had to get ready for Jaipur. We said our goodbyes with a renewed promise to meet again.
Till we meet again!
Then, I set about getting my gear ready for the next day. Finally, I felt motivated enough to take on Jaipur as a tourist. The Hawa Mahal, Aamer Fort, Jantar Mantar and even the Nahargarh Fort were all on my list. There was a lot to cover and I couldn't wait to get started.
Hawa Mahal & the true Jaipur.
As I learnt, it takes a while to get in touch with the real vibe of this city. One has to immerse the self in the history here. No doubt the city and its big buildings are good but the real Jaipur is under the surface, off the streets and beyond the present – the true Jaipur. Truth is that Jaipur didn't always exist. It is a city made by the then Maharajah Sawai Jai Singh the second about 3 centuries ago. During that period, the actual city amongst these hills was Amber or Aamer as it is now known. Jaipur was founded by the Maharajah owing to the increasing population of Amber. It is a remarkably planned city and you'll notice that if you look at it from a distance. Big roads and channelled buildings, more or less.
Day 3:
There is usually only one image which comes to mind when you talk about the Hawa Mahal and it is this:
Embrace the cliche'.
But there is a lot more to this monument than what meets the eye. Most people including the locals here will tell you that if you've seen the front facade of the Hawa Mahal, then you've seen enough but that's far from the truth. Built by Maharaja Sawai Pratap Singh, the Hawa Mahal's main exterior's purpose was to enable the royal women of the kingdom to get a look at the world out side. Apart from that, the architecture and intricate latticework here is worth commending. When here, one can easily imagine how the ladies in their colourful attires must have looked on through these very jharokhas (small windows). That was a time when the system of 'purdah' (veil) was widely practiced among the women of India. Every palace you visit in Rajasthan will bear testament to the purdah system as there will probably be a room where the 'palkis' or royal carriages will be displayed. The palkis were carriages designed for the royal women to move around in, without being seen by regular folk.
A typical jharokha.
One enters the Hawa Mahal from the rear. A nominal fee is charged to tourists for touring the Mahal. It's worth taking a guide along if you want to delve deeper into the beginnings of this monument and its architecture. Arches, arches and more arches, it's like they are the sentinels of this unique monument.
The Hawa Mahal interiors.
Early morning is the time to visit the Hawa Mahal. The Sun's position and its rays work wonders with the light here. It's refreshing, almost like having a bath with cold water in the desert heat.
What you don't see.
From the top, one can see most of Jaipur. Even the forts of Nahargarh and Aamer are visible from this unorthodox vantage point. You can also see the big sun dial at Jantar Mantar from here. What a way to start my morning!
Next up, the Jantar Mantar.
The greatest time teller of them all.
I could go all geek on you and tell you what each instrument here is about but I wont. A one of a kind collection of architectural astronomical instruments built by the Maharajah Jai Singh, it is best if one finds out on ones own. Zodiacs to sun dials, shadow clocks to other instruments which interpret the stars, each and every instrument here could interest you. Here are some photographs to show you what the Jantar Mantar complex is all about. Enjoy.
The Jantar Mantar complex.
City Palace, Jaipur.
Right opposite the Jantar Matar stands the City Palace. Home to the current royal family of Jaipur, one shouldn't miss this place of tourist interest. Smack dab in the center of Jaipur city, the City Palace induces are calming aura of space and luxury. No wonder then that it is still, in a large part, a royal residence.
Don't miss the City Palace!
A mix of Indian, Mughal and European architecture thanks to its architects – a Bengali gentleman, an Englishman and Maharajah Sawai Jai Singh the second himself, the City Palace houses all the usual requisites for a royal palace.
The architecture, a mix of European, Indian and Mughal influences.
Walking through the city palace interiors one can not only appreciate the architecture and pains taking mosaic work but also take a moment to relax and hang around, away from the loud noises of the city.
Detailed mosaic work at one of the doors.
Lunch was a priority as I exited The City Palace. I shot a little in and around the streets of the city till the light became too harsh and then headed back to the hotel.
Street side Jaipur.
After this days shooting, I was faced with a small problem. All the space I had to store my RAW footage was almost over. Also I had just one back-up of all the data. Now, being the prudent photographer, I had prepared for this eventuality in my mind. At the rate I was shooting all over Rajasthan, I was lucky I survived this long. In the evening I bought another big hard drive and got about transferring all the data and sorting out everything. This is the slowest, most time consuming and not to mention important part of a photographers' trip. A big day was ahead of me. The massive Aamer Fort was on my agenda for the next day. I readied myself.
Day 4:
The Aamer Fort.
I sprang out of bed in the morning, enjoyed my tea and packed up. It was time go to shoot the Aamer Fort and it's story. The ride to the fort was probably one of the most beautiful 10 kilometer ride/drive one can take in Jaipur, within the city. I remember saying that the Mehrangarh Fort at Jodhpur is imposing, well, the Aamer is way beyond that. From the road, as you drive towards the massive hilltop structure, the beauty and majesty of the surrounding hills and lake are refreshing. Even the road seems to have been built in a way that accentuates the 'look' of the Aamer or Amber Fort.
The Aamer Fort in the distance.
The lake, which is bang in front of the fort's walls, is called the Maota Lake. This serving of fresh water at the forefront of the fort does well to prepare your brain for the next few hours of amazement and onslaught of beautiful history.
Lake Maota and the serenity of Aamer.
Ahead of the 'Dil Araam Bagh' or Heart relaxing garden, the massive ramparts serve as walkways and were used by royals on their elephants to climb up and in to the fort premises. The elephants are still there but the royalty has been replaced by tourists. A fee of INR 900 will get you to the top whilst you enjoy an elephant ride. Mind you, the line up for this is huge. I chose to climb up on foot, with a guide.
A typical day at Dil Araam Bagh, Aamer.
My guide, a middle aged gentleman from Jaipur, seemed skeptical of my intentions at first. He had never seen or heard of anyone like me. When I told him why I was clicking pictures, he looked at me with a puzzled gaze, as if trying to justify in his mind that I was not a fool on a wild goose chase. More than telling me about Aamer, he wanted to know about my history and future. Amusing to say the least, every once in a while he would offer to hold my heavy camera bag so that I could get a better shot. Rarely though will you find such hospitality anywhere in the world. Rajasthani men and women though, to me, seemed like the kindest and simplest amongst all.
It was a mighty climb I must confess, plus we had no choice but to give way to the tall elephants ferrying tourists to and fro. Finally though I entered the Aamer Fort's inner premises. Straight away the splendour of the entrance gate left me dumbfounded. What a sight!
Massive entrances to every wing of the fort.
The several gates, known as 'pol' in Hindi, served as Gothic reminders of the era gone by. Those monolithic arches would pull the air out of every breath. Ganesh Pol, Suraj Pol, Hathi Pol etc, each had a characteristic defining feature over and above the awe inducing sight. The intricate mosaic work is another fabulous example of the craftsmanship of the day.
'Suraj Pol' or the Gateway of the Sun.
The view from different levels of the fort is panoramic and during early mornings and evenings, beautiful to say the least. If one peeks out of the windows, one can see the Saffron Garden or 'Kesar Kyari' right in front. Also in the view would be the massive fort walls which extend all the way to the top of the hills in the distance. Even after seeing quite a few forts in Rajasthan itself, I couldn't help but gawk!
A view of the front with the Kesar Kyari in the midst.
Next come the courtyards of Aamer. I need only utter three words – peace, serenity and awe. At the risk of sounding as if I got carried away, I must confess, the Aamer Fort was turning out to be my favourite one yet. The gardens inside the fort, near the Sheesh Mahal only accentuate the unique feeling.
A courtyard of Aamer.
One interesting fact that not many will know is that there is a tunnel between the Aamer Fort and the Nahargarh Fort. Seemingly for the king and family to escape in case the situation ever demanded. To this day, they say, that the passage is functional. Only the Maharajah would know for sure!
The mystery passage.
Alright, the fort is all well and good but if you really want to know and experience the Aamer in a special way, try this out. Don't go and tour the fort. First, sit through the Sound and Light show here, it is held at the kesar kyari enclosure.
Ready for the show?
An hour long show of dancing lights depicting the history of this fort and its rulers. It is by far one of the most interesting sound and light shows you'll ever see in Rajasthan. Aamer has not only been preserved well as a fort but the sound and light show is the perfect cherry to go on the top of this historical cake.
The Aamer Fort, in the colours of the Kingdom's flag.
If you do happen to take my word and see the sound and light show before the fort tour, you will get a better understanding of the happenings of yore. The time-lines will be clear in your head when your guide narrates the story. Oh and do take a guide, not the audio one but the human kind. The primary reason being, the human guide will take you places the audio guide won't. Just behind the Aamer Fort, one can see the Aamer village, the Aamer hills and some temples – one of which is worth devoting some time to. I must say it, this was the most beautiful Durga Devi Temple I had ever seen in my life.
The imposing temple.
Very close to the temple is a small shop which sells clothes and accessories made by local cottage industries. Hosiery students have gotten together and put up a small shop where they sell their products. Their stuff is good. Women especially, will love this tiny little outlet!
Jaipur produce!
Day 5:
If at heart you're a small boy who likes big toys, then don't mist out on the Jaigadh Fort. They house the world's biggest military cannon here. Known as the 'Jaivana', this cannon was like a weapon of mass destruction in its hay day – an apt deterrent. It weighs 50 tonnes and it's barrel is 20 feet long – enough said.
The world's biggest cannon.
Food? The Nahargarh Fort canteen serves the absolute best 'Laal Maans' or red meat (a Rajasthani speciality) in town. Warning: It is spicy like it's no ones business but brilliant for the Indian palette.
'Laal Maans'.
Day five was also my last day in Jaipur. Spending the afternoon and evening getting ready for the upcoming ride, yet again I wondered whether my hurting motorcycle would get me there. I believed that she could and with that, sleep came.
I left Jaipur early next morning. This leg of my motorcycle journey was symbolic of my turning back. Technically, I was now heading towards home. Only two cities stood between me and the completion of Rooh – E – Rajasthan. Even as I rode on the highway (NH8) my mind was slowly drifting into an introspective mode.
Yes, every motorcycle trip has a profound effect on ones personality and mind. You learn, you forget, you survive and you enjoy. I took many risks taking on this mammoth adventure – family, money, my own security and a whole lot more but as of now, things were looking up. An aura of positivity was building and my god does it bring a smile to your face when you're near personal success.
Towards Chittaur!
Chittaurgarh, a small town just off the National Highway 8 between Jaipur and Udaipur was my next destination. Not many people even choose to visit this quaint town in Rajasthan. Yet it is one of the most significant places in Rajasthan's vivid history. On my way, I had the good fortune of stopping at a small roadside pushcart, stood beside a railway crossing, to me it seemed like the perfect last stop before hauling to Chittaurgarh. I had the best chai of any road trip ever here! The best part was that all I remember of the place is the railway crossing and the pushcart. Today, I have no idea where this cart was and whether I would ever be able to find it, if I tried.
Highway chai!
The bike did well to get me to Chaittaur. Even with the slowly but still growing engine issues, she was turning out to be a tough brute. This bit of my ride was very smooth as this stretch of the National Highway 8 leaves no stone unturned when it comes to quality tarmac. Soon, I would lay anchor in a sea of history, Chittaurgarh.
For more pictures from Jaipur,

Click here

.
——————————————————————————————————————————————————————————————————————————————————————————————-
In this article:
Number of nights: Jaipur – 6.
Distance travelled: Ajmer – Jaipur = 120 kms.
Motorcycle condition: Occasional misfires, slight over heating, engine noise (crank issues). She's just being a Bullet.
Next destination: Chittaurgarh, Rajasthan. (

Click here to read

)
---